This post may include affiliate links. Read our disclosure policy for more information.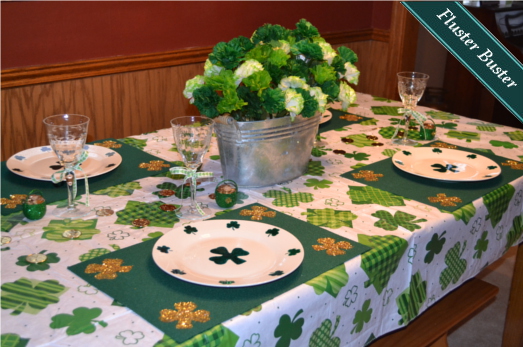 When I was growing up my mom use to do some things that were over the top or very silly. When I'd ask her "why?" her answer would always be the same, "I'm building memories!" As a parent myself, those few words have shaped how I parent my children.
Like my mother, I tend to do some really silly things to make my kids laugh. I'd share them with you if they weren't so embarrassing. I know that when the kids are older they'll look back at my silly antics and have a good laugh, just like I do when I think of the silly things my mom did.
The memories I'm building, for the kids, aren't just about a good laugh. Whenever possible I look for other opportunities to build memories. This year I decided that I was going to do $10.00 or less tablescapes for holiday's, birthdays and anniversaries. I bet you're wondering how a tablescape is building memories? By getting the kids involved and working on the projects together helps to build memories. One day, when they're all grown up, with families of their own and St. Patrick's Day rolls around they'll remember the tablescape that we created together.
There are a few reasons why I chose to do $10.00 or less tablescapes. The first is because I wanted to teach the kids that you don't have to spend a lot to decorate. I also wanted them to be creative and think outside the box. Finally because I love a challenge. Creating a tablescape for under $10.00 is not an easy thing to do.
Every Sunday is our Family Planning Day and a couple of weeks before St. Patrick's Day the kids and I brainstormed about some tablescape ideas. We then headed for the store in hopes of finding some frugal inspiration.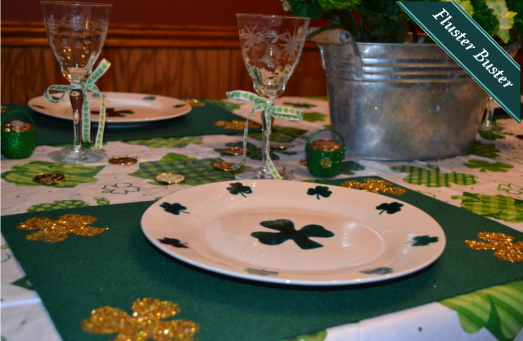 One of the great things about waiting until the last minute to decorate is that the craft stores usually have the holiday items on sale before the holiday. Most of the items that we bought were 75% off.
JoAnns
– Ribbon (on the glasses) $0.49 x 1
– Tablecloth $1.99
Michael's
– Flowers (center piece) $0.99
– Pot of Gold $0.25
– Gold Coins $0.25
Dollar Tree
In my personal stash
– Gold glitter (for the placemats)
– Glue (for the placemats)
– Green sharpie (for the plates)
– Crystal glasses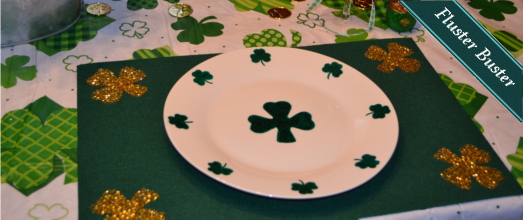 We were all pretty proud of what we accomplished for under $10.00. It's amazing how much better our corned beef and cabbage tasted being served on our themed tablescape.