This post may include affiliate links. Read our disclosure policy for more information.
I'm having so much fun learning about how my grandmother adapted during WWII. Things that we take for granted today: food availability, over-the-counter medicines, household cleaners, they were not as easy to come by then. People, especially women during this time, created some clever household tips to get around the limited availability of certain products and services. During WWII my grandmother began creating a notebook with little tips and tricks to get around these problems.

This series "Household Tips & Tricks from WWII" is my families attempt at recreating my grandmother's notebook. If you read last weeks post Grandma's Ink Remover you know that the notebook was loaned out years ago and never returned. This little recreation venture started out with me and my mother just jotting down things that we remembered. Over the last few weeks, our family got wind of what we were doing and now everyone is contributing to the notebook. It is so fascinating not only to hear the tips and tricks that they remember but also the stories and memories that they have. This is such a wonderful way to honor my grandmother's memory.
One of the things that my mother shared with me was that they would only serve meat once a week, it was usually served on Sunday's. The rest of the week they would try to stretch out what was left over from their Sunday dinner or eat things like creamed peas on toast. My kids and husband wouldn't have survived, if there isn't meat on their dinner plate they feel like they've been cheated some how.
This week I want to share with you some of grandma's tips for making pie. Pie seems to have been a big part of the WWII diet in my grandma's home. Several of my aunts and my mom shared with me how wonderful my grandma was at making pies. They each shared their favorite pie recipe as well as tips that made her pie crusts so good. Today is all about the crust I'll be sharing her pie recipes in future posts.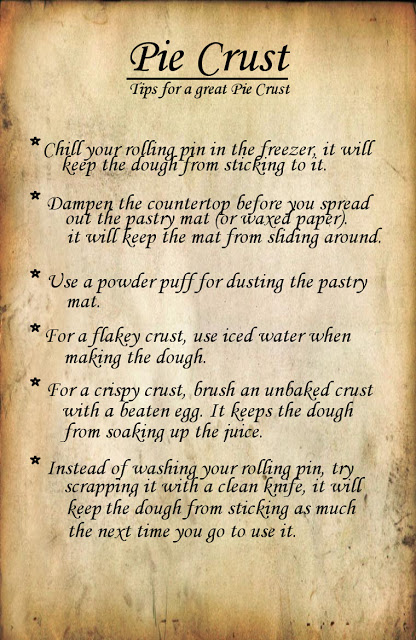 ** If, by some small miracle, you worked at Amway in Ada, MI and were the person my mother loaned the notebook to, please contact me. The notebook is a small (approx 6×9), black, 3-ring binder, and contains hand drawn patterns (teddy bear), recipes, tips and tricks. It would mean so much to my family to have it back.