This post may include affiliate links. Read our disclosure policy for more information.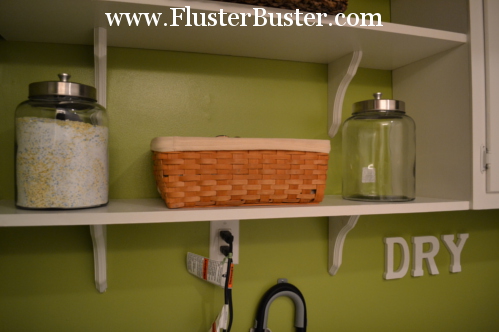 It's done, it's really done! I can't believe it, it turned out so much better then I imagined. The hubby got everything on the Day 2 list done last night and today he installed the washer and dryer. Installing them was a bigger task then what we thought it would be. Front load washers are heavvvvvvvy and since our laundry room is upstairs this was quite a workout, but my good looking, strong man did it, with a little help from little ole' me. Now my washer and dryer are comfortably nestled in a pretty room made just for them.
Once they were in their new home I got to do a little decorating to pull it all together. I am so happy with the way it turned out, there is nothing better then to see something that you only pictured in your head come to life. There is just one little thing left to do and I'm not doing it today and that is to stain the baskets a dark brown. I think they'll look better dark brown then they do the orangey color they are now.
Thanks for joining me on my laundry room makeover, I've got to go now so that I can spend some time admiring the beautiful room.