This post may include affiliate links. Read our disclosure policy for more information.
Your kitchen is probably a place where you spend a large amount of time each day. However, if the space is looking a little outdated or bland, you may find it




dampens your mood. Fortunately, there are several things you can do to give your kitchen a facelift, and many of them can be done without spending very


much money. Read on to find out four cheap ways to do a kitchen makeover.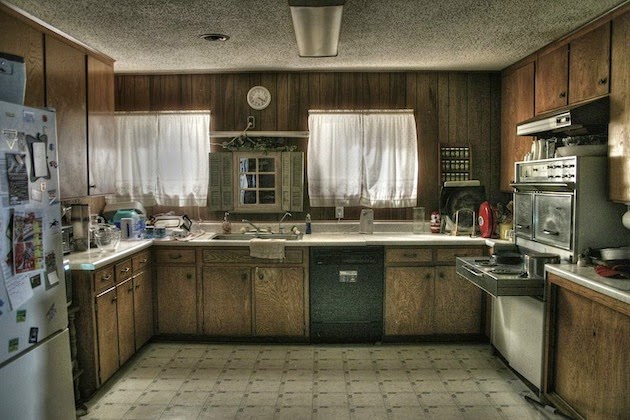 Do a Deep Clean


Because
a kitchen is primarily used for food preparation, it can quickly get soiled
with grease, the remnants of leftovers and general household dust. Get started
on the right foot by giving you kitchen a good, old-fashioned cleaning. Make sure you focus on obvious things, such as floors and windows, but
don't forget to tackle hard-to-reach or inconspicuous areas, such as on top of
the refrigerator and inside the microwave.
If
cleaning is not your forte, for this part consider hiring a cleaning service or
maid just to deep clean your kitchen.
Create Storage Solutions
A
kitchen can seem more unattractive than it really is if the area is very
cramped. Perhaps you truly are dealing with a space that's too small for your
needs. However, that doesn't mean your mission to improve your kitchen is an
impossible one. Explore storage ideas such as:
Hooks that allow you to keep things above your head
Cube-style shelves
Bags that can be hung on the inside of cabinet doors
Segmented drawer organizers
Pot racks
Ideas
like those can help you get more organized and clear away clutter. If you're
looking for a more involved but longer-lasting type of improvement, think about
ordering custom-made cabinets that meet your lifestyle and boost the value of
your home.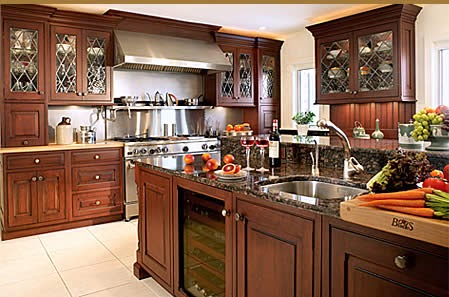 Kitchen Cabinet Facelift
It's
amazing the difference hardware makes on cabinets. I remember the fuss my
mother made when she was trying to figure out what she wanted for hardware in
the house. I didn't see the impact of it at the time but now whenever I walk
into their home the matching brass hardware really pulls everything together.
While
not every piece of metal from knob to nail needs to match, I've found that
hardware in the kitchen makes a definite impact on the overall look. Luckily,
it's very easy to make your cabinets reflect personal preferences. The hardest
part will be choosing which finish and style you
want. By
swapping out particular cabinet hardware or even staining or painting your
cabinets your kitchen will get an all-new fresh look.
[Photo
Credit: By
Tomwsulcer
(Own work) [Public domain], via Wikimedia Commons]
Buy an Inspiring Piece of
Artwork
Sometimes
it's very helpful if your kitchen has a focal point, such as a piece of art
that reflects something you're passionate about. Perhaps you could hang a
picture of the Eiffel Tower over the sink so you can look at it while you wash
dishes and daydream about how you took a trip to Paris during your senior year
of college. On the other hand, maybe it would resonate more strongly with you
to purchase art that features your favorite inspiring quote. Regardless of the
specifics, when you're able to find art that make you feel fulfilled, it could
go a long way in improving the décor of your kitchen.
Now
that you have these kitchen makeover ideas, there's no need to wait
any longer to make your kitchen look fresh and new. Try them today, and you
just may be surprised how effective the tips are in helping you meet your goal.
What simple things have you done in your kitchen to give it a mini-makeover?
Ali
Lawrence blogs over at Homey Improvements and enjoys gardening, traveling and cooking healthy meals in her
apple-red kitchen. You can find Ali on Twitter @DIYfolks