This post may include affiliate links. Read our disclosure policy for more information.
16 ways to reduce puffy eyes using a few of grandma's amazing tricks.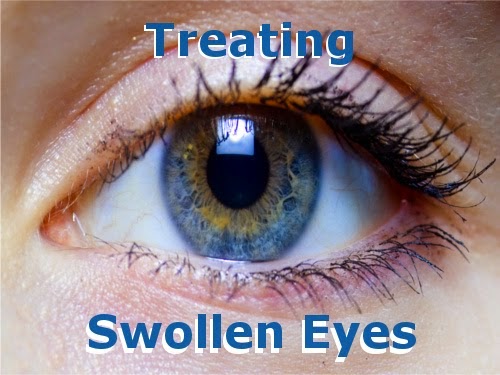 Why is it, whenever there's a special occasion, my allergies tend to flare up, causing my eyes to swell like water balloons? Luckily over the years I've learned some anti-puffiness measures that I can use ahead of time to combat the effects.
I
've also learned some last minute tricks to reduce puffiness caused from unexpected swelling, You know, the puffiness you get from crying. Where did I learn these amazing tricks you might ask, from my brilliant grandmother of course. Her home journal was busting at the seams with all kinds of helpful tid-bits, like her tips for treating puffy eyes.
How to Treat Swollen Eyes
Stay hydrated, drink lots of water.

Carefully apply aloe vera gel under your eyes.

Avoid eating salt.

Get plenty of sleep.

Lie down and place thick sliced strawberries on closed eyes for 10-15 minutes.

Eat more fatty acids, like fish, coconut oil and flax seeds.

Place 2 steeped tea bags on closed eyes for 10-15 minutes.

Place ice packs on closed eyes for several minutes.

Lie down and place cucumber slices on closed eyes for 10-15 minutes.

Dab cotton balls with witch hazel and place on closed eyes for 10-15 minutes.

Avoid artificial sweeteners.

Apply whipped egg whites under the eyes.

Refrigerate 8 teaspoons for 30 minutes. Lie back and place one teaspoon (curved side) on each eye. When spoon warms replace it with a cold spoon.

Dissolve ground turmeric in water. Apply the infused water under eyes and repeat every couple of hours.
Wash, peel, and finely grate 1 potato. Place the pulp in a clean cloth and apply to closed eyes for 10-15 minutes.

Tie coriander seeds in a thin cloth and soak in water for 2-3 hours. Use the infused water to rinse the eyes.
What do you do to reduce puffy eyes?


Disclosure: Some of the links in this post are affiliate links. If you click on the link and purchase the item, I will receive a commission. I only recommend products or services that I personally believe will add value to my readers. All opinions stated are strictly my own. Read our full disclosure policy for more information. 
Image courtesy of Laitr Keiows under the Creative Commons Attribution