This post may include affiliate links. Read our disclosure policy for more information.
This is a sponsored post that contains affiliate links.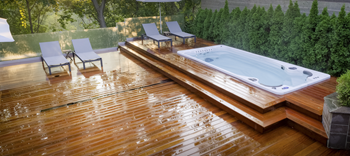 Is a Swim Spa Right for You?

A swim spa is just what many people need if they want the convenience of a pool, combined with the features of a hot tub. While many people think of them as being primarily for therapeutic purposes, they are also useful for athletes who want to stay in top condition. Families who like to have a place for swimming, without the upkeep required for a pool, also enjoy having a swim spa.

Exercise hot tubs are useful for people with injuries or arthritis who benefit from hot water. They offer many of the advantages of hydrotherapy pools that physical therapy centers use, without needing to leave the home. Arthritis sufferers benefit from hydrotherapy, without having to set out appointments at physical therapy clinics.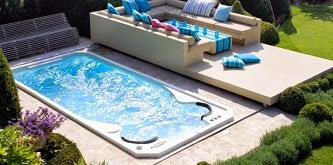 Athletes often use these swim spas to help stay in shape by swimming laps. Although they are not as deep as conventional pools, they have enough depth and length to provide a good workout. These spas also have a current that users can swim against, giving them a good workout. Fitness enthusiasts find this a great option.

Some families like the advantages that come with a pool but prefer not to cope with the maintenance of a big pool. A swim spa is a great option for kids because of its compact space. The side of the spa is always within easy reach, providing assurance of a safer swim. Children who are just learning how to swim feel safer in this environment.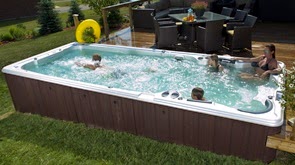 There are many advantages of a swim spa over a conventional hot tub or a pool. One of the biggest advantages is the convenient backyard setting. The size makes it easier for several people to enjoy it at a time, instead of one or two. However, unlike a pool, owners have fewer maintenance concerns and more flexibility in where they can put their spa. Because of the shallow design, it is a safer option for children, although necessary precautions must be taken, in any case. A swim spa may be the right choice for people looking for a great fitness option with therapeutic benefits.
I received compensation in exchange for posting this review.