This post may include affiliate links. Read our disclosure policy for more information.
I've never been the crafty type, so the idea of planning indoor activities for my children doesn't send an instant surge of excitement through my veins. However, over the past few years, we've come up with a few indoor activities that require minimal craftiness on my part, while stirring vast amounts of excitement in my children.
Here are four of our favorite indoor activities:
Find a reason to celebrate
I owe this one to my daughter. When she was four years old, she went through a celebratory phase. We had a birthday party for one of her dolls at least once a month. Baking a cake and buying ice cream for the events felt like unnecessary work at first. But when party time came, it was actually quite refreshing to sing happy birthday and embrace a spirit of celebration for pure fun. We now have celebrations for every event that warrants it: learning to read, logging 100 miles at the bike path, the guinea pig's three-month birthday, you name it! There's nothing like a celebration to break up the monotony of everyday life.
Create life-size self portraits
This requires either a large roll of paper, long enough for the children to lie on, or the patience to tape a few smaller pieces of poster board or construction paper together. The child simply lies on her back and allows you trace around her entire body. The fun of decorating a personal replica is a delight for children of all ages. My two-year-old enjoys scribbling to create a blue shirt on his little body, and my six-year-old spends hours turning her portrait into a princess.
Box houses

Not sure what to do with the giant box that came with your computer, microwave, or most recent online diaper order? Turn it into a playhouse for the kids. We use smaller boxes to create dog houses, and the kids love crawling around like puppies for an afternoon. Large boxes can be decorated to create cabins, playhouses, and vacation getaways. The possibilities are endless. Allowing the children to decorate the boxes makes this especially enticing. Curling up inside the box with a flashlight, a snack, and some toys can provide hours of entertainment.
Bring nature indoors
When it's too cold or wet to play outside, bring nature indoors. Collect an array of sticks, acorns, stones, pine cones, or anything else you don't mind cleaning off the carpet. Brush it off and get to work creating your own toys. A stick glued to an acorn looks surprisingly similar to a small person. A dozen sticks glued to the side of a shoe box mirrors a tiny cabin. Stones can be painted to become pets, furniture, food, or anything your heart desires. The only limits are in our minds. Teaching kids to be creative is one of the most valuable gifts we can impart.
When rainy days dominate the forecast, and it seems the weather will never again warrant outdoor play, there are endless possibilities for creative indoor play, even for those of us who aren't even slightly crafty. Remember to dive into these activities with your children. A celebratory piece of cake and a little time snuggled in a cardboard box might be good for your weary soul as well.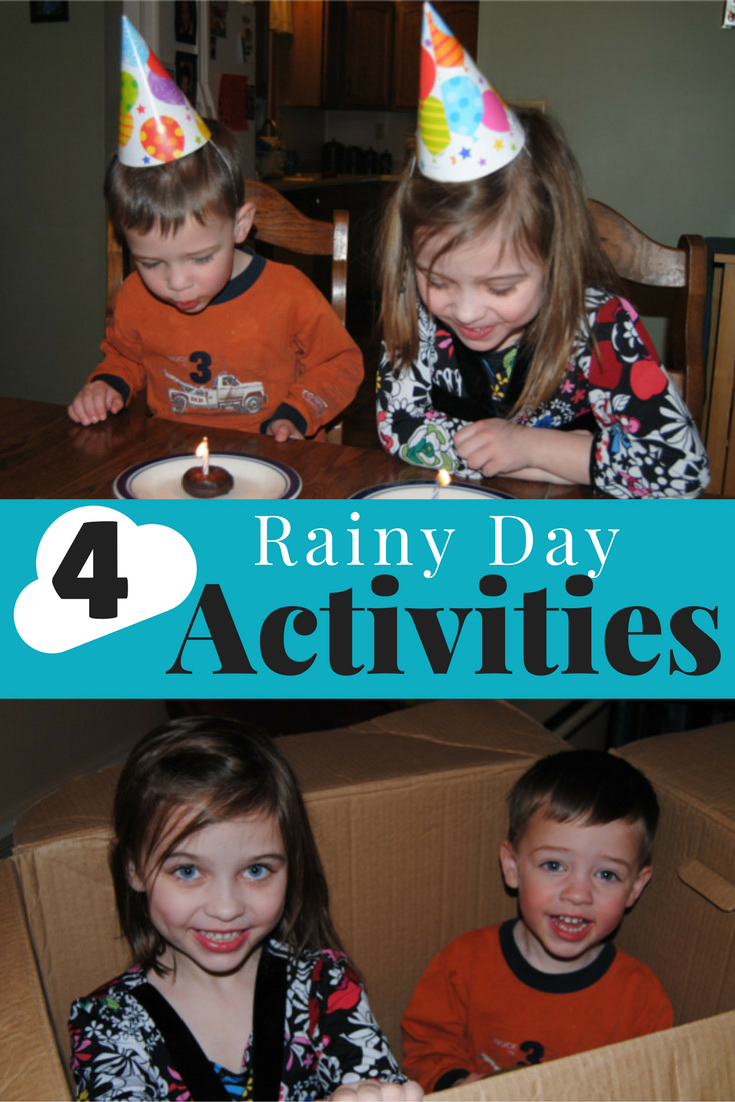 About the Author: Stacey Pardoe is a wife, mother of two, mentor, and freelance writer.  She is passionate about equipping others to fulfill their callings and encouraging others.  She writes at staceypardoe.com.