This post may include affiliate links. Read our disclosure policy for more information.
Flour never made it to my list of WWII frugal living tips until just recently. I was working on my post for sugar when the thought hit me that maybe flour had some unique household uses as well. So I sent an email out to my family, to see what they could come up with and to my amazement they came up with 16 uses, the 17th was mine.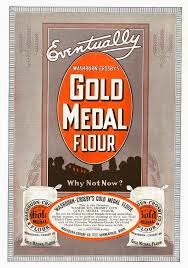 Did you Know? 
Wikipedia
Flour was discovered around 6000 BC.
Flour with a high protein content is great for breads, it produces crusty and chewy breads
Flour with a low protein content is perfect for cakes, cookies and pie crusts.
Flour dust suspended in air is explosive.
Beauty
Acne – to reduce swelling,
mix equal parts flour and honey and apply to the infected area. Apply before
going to bed and cover with a bandage.
Face – to minimize facial
hair, make a paste using flour and water. Apply the paste to your face and
allow it to dry. Rinse and repeat 3-5 times per week.
Hair – to remove oil, make a
dry shampoo by sprinkling your roots with a little flour and then brush it
out after about 30 seconds.
Cleaning
Copper – to shine, mix
together equal parts flour, salt and vinegar. Apply the paste to the copper,
allow it to dry and then buff to a shine.
Stainless Steel – to shine,
buff with a soft cloth and dry flour. Rinse with clean water.
Outdoors
Ants – to divert, sprinkle a
think line of flour wherever to see them coming in or leaving.
Garden – to control pests,
sprinkle potato and squash plants with a thin layer of flour.
Playing
Miscellaneous
Bowls with Lids – to loosen
tight lids, dip the edge of the lid in some flour before attaching to bowl.
Cards – to keep them from
sticking together, place loose cards in a bag containing about a ½ cup flour.
Give the bag a good shake and let the cards remain in the bag for about 1/2 an
hour.
Diaper Rash – to soothe, powder
your babies bottom with a mixture of equal parts flour and brown sugar that has
been heated in a skillet and then cooled to room temperature. Store the mixture
in an air tight container.
Fruit – to ripen, place
fruit in a paper bag with a cup of flour for 24 hours.
Starch – to make your own,
bring a ½ cup of water to a boil in a small saucepan. While the water begins to
boil, mix together ½ cup cold water and 1 tablespoon flour. Now slowly whisk
the flour mixture into the boiling water until it becomes thick. Pour the
cooled mixture into a spray bottle and lightly spray clothes before ironing.
What unique household tips do you have for using flour?