This post may include affiliate links. Read our disclosure policy for more information.
I spent a mother-daughter day with my mom a couple of days ago. I don't know about you but when me and my mom get together there is absolutely no topic that is off limits. Sometimes the topics get a little uncomfortable, but I survive! The best part about our time together is that I always leave learning something new.
My mom is 72 years old and I have to say she looks really good for her age. She was always a beautiful woman but I have to say she is aging very gracefully. I hope that I got her genes! When I was over there the other day we were talking about how good she looks. Our conversation moved to how smooth and soft her skin was. That is when she shared her beauty secret with me. Now, I have to tell you, I have known this woman my entire life and I never knew that she did this.
This is her natural hair color, NO Gray!
UPDATE: I have been doing this for a week now and here are just a few tips. First, run the baby brush under water (to soften the bristles). Then, put a fairly thick coat of Cocoa Butter lotion on your face. Use the baby brush in a circular motion all over your face and neck. Once I have rinsed my face I then use 100% pure Cocoa Butter all over and wipe it off with a dry cloth. My face feels soooooo smooth and hydrated when I'm done.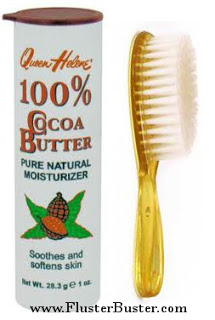 This is Mom's Beauty Secret:
1.  Never use any kind of soap on your face.
2.  Wash your face with cocoa butter lotion (she gets hers      from the Dollar Store).
3.  Rinse with a warm cloth.
4.  2-4 times a week exfoliate with a baby brush. (I always     wondered why she had a baby brush, I just never thought to ask).
5.  Always keep your skin moisturized.
She blew me away with this. I knew how good Cocoa Butter was for stretch marks, I used to slather it all over my belly when I was pregnant and I never got a stretch mark. For some reason it never occurred to me to use it on my face. Her method for exfoliating was just as shocking. I can't believe that I wasted so much money buying one of those spinning exfoliating wands when all I had to do was buy a cheap little baby brush and it would do the same thing.
As soon as I left my moms house I drove directly to the Dollar Store, I had to try this. I spent just $2.00+tax for something that I was spending a lot more on before. I have to tell you the results were the same as what I was getting with all of my expensive lotions and gadgets. She won me over!
When I got home I decided to do a little research on the benefits of Cocoa Butter. I already knew the results from using it on my pregnant belly, but I wanted to know more. Take a look at all of the benefits that I found, WOW!  I have decided that I'm going to take moms beauty secret a step further. I am going to use
100% Pure Cocoa Butter
instead of the lotion. It's a little more expensive but you are not getting all of the additives that they use in the lotion.
Benefits of Cocoa Butter
Moisturizer
Protects skin from sun and wind damage
Soothes and softens the skin
Rich in antioxidants and Vitamin E
Provides the skin with collagen
Helps diminish wrinkles and other signs of aging
Helps break down scar tissue
Helps tighten skin