This post may include affiliate links. Read our disclosure policy for more information.
Crown of Thorns and Rustic Cross – two simple Easter diy projects that are beautiful reminders of the sacrifice that was made for us all. They make the most wonderful rustic decorations as well as charming gifts for friends and family.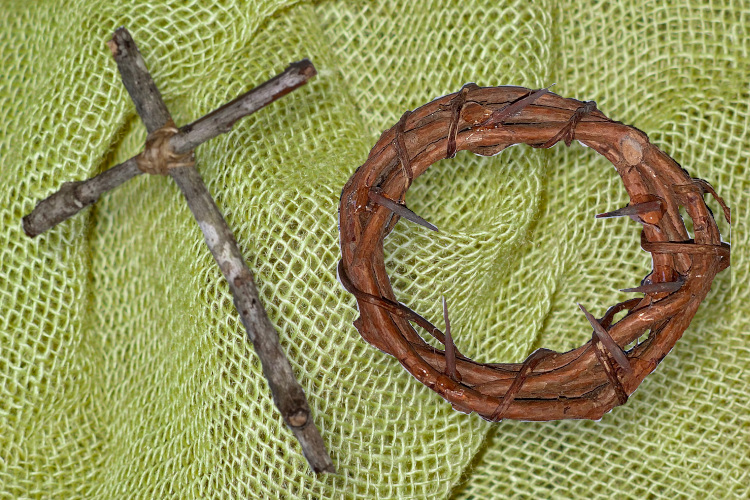 The cross that Jesus carried, and died upon is the most enduring symbol of the Easter season. The crown of thorns reminds us of the suffering He endured to give us eternal life. This simple tutorial will provide you with a quick, easy way to make both Easter symbols.
Materials for the Rustic Cross
– Brown twine or jute
– (2) sticks – one of them should be slightly longer
Instructions:
Cut 24″ of twine and set aside. Place the shorter stick in the upper middle part of the longer stick. Wrap the twine around both sticks several times in an X shape. Double-knot your twine in the back of the cross.
You're done with the first Easter symbol.
How simple was that?
Materials for the Crown of Thorns
– Several colors of brown and black craft paint
– Toothpicks
– 4″ mini grapevine wreath
– Hot glue gun and glue sticks
– Scissors (strong)
– 1″ sponge brush (pictured below)
I wanted to make a crown of thorns to use in my Easter decor, but I could only find tutorials for larger wreaths. The materials used for thorns in those tutorials were way too large for my mini grapevine wreath. Regular-sized toothpicks were the perfect size.
Instructions:
Step 1: Squirt a small amount of black and brown craft paints onto your palette. I used a styrofoam plate for my palette. Mix the colors slightly, then paint the toothpicks with the 1″ sponge brush.

Step 2: Allow the toothpicks to dry. You can use a hair dryer to dry them quickly. Cut the ends of the toothpicks off with the strong scissors. They need to be around 1″ long. Plug in your hot glue gun.
Step 3: Hot-glue the thorns onto your mini wreath. My hot glue gun is my favorite piece of crafting equipment, but it gets very hot. Never touch the glue with bare fingers. You can see the strings of hot glue in the picture below.
Your DIY mini crown of thorns is complete. I hope you display this Easter symbol proudly, along with your rustic cross. I displayed mine in an Easter Shadowbox.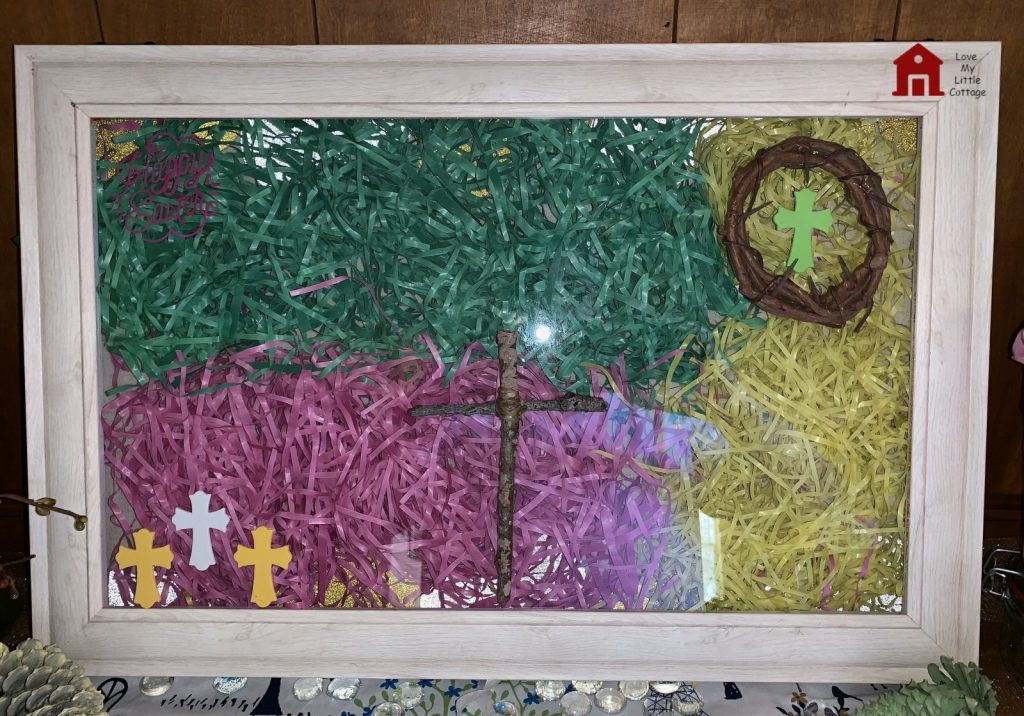 26 For whoever is ashamed of Me and My words, the Son of Man will be ashamed of him when He comes in His glory, and the glory of the Father and of the holy angels.
– Luke 9:26 NASB

Passionate about all things domestic, as a Christian wife and homeschooling mother of 5 children, I am especially interested in encouraging stay-at-home moms, one-income families, and cottage dwellers of all kinds. I love DIY projects, sewing, decorating, cooking, and collecting and selling vintage dishes. Happy Spring! Kristie
If you liked this post, subscribe here to receive every Love My Little Cottage post in your email.
Recent Posts from Love My Little Cottage
✔ DIY Garden Gnome Wreath
✔ Easy Chicken Enchiladas
✔ Spring Coffee Corner

Disclosure: Some of the links in this post are affiliate links. If you click on the link and purchase the item, I will receive a commission. I only recommend products or services that I personally believe will add value to my readers. All opinions stated are strictly my own. Read our full disclosure policy for more information.