This post may include affiliate links. Read our disclosure policy for more information.
During this time of year it's hard for me to find time for crafting. Between all of the church events, the parties, the shopping, the baking, sneaking in a little crafting time is not easy to do.
When I can steal a few moments between all of the holiday chaos you'll likely find me in my craft room throwing together some easy and simple Christmas craft projects. I've learned that big and complicated is a Fluster Buster No-No this time of year.
Lighted Marshmallow Snowman Vases
 These Snowman Vases are one of those easy and simple crafts that came out of my craft room this week. Each vase took me about 5-10 minutes to make, it was so easy that I had the kids helping out. The only problem I had with having the kids help was keeping them from eating all of the marshmallows. We ended up making about two dozen to be used as centerpieces for the tables at our local homeless shelter.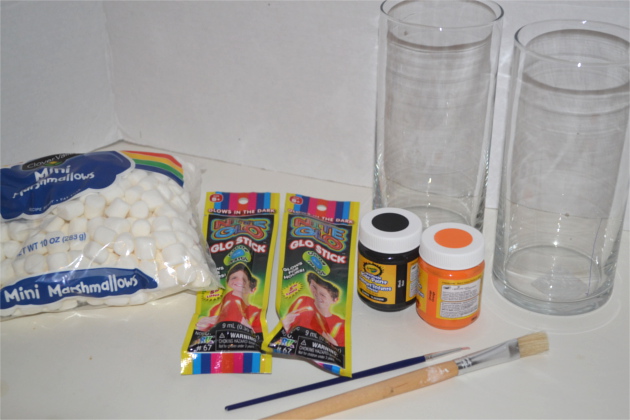 Materials
Glass Vase ($1.00 @ Dollar Tree)
Black Paint ($0.50 @ Dollar General)
Orange Paint ($0.50 @ Dollar General)
Mini Marshmallows ($1.00 @ Dollar Tree)
Glow Stick ($1.00 @ Dollar Tree)
Paint Brushes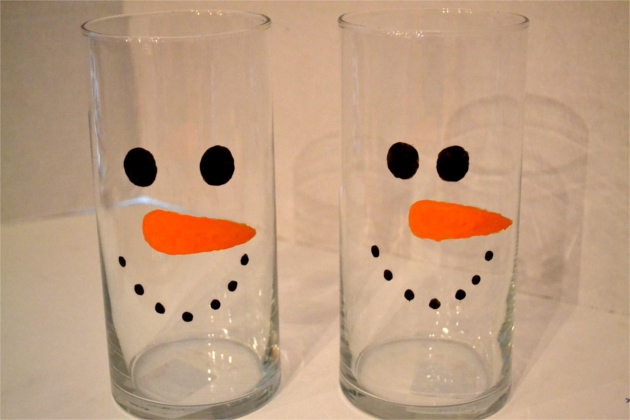 We used a simple design for the faces, it was easier for the kids to paint. If you want the faces to be more detailed there are a lot of different options. We actually found what we wanted by searching google for "Snowman Faces Clipart".
For older kids they can paint the faces themselves, but for the little ones I drew the face on the vase and then let them paint them in.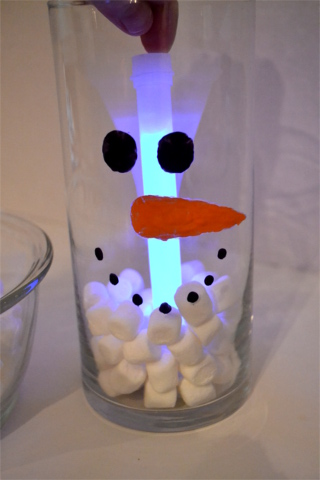 When the paint is dry crack open a glow stick and place it in the center of the vase, fill around it with marshmallows.
I let the marshmallows get a little stale before I filled the vase. By letting them get stale they held their shape a little better and left more gaps for the light to shine through.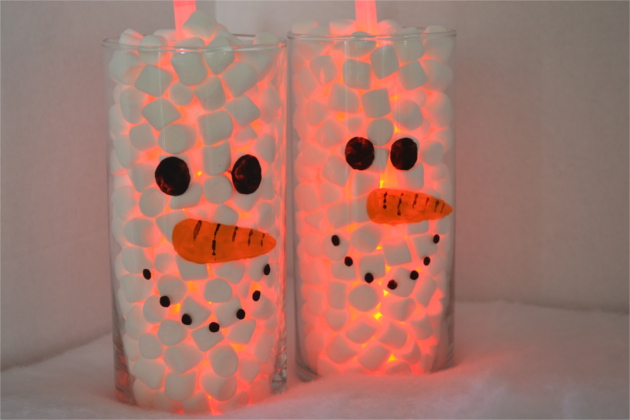 Aren't they cute? My favorite are the ones with the blue glow lights, they remind me of the moon reflecting off of the snow, however I had a hard time finding 24 blue glow lights.
Giving the Gift of Christmas
Throughout the year we put a set amount of money aside every week for Christmas, that way we don't go into debt and we don't have to stress about money during the holiday's (Fluster Buster Tip). With the money that we have set aside we take a percentage of it and give it to charity. As a family, we decide how we want to use that money that year.
Over the years our Christmas Giving fund has helped a variety of organizations. This year we wanted to do something completely different. We wanted to give the gift of Christmas to those who normally wouldn't have one.
We have made arrangements with a local homeless shelter to hand out scarves, gloves, hats and socks on Christmas Eve. With help the from the staff, we will then be introduced to two deserving people (and a friend) who will receive a very special Christmas gift, Christmas!
These two deserving people will be escorted to a local motel where Christmas will be waiting for them. Thanks to the generosity of the motel we were able to reserve two rooms instead of just one. With the help from local businesses, the rooms will be decorated for Christmas and there will be presents waiting for them under the tree. On the table there will be a platter of cookies and sweets, a thermos full of hot cocoa and a hot, home cooked meal. Then, when they pull down the covers to go to sleep they'll find an envelope with some gift cards from local restaurants.
The next morning, they will be treated to a hot breakfast and given a ride back to the shelter.
We've never done anything like this before so hopefully we can pull it off without a hitch. If everything goes the way we planned this just might become a new Christmas tradition.
How do you give the gift of Christmas?