This post may include affiliate links. Read our disclosure policy for more information.
There is not an easier meal to be had than one that you throw in the crockpot, set the timer and walk away. So, for this weeks cheap and easy recipe we're going to pull out our crockpots and roast some chicken.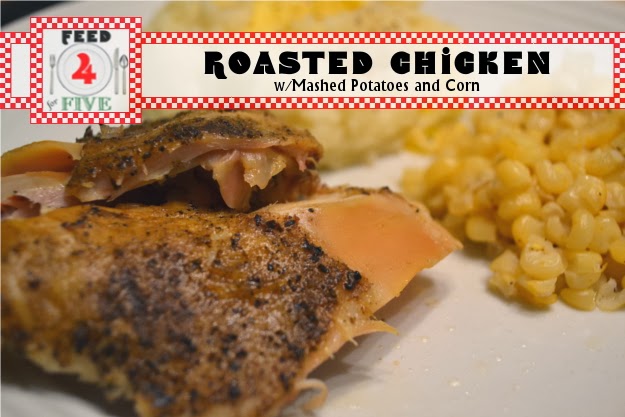 My crockpot(s) is/are one of the most used items in my kitchen, in fact, I own three of them. No I'm not a hoarder I just love the convenience. Sometimes you'll find all three of them going at the same time, I'll have dinner going in one, dessert in another and a vegetable or hot beverage going in the third one. I realize that it sounds a little crazy, but when you're as busy as I am you look for just about anyway that you can to save time and crockpot cooking is a huge time saver for me.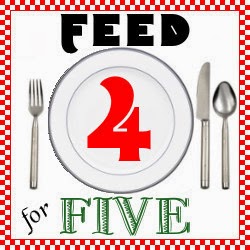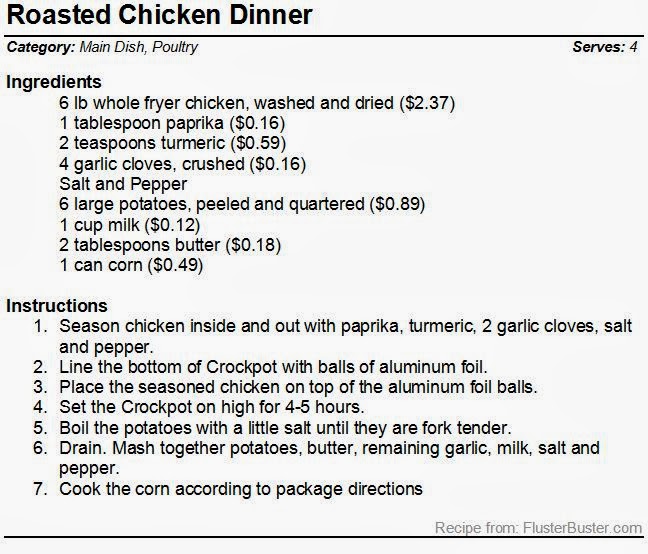 Cost = $4.96
Cost Breakdown
Chicken – ($0.79 per pound) purchased on sale. You'll only use 1/2 of the chicken for the meal. The other half can be refrigerated or frozen for another meal. Save the chicken carcass, it's great for soups. 1 serving = 4-6 ounces
Paprika – (3.17 ounces for $1.00) purchased from Dollar Tree
Turmeric – (1.5 ounces for $2.67) purchased the store brand from a local grocery store chain. Store brand items are often cheaper and taste just as good as the name brand.
Garlic – (1 head for $0.49) purchased from a local grocery store chain.
Potatoes – (10 pounds for $2.98) purchased from a local grocery store chain. You are going to use about 3 pounds of potatoes for this recipes.
Milk – (1 gallon for $1.99) purchased on sale from a local grocery store chain. Milk can be frozen. I don't suggest using it for drinking but it's great for cooking. 
Butter – (1 pound for $2.89) purchased from a discount grocery store. *You could also use margarine which is even cheaper, but I prefer the taste of butter. 
Savings Tip
Now that you've
created your menu
based on
what's on sale
, it's time to create your shopping lists. Having organized shopping lists keep you from impulse buying which will save you money and they will also save you some time in the store.
How to organize your shopping list(s)
Make a separate list for each store you plan to shop at.
Arrange your list by isle/department. For example: when I first enter my local grocery store I walk into the produce department, so the first section on my list is produce. The rest of my list is arranged in the same manner so that I avoid walking back and forth throughout the store. This not only saves me time but I'm also avoiding those impulse purchases from spending to much time in the store.
Enter your grocery items under the appropriate isle/department for each store.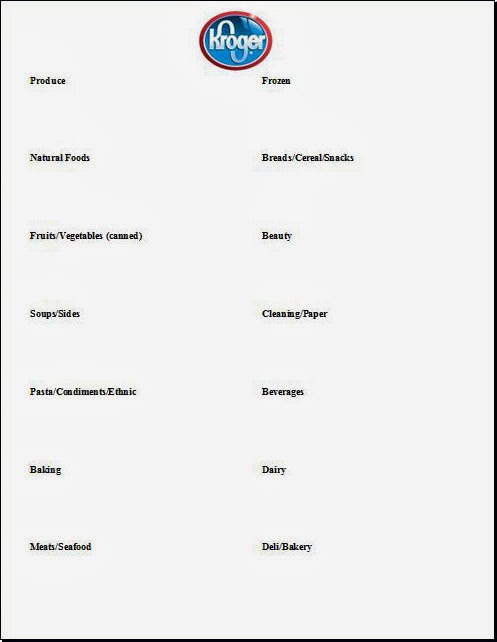 Do you have a favorite cheap and easy recipe that will Feed 4 for 5? Submit it and maybe we'll feature it on one of our future posts.
Bon Appetit on the Cheap!