This post may include affiliate links. Read our disclosure policy for more information.
This Gingerbread Man Sign is a fun DIY project that anyone can make. You don't have to have mad craft skills or be a skilled painter, just a desire to make something with your own hands. It is one of those projects that is fun to make and simple enough that you can get the kids involved.
Anyone can make this 3D DIY Merry Christmas Gingerbread Man Sign. The glitter paints were sponsored by DecoArt Inc., and the remaining supplies were purchased at Hobby Lobby for around $20. While many of my projects require specialized painting skills, this one does NOT. Before I went to Hobby Lobby, I had a hazy idea of a tactile, fun-to-make Merry Christmas sign, featuring a couple of gingerbread people decking the halls for Christmas. My favorite craft store (along with Michaels Craft Store) did not disappoint!
MATERIALS NEEDED
wooden/metal Christmas tray (it was on sale for $14)

(2) paper mache gingerbread man ornaments

wooden Christmas tree ornament

wooden "Christmas" letters (I used the "Merry" part on my Hand-Painted Coastal Christmas Cutting Board

styrofoam snow – I love this stuff!

Elmer's Glue All-extra strong formula

Little Christmas peppermints and lollipops – You HAVE to shop the Little Christmas sections, it is inspiring!

red and gray yarn bits

wiggle eyes

DecoArt Galaxy Glitter- Aurura Borealis Green and Red Nebula (I love the star theme, and this product!), DecoArt American Santa Red, and Apple Barrel 20515 Burnt Sienna

(3) 1″ sponge brushes- you can use one and rinse it out after every color change

Aleene's acrylic gloss spray
ANOTHER CHRISTMAS PROJECT
HOW TO MAKE THE GINGERBREAD MAN SIGN
Step 1
Paint the paper mache gingerbread men with several coats of Burnt Sienna. Set them aside to dry. Remove the ornament hangers.
Step 2
Since my wooden Christmas tree was already painted green, I simply painted on a coat of Aurora Borealis Green Galaxy Glitter. Set it aside to dry. Don't forget to remove the ornament hanger.
Step 3
Paint the "Christmas" letters Santa Red. The letters will take a few coats of paint. After each coat of red, I wiped off the excess paint on the sides of the letters with a baby wipe. A wet paper towel works just as well.
Step 4
While the letters are drying, write "Merry" in cursive letters (with a pencil, so you can erase if you mess up) down the left side of the tray. If you're feeling confident, skip the pencil and go straight to the glue. My handwriting is not that great, so I have to practice with a pencil several times before I get things right.
Step 5
"Write" over the letters with Elmers Glue All. I used Elmers Glue All instead of hot glue for this project because the sign will be hung outside. In the winter, things that have been hot-glued tend to fall off in the cold weather.
Step 6
Pour the styrofoam snow over the glue. Allow it to set a few minutes, then turn it upside down to remove the excess snow. Make sure you do this over a trash can.
Step 7
Apply Red Nebula Galaxy Glitter to the "Christmas" letters. Make sure everything is dry before proceeding to the next step.
Step 8
Arrange everything on your tray before gluing. Once you're satisfied with your design, remove pieces one at a time and adhere with Elmers Glue All. Allow everything to dry before adding embellishments. You can use a hair dryer to speed the drying process if desired.
Step 9
Use Elmers Glue All to attach the peppermints, lollipops, and wiggle eyes. Allow things to dry.
Step 10
Add a string of glue above the lollipops before placing the yarn "light string."
Step 11
Place the gray yarn light string, then add a few gray and red yarn squiggles in random places.
Step 12
After the glue dries, take the tray outside and spray it with acrylic gloss spray. This step is especially important for an outdoor sign. I use my seasonal/holiday signs year after year. They last a long time because they're protected with the acrylic gloss spray (which acts as a sealer), and are only outside for the duration of that particular season or holiday.
You're all done! I hope you enjoyed my DIY Merry Christmas Gingerbread Man Sign.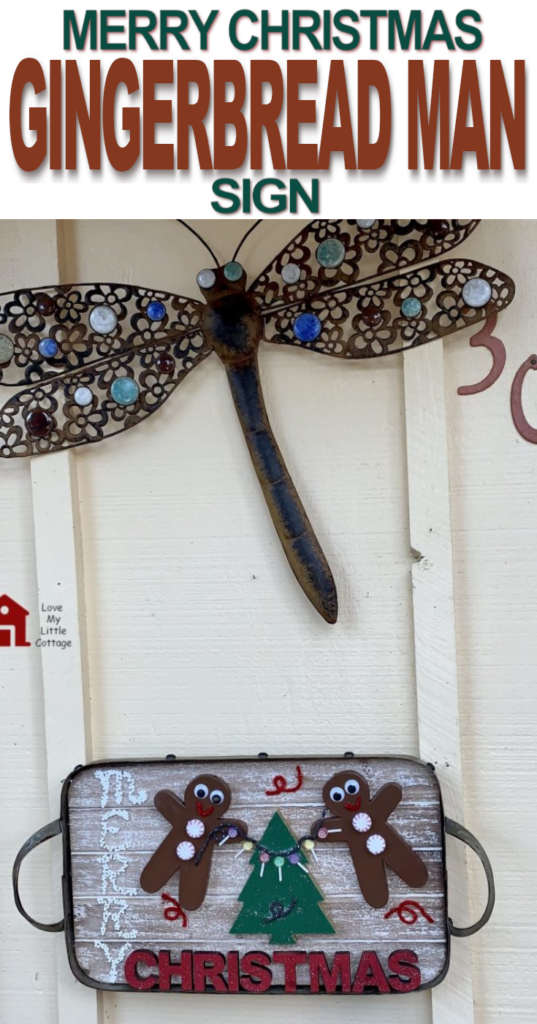 Passionate about all things domestic, as a Christian wife and homeschooling mother of 5 children, I am especially interested in encouraging stay-at-home moms, one-income families, and cottage dwellers of all kinds. I love DIY proj ects, sewing, decorating, cooking, and collecting and selling vintage dishes. Read More…
If you enjoyed this post, subscribe to Love My Little Cottage and receive every post by email.

Merry Christmas!
Kristie
_______________
MORE CHRISTMAS POSTS FROM LOVE MY LITTLE COTTAGE
_______________
RECENT POSTS
_______________
CATEGORIES
B
DIY Projects
B
B
Holidays
B
B
Upcycle
B
Disclosure: Some of the links in this post are affiliate links. If you click on the link and purchase the item, I will receive a commission. I only recommend products or services that I personally believe will add value to my readers. All opinions stated are strictly my own. Read our full disclosure policy for more information.