This post may include affiliate links. Read our disclosure policy for more information.
Summer Beauty can be really fun with the right products! It might seem like it's to late in the year to take advantage of these summer beauty products, but many of them can be used throughout the year.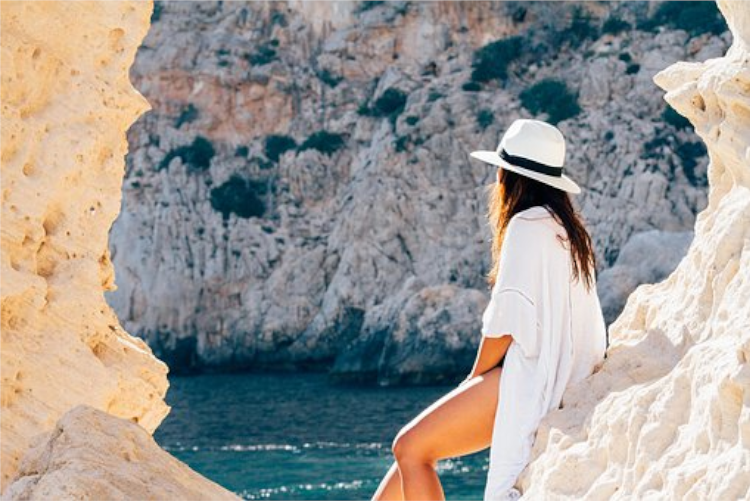 Hello everyone, it's Sharon from Adoring Creations to share my summer fun beauty favorites.
I know we are in August and it feels like summer is almost over but I am trying to squeeze out every last bit of summer I can. Living in Texas makes that easy for us to do as we are still doing beach vacations well into September. This year we have a Hawaiian vacation planned for October so I still have beachy beauty on the mind. While everyone is putting out their pumpkin spice candles I'll still be burning my sand and fog beach days fragrances.
1. Hats
Covering your sensitive skin on your face is a must when in the hot summer sun. I like to double up with sunscreen and a wide brimmed hat. These two hats are foldable (roll them up and tuck them between some clothing in your suitcase) so they are perfect for travel.
2. Kimonos
I am in love with Kimonos lately and this lace one is sheer enough to be be cute but provides enough coverage to wear as a cover up.
3. Sunscreen
I prefer Alba Botanica products and especially their sunscreen because they are comprised of botanical ingredients they do not contain artificial fragrances and they are also reef friendly.
4. Hair
Beach waves are a must in the summer. The fragrance in these products is heavenly. I like to use the texturizing spray when my hair is wet to enhance natural waves and then I use the cream to give a piecey texture to my hair.
5. Subtle Glow
I like to apply this sunless tanning cream right out of the shower to give a subtle and natural glow. It also contains skin firming ingredients which are always helpful. You can't mess this one up ladies. It is a color building formula so there will not be a dramatic difference but you will notice a natural looking bronze in a few days. This has been a favorite of mine for quite some time.
6. Dramatic Color
When I am looking for a more dramatic, dark tan I ALWAYS reach for my Fake Bake Flawless. I always get questions about this because the tan it produces looks so real. It is a golden bronze color that does not look orange or streaky. I absolutely love this one and this price is so much less than I buy it for at Ulta.
7. Legs
My last sunless tanning favorite is this Airbrush Legs. I live in the country and I ALWAYS have imperfections and scrapes on my legs from running around in the woods with my kiddos. This airbrush legs covers those and make my leg skin tone look more even and smooth. I like to put a little lotion on my legs first and lightly spray this on and rub it in. If you put on a light layer it looks very natural.
Do You Have Any Fun Summer Beauty Tips?

We'd really love to see them. Take a picture and tag it on Instagram with @flusterbuster
I hope you enjoy these products if you try them and thank you for reading!
Enjoy the rest of your summer.
Grace & Peace,
Adoring Family
---
Recent Posts from Adorning Family
---
Recent Posts
Disclosure: Some of the links in this post are affiliate links. If you click on the link and purchase the item, I will receive a commission. I only recommend products or services that I personally believe will add value to my readers. All opinions stated are strictly my own. Read our full disclosure policy for more information.
Categories