This post may include affiliate links. Read our disclosure policy for more information.
Reese's lovers, have I got something for you, a Reese's cake. A not-to-sweet peanut butter buttercream frosting sandwiched between two layers of dense fudge brownies and topped with crushed candy nuts, chocolate, and of course, Reese's Peanut Butter Cups. This will quickly top your list of favorite desserts.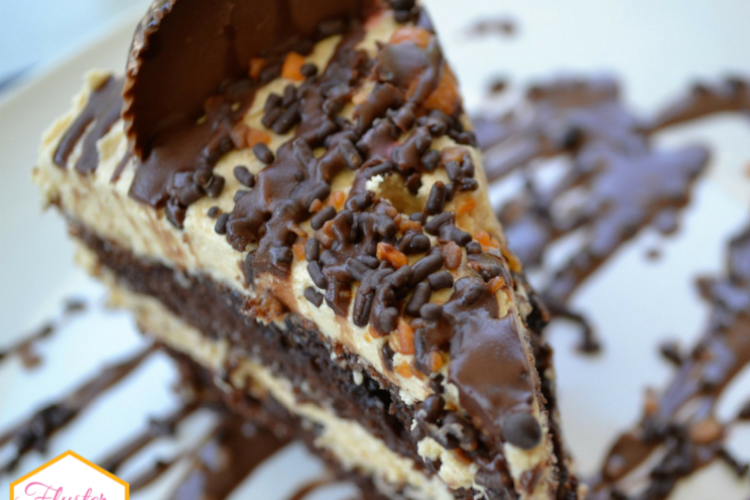 Birthday's are a pretty big deal around our house. For a whole week the person who is celebrating is treated like a king/queen. One of the birthday perks is choosing the type of birthday cake that they want.
When the kids were little they usually chose cakes from the bakery, they liked cakes that were decorated with the current fads. Now that they are getting older it's more about the flavor than it is about the decorations.
My youngest M.I.T. (man in training) just celebrated his birthday week and when asked what kind of a cake he wanted, I was expecting him to choose what he always chooses (he is my predictable child). To my surprise, he chose something different than he had in years past.
He challenged me, he wanted a chocolate and peanut butter cake. Of course, I couldn't just make him a chocolate cake with peanut butter frosting. I accepted his challenge and went over and above what he asked for. With a little experimenting and a lot of creativity, he was presented with a cake that has become his and many family and friends' favorite.
WHAT ARE THE INGREDIENTS IN A REESE'S CAKE?
Are you ready to indulge in a treat that's sure to satisfy your sweet tooth? The Reese's Layered Brownie is a dessert that's not just delicious, but downright decadent. Trust me, one bite of this scrumptious dessert and you'll be hooked!
Brownies
Delicious chocolate brownies make the perfect base for this inspiring dessert. We made our chocolate brownies using Ghirardelli's triple chocolate brownie mix, they have a decadent and rich flavor that pairs really well with the other flavors in the cake. The texture of these brownies makes this dessert even more unique because they are denser and heavier than cake however they still provide the familiar, comforting texture associated with cake. If you prefer to use a different brownie mix, any fudge brownie mix will do, ensuring that the flavor remains the same.
Fats
Fats are the perfect ingredient for any homemade frosting. Our frosting is made with real butter, giving it an amazing flavor, and combined with just the right amount of vegetable shortening. The shortening makes the frosting stable enough to hold up to all kinds of decorating. 
Peanut Butter
The creamy texture and rich peanut flavor provide an amazing combination of taste and texture. And when its mixed with the buttercream frosting the delicious flavor is amplified giving it an incredible Reese's flavor. 
Confectioner's Sugar (aka Powdered Sugar)
Confectioner's Sugar is what you'll need to use to get that perfect Reese's Peanut Butter texture for your frosting. Unlike regular sugar, powdered sugar is more like a powder making for a softer texture, and if you sift before mixing it with the frosting your frosting will be extremely smooth.
Vanilla
For the perfect finishing touch to your frosting, add a dash of Vanilla! Vanilla's strong flavor helps balance out the sweetness of the frosting for a divinely delightful treat.
Toppings
The delicious, flavorful toppings will take this layered brownie to the next level, creating a truly decadent dessert that everyone will love. We've used a number of different toppings, starting with chopped nuts which add both flavor and texture. For an additional layer of flavor, we've added crushed-up Butterfingers. We've also included some chocolate hard-shell ice cream topping, and for the grand finale: Reese's Peanut Butter Cups.
HOW TO MAKE THE REESE'S CAKE STEP BY STEP
Brownies – Make the delicious brownies by following the instructions on the package. Then, divide the batter evenly into two 8-inch round cake pans. Cool brownies on a cooling rack. When completely cool, refrigerate for 1 hour before frosting.
Frosting – To make the delicious and creamy Peanut Butter Buttercream frosting, start by mixing the butter and shortening on medium speed. Then, add peanut butter, vanilla, and salt, and mix until everything is well combined. Gradually add sugar, one cup at a time, making sure to scrape the sides of the bowl often. The frosting may be a bit dry at this point, so add milk one tablespoon at a time until it becomes light and fluffy. Finally, refrigerate the frosting until you're ready to use it.
Assembly – To assemble the cake, start by frosting the layers of brownies. Be generous with the frosting, ensuring to cover the top and sides of the cake. Next, add nuts to the side of the cake for added texture and flavor. Sprinkle crushed Butterfinger candy bar on the top for a delightful crunch. Then, cut Reese's Peanut Butter Cups in half and place them on top of the cake. Lastly, finish off by drizzling chocolate hard-shell ice cream topping over the entire cake, creating a mouthwatering finishing touch.
WHAT IS THE BEST WAY TO STORE LEFTOVER CAKE
Keep your Reese's cake fresh for up to 5-7 days by storing it in an airtight cake keeper in the refrigerator! Want to save some for later? Freeze it for up to 3 months by first letting the frosting firm up, in the freezer, for an hour, then tightly wrapping it in plastic wrap. When you're ready to dig in, simply thaw the unwrapped cake at room temperature or in the refrigerator. Delicious cake anytime you want it!
Do you like this recipe? Please leave us a star rating in the comments below, and share it on social media. We would really appreciate it!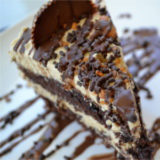 Print Recipe
Reese's Layered Brownie Cake
A not-to-sweet peanut butter buttercream frosting sandwiched between two layers of dense fudge brownies and topped with crushed candy, nuts, chocolate and of course, Reese's Peanut Butter Cups.
Ingredients
2

boxes

fudge brownie mix
Frosting
⅓

cup

butter

softened

⅓

cup

vegetable shortening

⅔

cup

peanut butter

1

tsp

vanilla

½

tsp

salt

4

cups

confectioner's sugar

sifted

4-6

tbsp

milk
Toppings
6

Reese's peanut butter cups

halved

nut topping

chopped

1

Butterfinger

crushed

hard-shell ice cream topping
Instructions
Prepare brownies according to package directions. Divide batter into 2 8-inch round cake pans.

Cool brownies on a cooling rack. When completely cool, refrigerate for 1 hour before frosting.
Frosting
On medium speed, cream together butter and shortening. Add peanut butter, vanilla and salt, continue mixing until combined.

Gradually add sugar, one cup at a time, scraping the sides of the bowl often.

The frosting will be a little dry, add milk 1 tablespoon at a time until the frosting is light and fluffy.

Refrigerate until ready to use.

Frost the layers of the brownies, using a generous amount on the top and sides.
Toppings
Sprinkle Butterfinger crunch on the top, add Reese's halves and stream Reese's hard shell over the top.
Notes
*The Nutritional Facts that have been calculated on this recipe are only estimates.
Nutrition
Calories:
208
kcal
|
Carbohydrates:
49
g
|
Protein:
4
g
|
Fat:
19
g
|
Saturated Fat:
7
g
|
Polyunsaturated Fat:
4
g
|
Monounsaturated Fat:
8
g
|
Trans Fat:
1
g
|
Cholesterol:
14
mg
|
Sodium:
213
mg
|
Potassium:
101
mg
|
Fiber:
1
g
|
Sugar:
4
g
|
Vitamin A:
166
IU
|
Calcium:
17
mg
|
Iron:
0.3
mg
If this blog post has done its job, then your mouth should already be watering with anticipation for a slice of Reese's Layered Brownie. What could possibly be better than biting into two layers of fudgy brownie, topped off with peanut butter buttercream frosting and Reese's Peanut Butter Cups? Trust me when I say – there is nothing like it. Go ahead and treat yourself or a loved one to this heavenly confectionary creation – you won't regret it! Plus, if there're leftovers (doubtful!), you can relive all that deliciousness the next day (or freeze it for up to 3 months). It's time to satisfy that sweet tooth craving, so grab yourself some Reese's Layered Brownies today!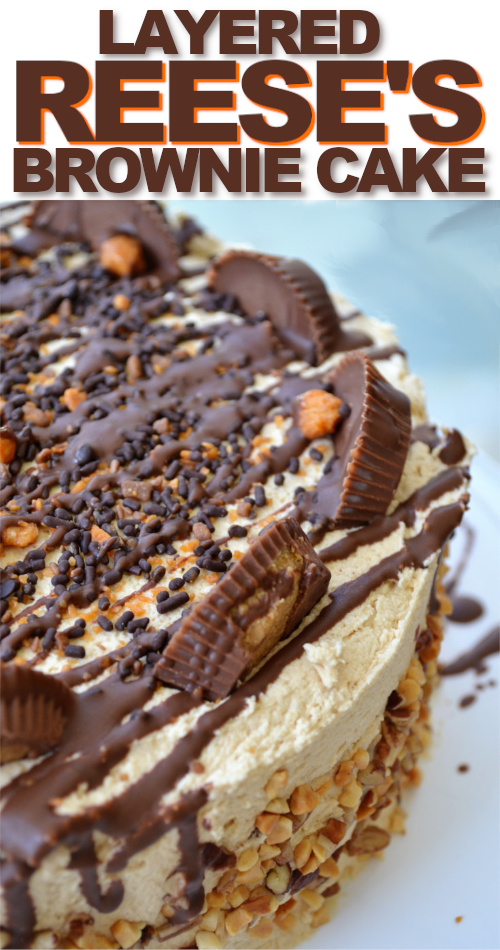 What is the most creative way that you've ever eaten a brownie?
Disclosure: Some of the links in this post are affiliate links. If you click on the link and purchase the item, I will receive a commission. I only recommend products or services that I personally believe will add value to my readers. All opinions stated are strictly my own. Read our full disclosure policy for more information. 
 This post has been updated!!
It seems like yesterday when we first hit "publish" on many of our blog posts, but in reality, it has been years. Time flies, and it's amazing how fast things can change. New technologies, trends, and events are constantly emerging, and it's our responsibility to keep our content up-to-date and relevant for our readers.
At Fluster Buster, our goal is to provide our readers with the most updated, relevant, and easy-to-read content possible. As we make upgrades to our content, we hope you will enjoy the changes we have made. We are excited to bring fresh content and perspectives to our blog and to continue providing valuable insights and information for our readers.
So stay tuned, as we continue to update and upgrade our blog posts, and if you have any topics you would like to see covered, please let us know. We want our content to be insightful and useful for our readers, and we're always open to feedback. We appreciate your continued support of our blog and our company.
Originally posted on: 08/22/2016