This post may include affiliate links. Read our disclosure policy for more information.
Garlic Green Beans – a simple, snappy, garlicky flavored side dish that makes a delicious addition to your favorite meal. This simple recipe uses only a few ingredients, takes about 10-minutes and will certainly become the star of the meal.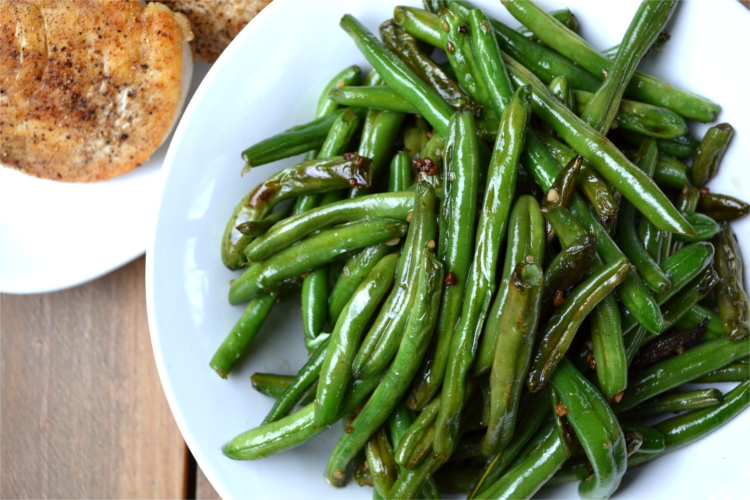 I was never a big fan of green beans, I always thought that they were kinda' bland. My mom would open a can, heat it up, throw a little butter on it, and call it good, or if it was a holiday she would go all out and make a green bean casserole. Either way they weren't a favorite of mine.
As I got older I discovered that green beans were so much more than what I had experienced. These magical little green rods easily absorb flavor, so the sky was the limit in what you can do with them. If you're like me and not a fan of green beans, I suggest giving them another chance, you're definitely going to change your mind.
Garlic Green Beans
Garlic: This is the superstar of dish and if it is overcooked it will give the green beans a bitter and unpleasant taste. To keep the garlic from overcooking season the oil with whole garlic cloves, cut in half. If the garlic starts getting a little to brown remove it before it taints the oil. The minced garlic gets added during the last 5 minutes of cooking, this keeps the garlic from getting overcooked while giving the green beans an added punch of garlic flavor. 
Green Beans: When purchasing fresh green beans, choose ones that are on the thinner side. Thin green beans are more tender and able to absorb more of the garlic flavor. Be sure that when you are washing them that you remove the stem end of the bean, and to leave the bean whole, no cutting. Before you begin to sauté the beans make sure that they are completely dry, any moisture will make the oil in the pan splatter.  



Sautéed Garlic Green Beans
Author:
Robin | Fluster Buster
Recipe type:
Vegetable, Side Dish
Ingredients
2 tablespoons olive oil
2 cloves of garlic, halved
4 cloves garlic, small mince
1 pound green beans, cleaned & trimmed
Salt, to taste
Instructions
In a skillet, over medium-low heat saute' the garlic halves in olive oil until light brown.
Turn heat to medium, remove garlic halves and add green beans, cook for 5 minutes stirring often.
Add minced garlic and continue to cook for an additional 5 minutes, or until the green beans are bright green.
Remove from heat, add salt before serving.
Check for coupons before heading to the store.



Disclosure: Some of the links in this post are affiliate links. If you click on the link and purchase the item, I will receive a commission. I only recommend products or services that I personally believe will add value to my readers. All opinions stated are strictly my own. Read our full disclosure policy for more information.