This post may include affiliate links. Read our disclosure policy for more information.
Simple Banana Ice Cream – a low calorie dessert that will satisfy your sweet tooth when you're trying to eat healthy. It's simple, delicious and your waistline will love you.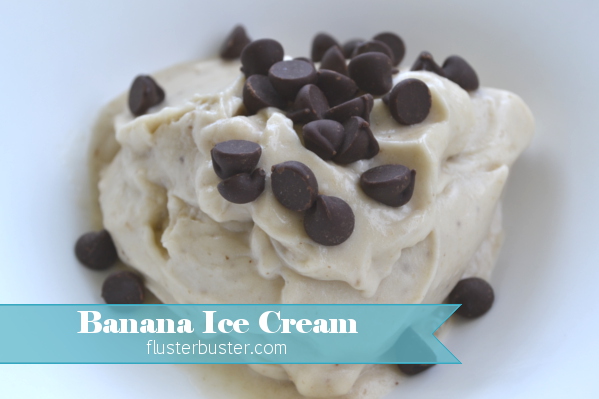 Your 40's! I've heard people say that once you reach your 40's your body begins to morph. You start seeing signs of wrinkles, your hair begins to gray, hair grows in odd places, your boobies get a mind of their own, your arms begin to jiggle and the worst part is that inner-tube that begins inflating around your waist. I always thought that women in their forty's were exaggerating, unfortunately they weren't.
I never thought the 40's morph could happen to me. All of my life I've been able to eat anything I wanted and my weight always stayed within 5 pounds of my high school weight. It wasn't that I was really active, I just thought that I had really good genes. However, when I hit my forty's everything changed.
The biggest change has been to my weight. When I first started seeing the changes to my weight I blamed it on the scale. Once I bought a new scale, I decided to just ignore the small increases. Now, the small increases have added up and can no longer be ignored.
About a month and a half ago I decided enough was enough and I had to do something about it. I wanted a plan that incorporated diet and exercise and I also wanted someone to hold me accountable. I did a little research and decided on joining Curves. When I joined curves I set a goal for myself and have been working really hard over the last month and a half to reach it.
I'm proud to say, as of today, I have lost over half of the weight that I wanted to lose, however I know it could have been more if I could just stick with the diet. The food on the diet is really good, but my sweet tooth is a huge obstacle. Ice Cream is the hardest for me, especially on hot summer days. So this week I decided to find some recipes that were healthy and that would satisfy my sweet tooth.
I found several healthy recipes, but this one is my favorite, because it not only satisfies my sweet tooth but it also satisfies my addiction to ice cream. Plus I like that it's quick and easy!

Banana Ice Cream
Author:
Robin | Fluster Buster
Ingredients
1 medium banana, frozen
1 teaspoon milk, low-fat
Instructions
Place frozen banana slice and milk in a food processor, using the steel blade. Process until smooth and creamy.
Serve immediately.
Notes
Calorie Free Toppings:
-ground cinnamon
-cocoa powder
-vanilla extract

For an Additional 50 calories:
-5 large strawberries
-30 chocolate chips, semi-sweet
-1/2 ounce walnuts, chopped
-2 teaspoons chocolate syrup
Nutrition Information
Serving size:
1
Calories:
105
Carbohydrates:
27 grams
Fiber:
3 grams
Protein:
1 gram
Check for coupons before heading to the store.





Disclosure: Some of the links in this post are affiliate links. If you click on the link and purchase the item, I will receive a commission. I only recommend products or services that I personally believe will add value to my readers. All opinions stated are strictly my own. Read our full disclosure policy for more information.