This post may include affiliate links. Read our disclosure policy for more information.
DIY Snowy Valentine Centerpiece made with all the colors associated with Valentines along with some unexpected and playful winter items. All displayed in a rustic two-tiered metal tray that looks beautiful placed in the middle of your tablescape.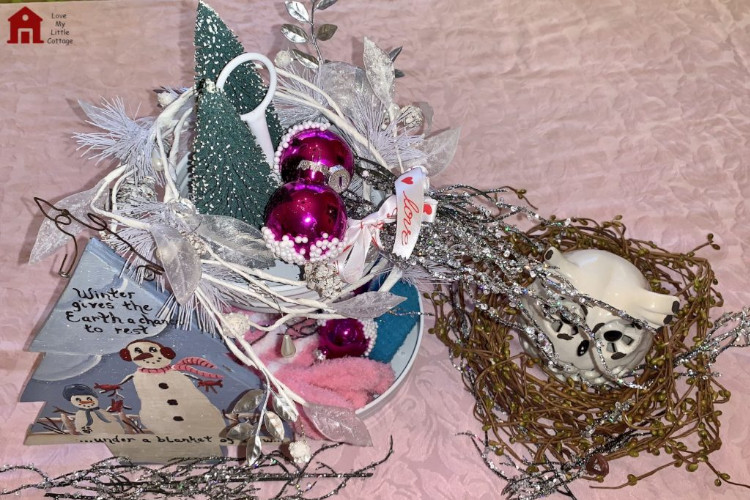 One of the most important parts of a tablescape is the centerpiece. It sets the tone for the entire meal. I like to leave my tablescapes out for a week, or even two. The plates and utensils that we've used go into the dishwasher after each dinner, then I put them back the next day. The centerpiece remains stationary, for all to enjoy.
I wanted my Snowy Valentine Centerpiece to be fun, colorful, and full of snow and ice. It's been so warm in the Deep South this winter. We've only used our fireplace three times. I've been creating my own winter, and Mother Nature hasn't been helping at all.
How to Make a Snowy Valentine Centerpiece
Materials:
small, white two-tiered metal tray

winter sign (I used one that I painted in 1998)

snowy brush trees

pink ornaments

2 sets of fuzzy gloves

Elmers Glue All

tiny styrofoam balls

snowy wreath

icy floral picks

valentine ribbon
Instructions:
Step 1
To begin, place the snowy wreath on the top tier of the tray and style the fuzzy gloves on the bottom tier. You could use mittens, or a hat too. A doll-sized toboggan hat would work well. Tuck the snowy brush trees into the wreath.
Step 2
The snow-dipped ornaments are easy to make. Dip the ornaments into the Elmers Glue All, then into the tiny styrofoam balls. Let them dry, then arrange them on your tray.
Step 3
Tie a valentine ribbon around two bundles of icy floral picks. Place on the top tier. The ribbons match the ones in My Snowy Valentine Tablescape.
Step 4
Find a snowy animal figurine and surround him with a twig wreath. Tuck some icy floral picks into the wreath. My snowy owl could light up and change colors when he was given to me as a gift. The lights stopped working, so I removed all the inner parts and kept his ceramic shell.
Step 5
Find a small, fun winter sign and lean it against the tray. I painted my snowman sign in 1998. For all of you old-time crafters- do you see the crackle paint on the snowmen? I've used this winter sign in my kitchen, in the middle of a wreath, and in so many other ways over the years. This is one of the items I sold at craft shows. You can read about my experience as a crafter here. Place icy floral picks in front of your sign.

This is my last guest post for Robin here on Fluster Buster. I've learned lots from being a contributor, and would recommend it to anyone who wants to stretch themselves a little bit. I hope you enjoyed reading the tutorial for my Snowy Valentine Centerpiece!
ABOUT ME
Passionate about all things domestic, as a Christian wife and homeschooling mother of 5 children, I am especially interested in encouraging stay-at-home moms, one-income families, and cottage dwellers of all kinds. I love DIY projects, sewing, decorating, cooking, and collecting and selling vintage dishes. Read More…
_______________
MORE INSPIRATION FROM LOVE MY LITTLE COTTAGE
Related Products