This post may include affiliate links. Read our disclosure policy for more information.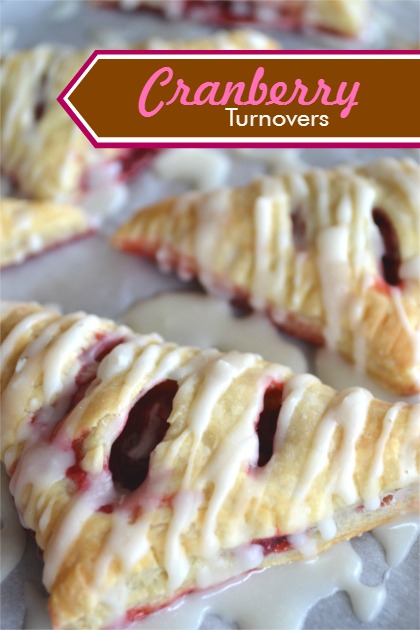 Are you looking for something to do with your leftover cranberry sauce?
There are a lot of recipes floating around this time of year on how to use up your Thanksgiving leftovers. Most of the recipes are how to use the leftover turkey, potatoes and stuffing but there are very few on how to use the cranberry sauce.
If you tried our Cranberry Relish this year, you probably don't have any leftover, but just in case you do you're going to love, love, love this use. If you don't have any leftover you should really whip up a batch, it's pretty amazing stuff.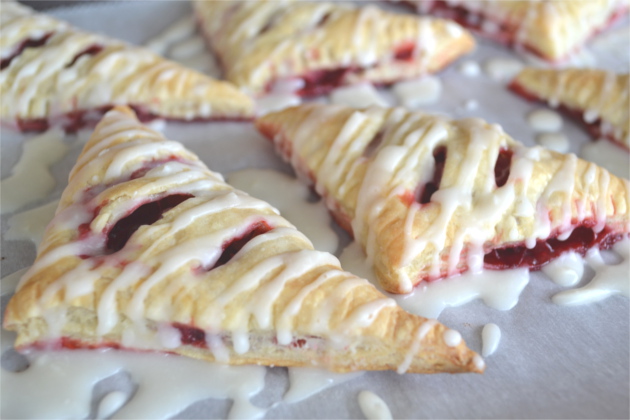 This post may contain affiliate links – any opinions stated are strictly my own! See our disclosure for more information.
Since Thanksgiving I've made these Cranberry Turnovers three times. I'd make a batch, take some how-to pictures and before I could get the glaze on them for the final pictures they'd disappear. I was okay with it the first time they disappeared, I understood that they were delicious and hard to walk away from. However, the second time I wasn't as amused, I thought that if I put a note on them "DON'T TOUCH" they would be safe, wrong!!!! At last on my third attempt to get my final pictures I succeeded, the trick was getting everyone out of the house at the same time. Fluster Busted!!!
At this point you're probably wondering where all of the how-to pictures are that I told you about. It's not that I didn't have them, I took enough pictures making the three batches.  They just disappeared, just like the first two batches of the Cranberry Turnovers that I made. I don't know what it is about getting this post together, the fates have been against me from the beginning. I was ready to just call it quits and not share this delicious recipe but they were such a big hit with my family I thought that it wouldn't be fair if I didn't share it with you.
So, here's the recipe minus the how-to photos.
Cranberry Turnovers
Ingredients
Turnovers
Glaze
1 cup confectioners sugar
1 tablespoon butter, softened
½ teaspoon vanilla
2 tablespoons milk
Instructions
Turnovers
Roll out pastry dough to 12"x12".
Cut dough into nine 4"x4" squares.
Place 1 tablespoon of cranberry relish on one half of the square. On the other half place three knife marks in the dough.
Using a pastry brush, brush a little water on the edges of the dough, fold in half and seal with fork dipped in flour.
Bake at 400° for 15 minutes.
Let cool for 10 minutes before glazing.
Glaze
In a small bowl, mix together sugar, butter, vanilla and milk.
Using a spoon stream the glaze over the turnovers.
What is your favorite Thanksgiving leftover recipe?
Fluster Buster Tool Chest