This post may include affiliate links. Read our disclosure policy for more information.
Italiano Bow Tie Chicken & Broccoli Pasta – loaded with chicken, sweet Italian sausage, broccoli and bow tie pasta and then tossed in a creamy garlic Parmesan sauce.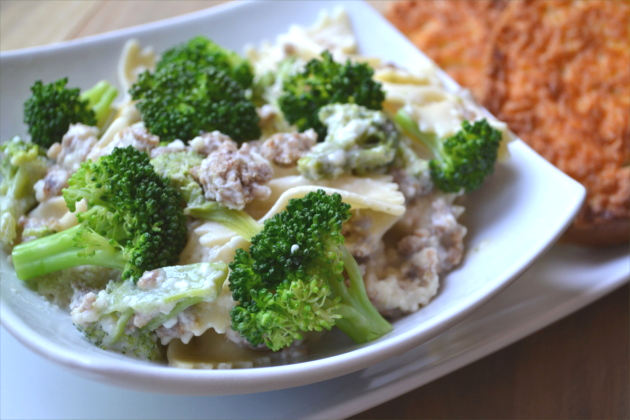 This is one of those dishes that you can eat often and never get sick of. It makes a great weeknight meal, because it is so simple, but it's also ideal if you're serving a large group. To complete the meal serve it with a nice salad, some garlic toast and a glass of red wine.
It's the delicious flavor that gonna' make this one of your families favorites, but it will become your favorite because of how easy it is to make. Each of the ingredients in this dish has amazing flavor, but it's when you combine them and then top it with the creamy, garlic, Parmesan sauce, that it becomes over the top delicious.
If you are one of those people that likes spicy Italian food, you might be a little disappointed. This dish is on the mild side, but it's certainly isn't lacking in flavor. The sweet Italian sausage and the garlic are about as spicy as this dish gets.
Chicken Broccoli Italiano
Chicken: I like to use boneless, skinless chicken breasts, but if I do have some leftover chicken I'll use that. 
Sweet Italian Sausage: I like to use ground sweet Italian sausage or mild Italian sausage, if I can find it. The ground Italian sausage can sometimes be difficult to find, depending where you live, if that's the case you can always use Italian sausage links and just remove the casings.
Bow Tie Pasta: You can use just about any kind of pasta you want, I use Bow Tie pasta, aka Farfalle, because the kids like it.
Chicken Broccoli Italiano
An Italian dish loaded with chicken, sweet Italian sausage, broccoli and bow tie pasta and then tossed in a creamy garlic Parmesan sauce.
Ingredients
1 (16 ounce) box bow tie pasta
1 tablespoon olive oil
1 pound chicken, diced
1 pound sweet Italian sausage
1 medium onion, diced
1 pound broccoli, cut into 1-inch florets
1 cup heavy whipping cream
1 cup Parmesan cheese
Instructions
Bring large pot of water to a boil, add broccoli and cook until it is crispy-tender, about 3 minutes. Remove broccoli with a slotted spoon and set aside.
Bring water back to a boil and cook the pasta according to package directions.
Heat oil in a large skillet over medium-high heat. Add the chicken, cook until no longer pink, remove chicken from pan, set aside.
Add the sausage and onion to the pan, break up and cook until the sausage is no longer pink and the onions are translucent.
Add the cream and cheese to the pan, bring to a simmer and cook until slightly thickened, about 2-3 minutes.
Add chicken, broccoli and pasta to the sausage mixture, stir until combined.
Notes
Serve with:
salad and garlic bread
Check for coupons before heading to the store.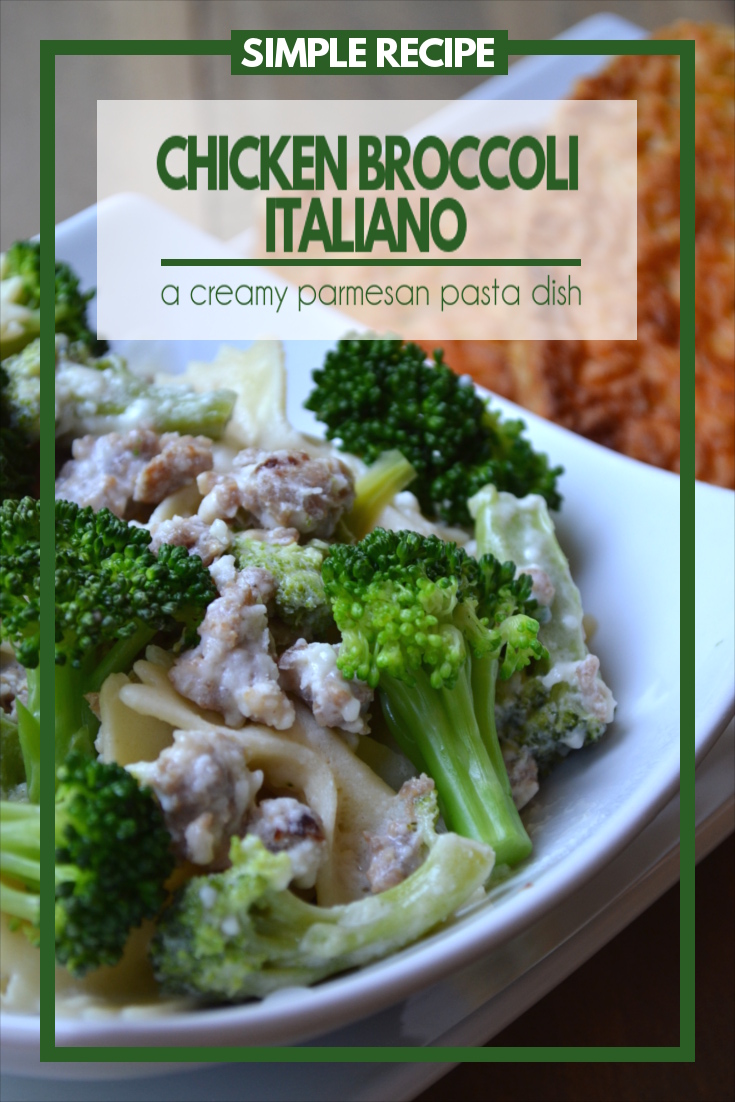 Disclosure: Some of the links in this post are affiliate links. If you click on the link and purchase the item, I will receive a commission. I only recommend products or services that I personally believe will add value to my readers. All opinions stated are strictly my own. Read our full disclosure policy for more information.