This post may include affiliate links. Read our disclosure policy for more information.
Spring is FINALLY here! Now it's time to start thinking about swimsuit season.
This winter has been a killer to my waist line. It's funny how cold weather makes you eat more and this winter was really cold. I have a lot of work to do before I can even think about pulling out my swimsuit.
In honor of shrinking my waistline I thought that I would share one of my healthier, cheap and easy recipes this week.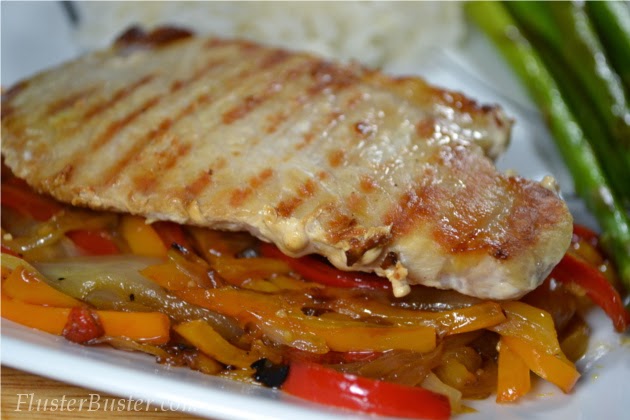 This is one of my favorite healthier meals. I love the flavor that the sauteed peppers and onions add to pork. They even taste yummy mixed in with the rice.
The sauteed pepper and onion combo give the pork so much flavor that you don't miss the fact that the pork chop wasn't breaded and fried.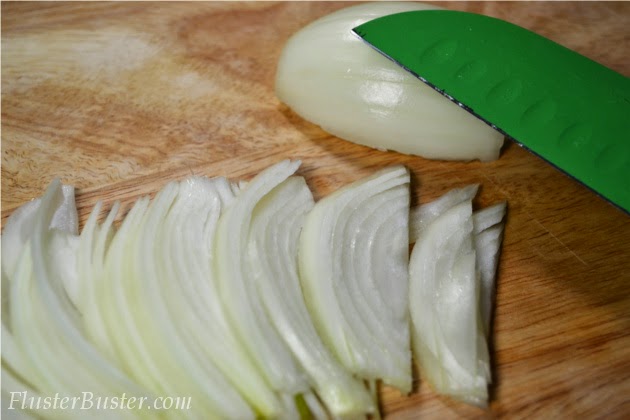 The hardest part about this recipe is cutting up the vegetables, other than that it's easy-peasy.
**Don't forget to put the onion in the freezer for about 15 minutes before cutting into it, it will really save you from shedding tears.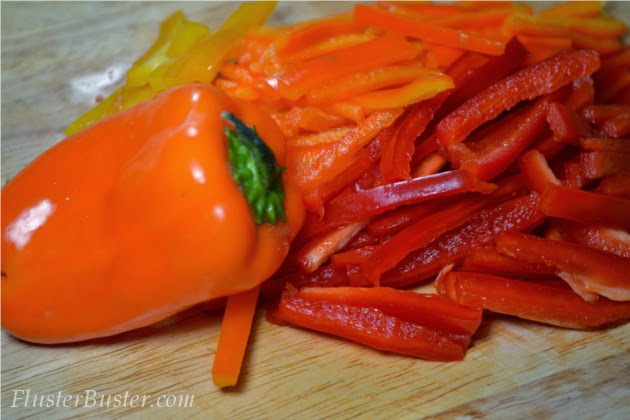 Aren't the colors pretty?
You can use any color or combination of color for the sweet peppers that you like. I had a few different colors on hand so I mixed it up a little.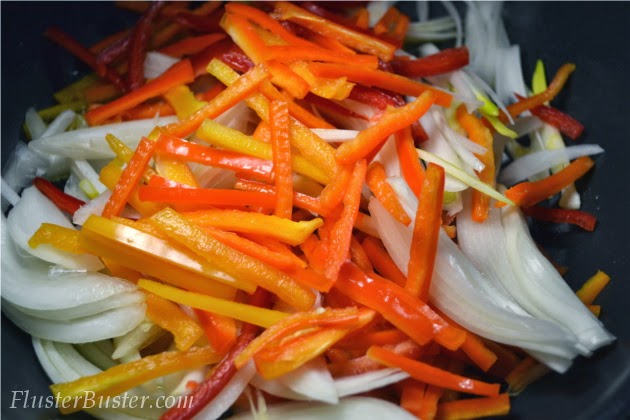 Once you've got the onions an peppers cut up, throw them, actually you don't have to throw them just put them in a hot pan and saute in a tablespoon of EVOO.
Asparagus is one of my favorite vegetables but I don't serve it during winter because it costs so much. However, now that it's spring, asparagus is very affordable. Last week I was at Aldi's, a discount grocery store, and they had asparagus on sale for $1.79 per bunch. Their were 40 spears of asparagus in the bunch, enough for 2 meals.
I picked up several bunches so that I could freeze them for the winter months.
To keep from dirtying to many pans, I push the peppers and onions to one side and cook my asparagus in the same pan. It gives the asparagus a really nice flavor.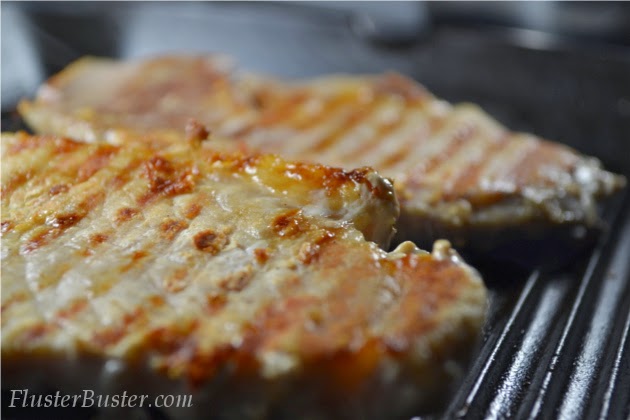 I used my handy cast iron grill to cook the pork chops. I actually could've grilled them outside because it was such a nice day but I already had the rice an peppers going when I thought about it. It would've been nice to have that added hint of charcoal flavoring though.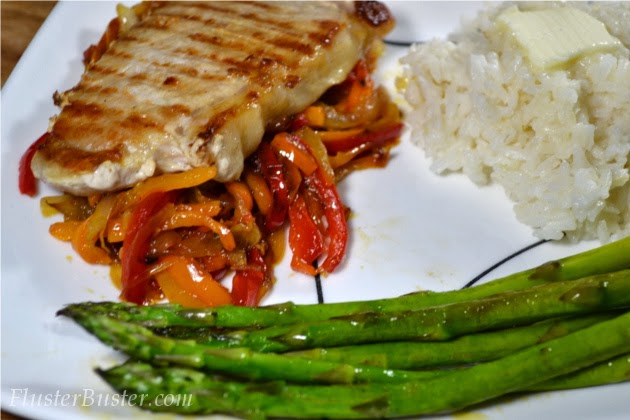 Ignore that pat of butter floating on top of the rice, this plate was for one of my kids who doesn't have to worry about their waist line, yet!
To give the plain white rice some flavor, while keeping the calories as low as possible, I like to mix my peppers and onions in with it.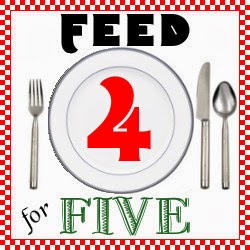 Peppers & Pork Dinner
      Serves: 4          Category:
Pork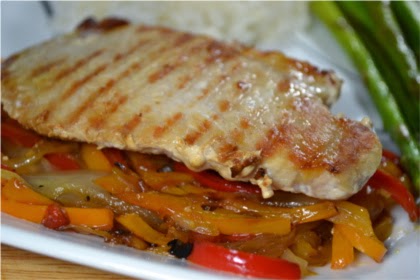 Ingredients
4 – 6 ounce pork chops ($2.98)
1 medium onion, julienne ($0.08)
1 sweet pepper (red, orange or yellow), julienne ($0.69)
1 clove garlic, minced ($0.02)
1 tablespoon olive oil ($0.10)
Salt and pepper
1 cup white rice ($0.42)
20 asparagus spears, cleaned  ($0.89)
Instructions
1.
Cook rice according to package directions.
2.
In a large skillet, sauté onions, peppers and garlic in olive
oil, until they are almost translucent.
3.
Push the onions and peppers to the side of the skillet. Add
asparagus and cook for 7-10 minutes, turning occasionally until they are
crisp-tender.
4.
Lightly season pork chops with salt and pepper.
5.
Place pork chops on a lightly oiled, hot gill. Grill 4-5 minutes
per side.
6.
Serve the pork chops on a bed of peppers and onions, with rice
and asparagus on the side.
www,FlusterBuster.com

Cost = $5.18
How I go these prices:
Pork Chops – (1 pound for $1.99) purchased on sale from a grocery store chain (Kroger)
Onion – (3 pounds for $0.79) purchased on sale from a discount grocery store (Aldi's)
Sweet Pepper (1 pepper for $0.69) purchased on sale from a discount grocery store (Aldi's).
Garlic – (1 head for $0.49) purchased from a grocery store chain (Kroger).
Olive Oil – (12 ounces for $2.39) purchased from a discount grocery store (Aldi's)
Rice – (32 ounces for $1.69) purchased from a discount grocery store (Aldi's)
Asparagus – (40 spears for $1.79) purchased on sale from a discount grocery store (Aldi's) *You'll find the lowest prices on asparagus in the spring.


Savings Tip:
At my local grocery store, Kroger, pork loin usually goes on sale for $1.99 per pound once every 6-8 weeks. When it goes this low I buy enough to get through to the next sale. One of the great things about Kroger is their meat department, when I buy several pork loins I bring them up to the meat counter and they will cut them to the size I need. I usually have them cut a couple of the loins into chops, It's much cheaper than buying pre-packaged boneless pork chops.
What recipes do you have that cost around $5.00 to prepare?