This post may include affiliate links. Read our disclosure policy for more information.
Healthy Salad Recipe: Citrus Salad. It is lightly sweet with a hint of mint. It's not only colorful but also a refreshing way to brighten up a meal. #saladrecipe #healthysalads #citrus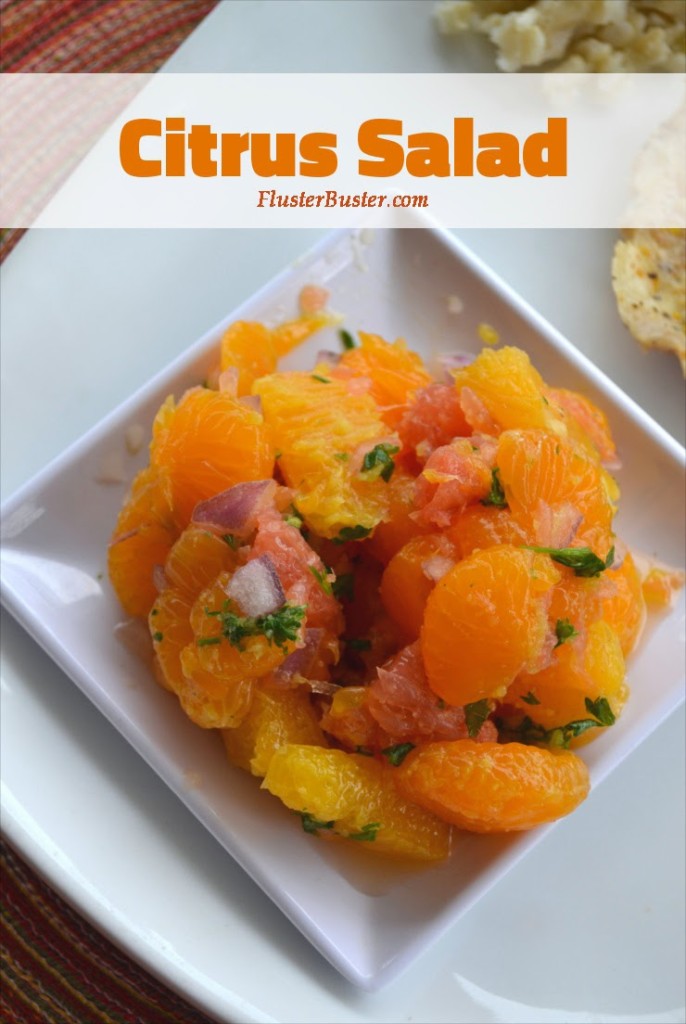 Growing up I don't think that my mom ever served a meal that didn't include some kind of meat, potato or a vegetable. She was a master at making you feel like you were eating something different, but it was always the same.
Thinking back I can't recall ever eating any rice and as for pasta that was eaten on rare occasions. The vegetables were pretty limited too. Occasionally we would eat something weird like broccoli but most of the time it was, corn, green beans or lettuce.
My dinner table looks a lot different than my moms did. I serve all different kinds of vegetables, we rarely eat potatoes and it's not unusual to have a meal without meat. Another thing that you can find on my table and not my moms is fruit.
I absolutely love fruit with dinner not just because it's so good for you but it's really refreshing . One of my favorite recipes is this citrus salad, it goes really well with fish or Mexican dishes. Another reason to serve fruit with dinner is because there are never any leftovers, whatever doesn't get eaten with dinner becomes a snack or breakfast.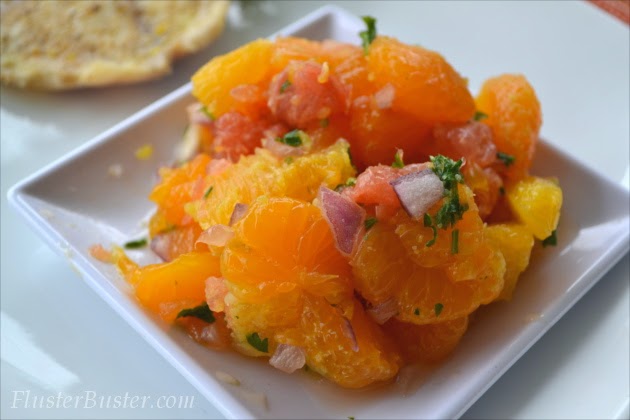 Citrus Salad

Lightly sweetened salad with a hint of mint. It's both a colorful and refreshing way to brighten up a meal.

Ingredients

Directions

2

1

1

tangerines

orange

grapefruit

Peel fruit removing as much of the pith (the white stuff) as possible. Divide into sections. Using a sharp knife cut sections into bite size pieces and place in a bowl.

¼ cup

1 tsp

red onion, chopped

salt

mint, chopped

Add onion and mint to the citrus and lightly salt.

3 Tbsp

1 Tbsp

olive oil

honey
lemon juice

Whisk together in a small bowl then drizzle over the fruit.

Serve cold
| | |
| --- | --- |
| Salad | Recipe from: FlusterBuster.com- |

Don't forget your printable coupons to save even more.
Do you ever serve fruit with dinner?
Bust the Fluster with the right tool
This post may contain affiliate links, so
please take a moment and read our
Disclosure Policy
.