This post may include affiliate links. Read our disclosure policy for more information.
Oh potatoes, lovely, yummy potatoes! If you couldn't guess I kinda' love me some potatoes.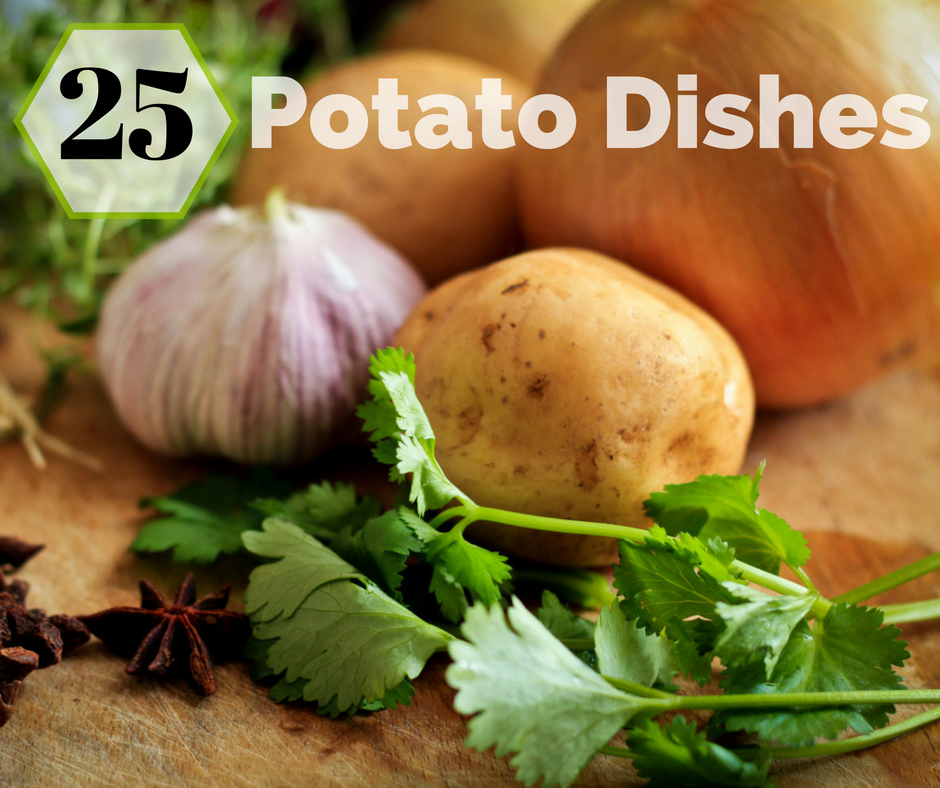 Whenever I cook something with potatoes the nursery rhyme, one potato, two potato almost always goes through my mind. 
One potato, two potato,
Three potato, four
Five potato, six potato
seven potato, more!
Do you have any idea who wrote this nursery rhyme? I looked everywhere trying to find out the author and had no luck. My best guess is that it had to be written by someone from Ireland. I figured that whoever wrote it would have to love potatoes a lot and we all know, no one loves potatoes more than the Irish.
If you hadn't guessed already, I'm Irish, hence my love for potatoes. From the time I was born, I don't think that there was ever a meal served that didn't include some kind of potato dish. Between my great-grandma McGee, my grandma Dunn and my mom I've eaten a lot of potatoes, which makes me kind of an expert when it comes to them.
Check out this list of potato dishes that I put together, the Matriarch's of my family would have been so inspired.
Potato Recipes
1. Baked Garlic Parmesan Potato Wedges by Crème de la Crumb
2. Mashed Potato Puffs by The Cooking Jar
3. Twice Baked Potatoes by Garnish and Glaze
4. Cheesy Hasselback Potatoes by Lil' Luna
5. Twice Baked Potato Casserole by Just a Pinch
6. Loaded Slow Cooker Potatoes by Delish
7. Italian Roasted Potatoes by Rasa Malaysia
8. Taco Potatoes by Life in the Lofthouse
9. Parmesan Duchess Potatoes by Striped Spatula
10. Easy Potato Skins by I heart Naptime
11. Crispy Potato Roast by Cakes Cottage
12. Easy Skillet Cheesy Potatoes by Eating on a Dime
13. No Boil Mashed Potatoes by Spend with Pennies
14. Sheet Pan Hash Browns by Macheesmo
15. Cheesy Scalloped Potatoes by Plain Chicken
16. Potatoes with Onions and Mushrooms by Yummiest Food
17. Easy Seasoned Roasted Potatoes by The Whole Cook
18. Cheesy Loaded Potato Bombs by Oh Sweet Basil
19. Parmesan Garlic Crash Hot Potatoes by Dinner then Dessert
20. Cheesy Gratin Stacks by Recipe Tin Eats
21. Old Bay Curly Fries by My Sequined Live
22. English Roasted Potatoes by Bacon Butter Cheese Garlic
23. Crispy Salted Potato Rounds by Recipe for Perfection
24. Tornado Potato Skewers by Tip Hero
25. Chili Lime Potato Chips by Diethood
26. Baked Potato Guide by Fortunate Kitchen
Everyone has a favorite potato dish, what is yours? 


Disclosure: Some of the links in this post are affiliate links. If you click on the link and purchase the item, I will receive a commission. I only recommend products or services that I personally believe will add value to my readers. All opinions stated are strictly my own. Read our full disclosure policy for more information.