This post may include affiliate links. Read our disclosure policy for more information.
We're cooking up a lot of Mexican food using pork this week. Pork tenderloin is currently on sale for $1.49 a pound so I'm taking full advantage of it for this weeks menu.
If you are not a fan of Mexican food or pork you can use one of our previous budget friendly meal plans. However, if you like Mexican food you're going to love this weeks menu.
Here's what our meal plan looks like this week: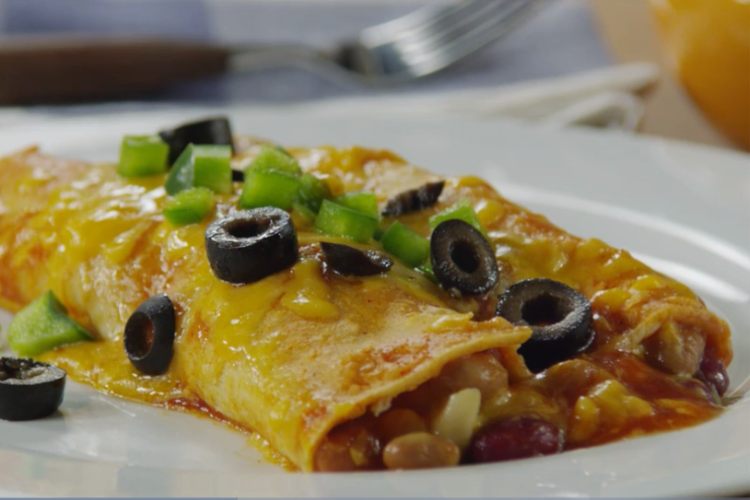 Budget Friendly Meal Planning
Monday
Three Bean Enchiladas by BHG – served with a tossed salad.
Serves 8

Cost Cutting Tips:

Make your own beans, it's a cheaper option and they are simple to make. You can even make enough to freeze for another meal.
Make your own enchilada sauce using tomato sauce and a few spices. It's cheaper to make and you are in control of how spicy it is.
Tuesday
Leftovers – meatloaf, mashed potatoes and corn from Sunday's budget friendly dinner.
Wednesday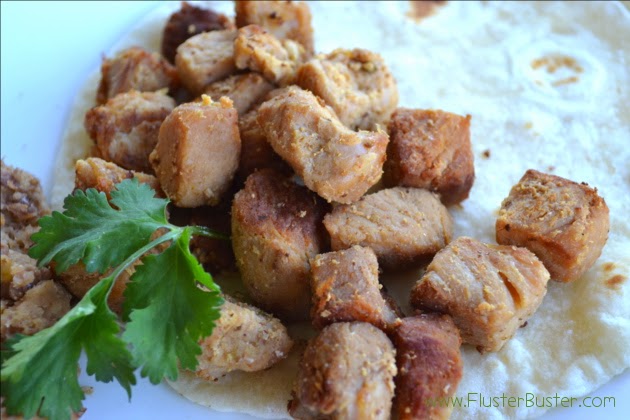 Slow Cooker Carnitas – served with Spanish rice and re-fried beans.
Serves 4

Cost Cutting Tips:

Purchase pork when it is on sale and be sure to stock up, about 3 months worth. The lowest price that I've seen for pork tenderloin is $1.49 per pound. I usually buy about 20-25 pounds worth and I have the butcher cut some of it into boneless chops.

Save money on spices by purchasing them from the dollar store.

Make your own flour tortillas for a inexpensive and delicious replacement.
Make your own Spanish rice instead of purchasing the preservative packed options.
Replace the canned re-fried beans with homemade ones. Dry pinto beans are inexpensive, simple to make and they freeze up nicely.
Thursday
Corn Dogs – served with french fries and coleslaw.
Serves 4

Cost Cutting Tips:

Lower your budget by making your own french fries. A pound or two of potatoes and a cheap french fry cutter (affiliate link) is all you need to save yourself a few dollars.
Instead of purchasing a bag of coleslaw mix and sauce, you can easily make it yourself with just a few simple ingredients. Homemade coleslaw is not only tastier but is a cheaper option.
Friday
Leftovers – three bean enchiladas and a tossed salad.
Saturday
Salsa Verde Pork Chops by Herdez – served with white rice and caramelized carrots.
Serves 4

*Recipe alterations – I eliminated the pomegranate and pepita seeds from the recipe.

Cost Cutting Tips:

Always check for store or manufacturer coupons before shopping.

If possible choose store brand products, they are a much cheaper alternative.
Sunday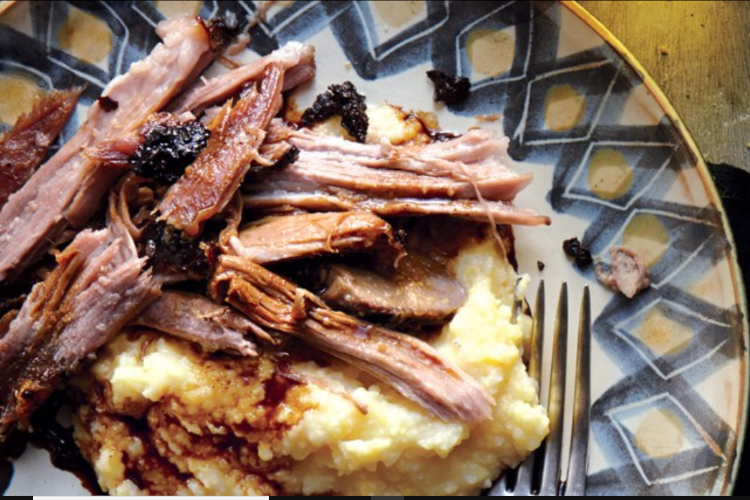 Pork Shoulder with Mustard Sauce by bon appetit– served with mashed potatoes, southern green beans, biscuits and for desert, brownies.
Serves 8

*Recipe alteration: I used dry herbs instead of fresh for the pork shoulder.

Cost Cutting Tips:

Instead of purchasing prepared biscuits, try making biscuits from scratch. They're cheaper, more delicious and super simple.
Instead of purchasing boxed brownies, make them from scratch. If you keep a well stocked pantry all of the items that you need can be found there.
Download – Week 14: Menu & Shopping List
More Budget Friendly Tips
✔ Keep a well stocked pantry, it is an essential part to feeding a family on a small budget. Plus it's comforting knowing that there is always something at home to cook.
✔ Stock up when prices are at there lowest. Sales usually go in a 3 month cycle, so if you see an item at it's rock bottom price, buy enough to use between now and the next sale.
✔ One way that I keep my grocery bill low is by using coupons for the items that I need. I rarely plan my menu around the coupons that are available, I find that I end up spending more. Instead I create my menu first and then look for coupons that will lower my bill.
Time Saving Tips
✔ Do your grocery shopping online, you'll save so much time because someone else does the shopping for you. It also allows you more flexibility for staying on budget, you don't check out until your total is just right. Use my Walmart Grocery Pickup link and get $10 off your first order of $50 or more.
✔ Spending a little time meal planning can make your life so much easier. It'll save you time and money, improve your nutrition, it'll make cooking more manageable and it will give you more control over what you put on the table.
✔ A simple way to save yourself some time in the kitchen is by prepping your food for the week. This can be done by simply washing your fruits, chopping your vegetables or portioning the food for each meal. It's up to you how much you want to do to save yourself sometime later in the week.
About Our Meal Plan
✔ Our menus are designed to feed a family of four, two adults and two teenage boys. It can also feed two adults and 3-4 young children.
✔ Many of the meals included in our meal plan are budget friendly to begin with, however we do offer tips that will reduce the grocery bill even further.
✔ Our menus do not include breakfast or lunch, but there is space for you to fill in what your family likes. Our family eats a pretty simple meal for breakfast and lunch, like cereal or sandwiches and sometimes leftovers. We don't make to much of a fuss over it.
✔ Sunday dinner is our biggest meal of the week, that's when all of the family gets together, so we tend to spend a little more money and include dessert. I try to make enough for leftovers during the week.

Related Posts You'll Love
Budget Friendly Meal Plan (Week 13)
Budget Friendly Meal Plan (Week 12)
Budget Friendly Meal Plan (Week 11)
Budget Friendly Meal Plan (Week 10)
---
About the Author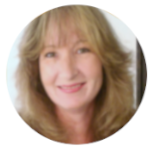 Robin
A mother to three amazing boy, wife to an incredible husband and a former finance manager who traded in her spreadsheets for cookie sheets. I blog about things that make life a little more fun, a bit more manageable, slightly prettier, a great deal tastier and considerably cheaper.
---
Categories
Main Dish Space Side Dish Space Soup & Salad Space Dessert
Disclosure: Some of the links in this post are affiliate links. If you click on the link and purchase the item, I will receive a commission. I only recommend products or services that I personally believe will add value to my readers. All opinions stated are strictly my own. Read our full disclosure policy for more information.