This post may include affiliate links. Read our disclosure policy for more information.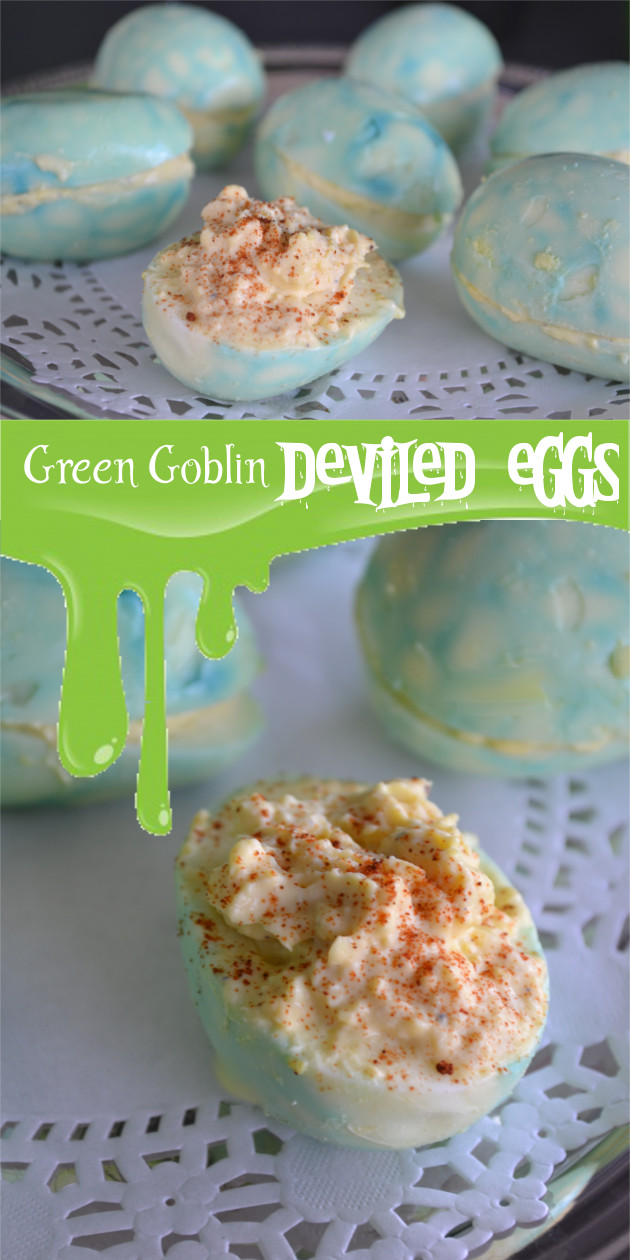 Halloween is a really fun time for food, you can get away with so much; bizarre food combinations, outrageous colors, unusual decorations and outlandish names.  It's one of the only times in your adult life that you can play with your food and have some fun doing it.
This year I was trying to come up with some new Halloween food ideas for our annual Halloween block party. Usually I make some kind of a spooky punch and a colorful snack. However this year I wanted to change things up a bit.
Of course I made a punch, but this year I decided to go with a hot punch, the cooler weather called for it. And, instead of doing a colorful snack, I decided to go with a fun and colorful appetizer.
Deviled eggs have always been associated with Easter I could never figure that out, the name seems to scream Halloween more than it does Easter. Because of this I decided to come up with a Halloween version of this Easter classic.
Green Goblin Deviled Eggs
I left the fun part to the kids, the coloring of the Green Goblin Deviled Eggs, they got such a kick out of coloring eggs in October and an even bigger kick out of cracking the eggs before coloring them.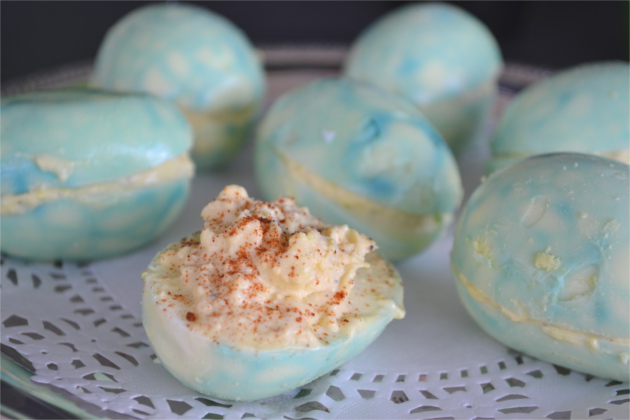 With more help from the kids, we made and stuffed the simple filling into eggs. Then we put the two halves together and came up with our Halloween version of deviled eggs.

Green Goblin Deviled Eggs
Ingredients
12 large eggs
6 cups hot water
1 bottle (0.3 ounce) yellow food coloring
½ bottle (0.3 ounce) blue food coloring
½ bottle (0.3 ounce) green food coloring
2 tablespoon apple cider vinegar
12 large eggs
½ cup mayonnaise
2 teaspoons mustard
¼ teaspoon salt
pepper, to taste
Instructions
Place eggs in a large saucepan. Cover the eggs with cold water by 1-inch. Bring to a boil and boil for 1 minute. cover and remove from heat. Let sit for 12 minutes.
Gently tap the warm eggs on counter and evenly crack the entire egg shell.
In a large bowl, mix together the water, food coloring and vinegar.
Gently place the cracked eggs into the colored water and let them sit for 1 hour.
Remove the eggs, dry and peel.
Slice the eggs in half lengthwise and removed the yolks.
Mash the yolks with a fork and add the mayonnaise, mustard, salt and pepper.
Spoon the yolk mixture into the egg white halves and gently press the two halves together.
Notes
Recipe adapted from: Southern Living 2002 Annual Recipes
How do you play with your food for Halloween?
Fluster Buster Tool Chest