This post may include affiliate links. Read our disclosure policy for more information.
An incredibly simple summer dessert that can be done on the grill in just a few minutes.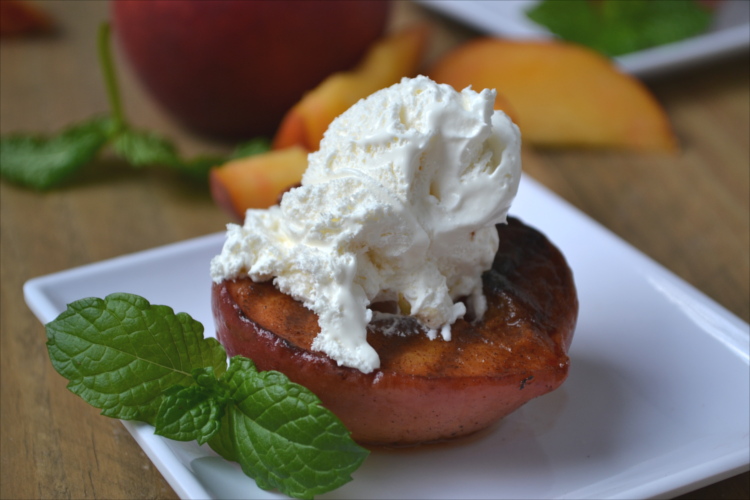 If you've never had grilled peaches you are in for a real treat. Grilling peaches is super simple to do and what it does to the flavor is amazing. The heat from the grill intensifies the natural sweetness of the peach while adding a subtle smokey flavor. The heat also caramelizes the cinnamon, sugar topping giving it a candy like shell. Top it all off with a little cream and you have the most luscious dessert. 
Grilled Peaches
Peaches: Freshly picked summer peaches are by far the best for grilling. When choosing the perfect peach look for ones that are slightly firm and have a strong peach smell. To slice them for grilling, gently run a sharp knife along the seam of the peach and carefully remove the pit.
Cinnamon: Cinnamon is really amazing stuff! Besides it's incredible flavor, it has many practical uses. My husband uses it to control his diabetes, I use it to stop the itching from bug bites, and I also use it in several of my recipes. 
Cream: Traditional peaches and cream calls for heavy whipping cream to be poured over the peaches. However, my brood prefers a dollop of cool whip instead of the cream. I personally like it either way!

15-Minute Cinnamon Roasted Peaches with Cream
Author:
Robin | Fluster Buster
Ingredients
2 large peaches
2 tablespoons butter, melted
2 tablespoons sugar
¼ teaspoon cinnamon
whipped cream
Instructions
Preheat the grill.
Slice peaches in half and remove the pits, brush the cut side with butter.
Place peaches cut side down on a piece of aluminum foil and cook over medium heat for 3-4 minutes. If you want grill marks, eliminate the aluminum foil, but watch them closely because the natural sugar in the peach easily burns..
Flip peaches over, sprinkle with cinnamon sugar and cook an additional 4-5 minutes.
Check for coupons before heading to the store.




Disclosure: Some of the links in this post are affiliate links. If you click on the link and purchase the item, I will receive a commission. I only recommend products or services that I personally believe will add value to my readers. All opinions stated are strictly my own. Read our full disclosure policy for more information.