This post may include affiliate links. Read our disclosure policy for more information.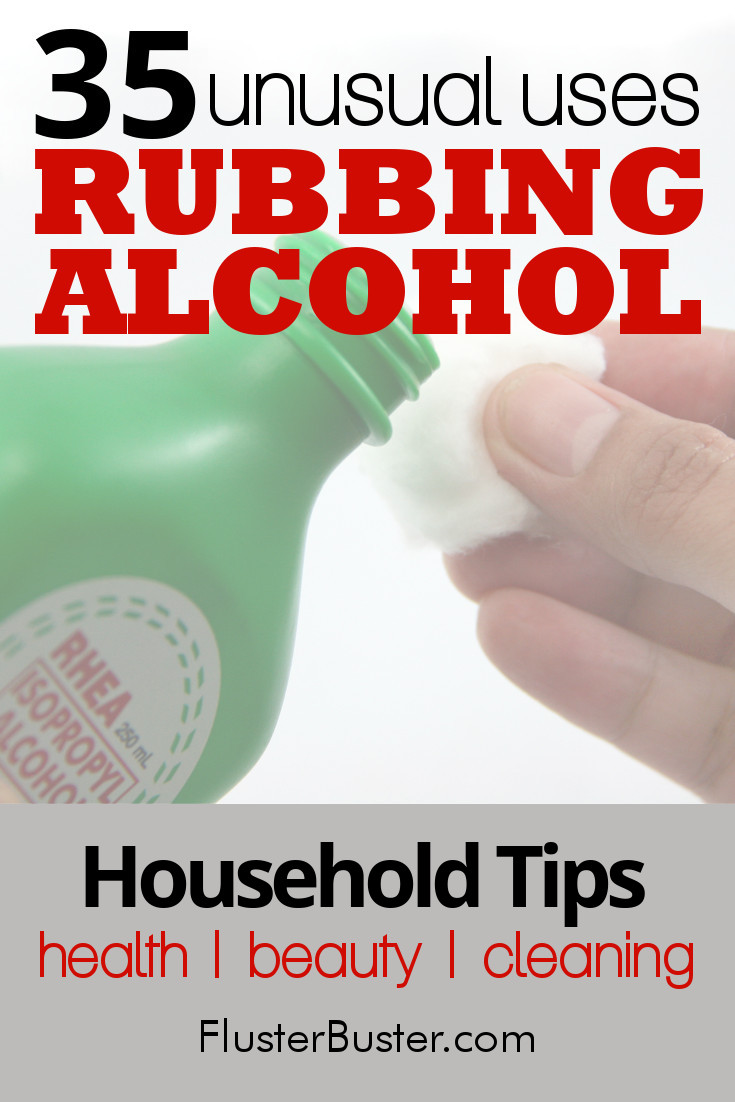 Are you enjoying this series as much as I am? Week after week I'm more and more amazed at what these common household products can do. There are just so many uses that I never imaged, it makes me miss my grandma's household tips journal that much more.
Why wasn't I ever taught all of these valuable tips? I think over the years, as our mother's and grandmother's joined the work force, they didn't have time or just overlooked some of these home remedies and tricks. I think it's our responsibility to pass these tips and tricks on to our children. Many of the unusual uses that I list every week are ones that have been handed down in our family. However, I have added some additional uses to help make the list as complete as possible. If you have any tips and tricks that aren't mentioned please leave me a comment and I will add it to the post.
This weeks WWII post for Rubbing Alcohol contains 35 uses. I rarely use the stuff, but I always have it in the medicine cabinet just in case. After creating this list I'm sure that it will become a regular purchase.
35 Unusual Uses for Rubbing Alcohol
1. Sterilizer – use it to sterilize items such as thermometers
2. Nail Fungus – soak feet in equal parts water and alcohol.
3. Muscles – rub on sore muscles to relieve pain.
4. Joints – rub on sore joints to relieve pain.
5. Ear Wax Removal – dab equal parts alcohol and vinegar into ear, repeat every other week.
6. Swimmers Ear – pour a little into the ear, the alcohol helps to evaporate the water and prevent an infection.
7. Athlete's Feet – rub on feet daily to avoid.
8. Hand Sanitizer – mix together 3 parts rubbing alcohol and 1 part aloe vera gel.
9. Ticks – to remove, dab with rubbing alcohol, then grab with a pair of tweezers as close to the skin as possible. Wipe the area with alcohol to disinfect.
10. Mosquito Bites – to relieve itching and aid in healing, dab rubbing alcohol on the bites.
11. Cold Sores – to heal, dab alcohol on the sore.
12. Window Cleaner – to make your own, mix 1/4 cup rubbing alcohol, 2 tablespoons ammonia, 3 1/2 cups water and a drop of dish soap.
13. Hairspray – to remove from mirrors and countertops, spray the area with alcohol and wipe to a sparkle.
14. Windshield – to remove frost, fill a spray bottle with alcohol and spray on windshield.
15. Paint, Ink & Marker Stains – to remove, soak the spot for a few minutes before washing.
16. Permanent Marker – to remove from hard surfaces, saturate the area and wipe away.
17. Makeup Brushes – to sanitize, soak brushes in alcohol for 30 minutes and allow them to air dry. Repeat every couple of weeks.
18. Ring Around the Collar – to prevent, wipe some rubbing alcohol on your neck before dressing.
19. Stainless Steel Cleaner – rubbing alcohol will remove fingerprints and smudges. It will also leave a nice shine.
20. Degreaser – rubbing alcohol can be used to remove grease on appliances, countertops, cabinets.
21. Carpet – to remove grease, apply rubbing alcohol to a rag and lightly rub the stain.
22. Electronics – to clean, wipe with a rag dampened with rubbing alcohol.
23. Eyeglasses – to clean, lightly spray glasses with rubbing alcohol and wipe away with a soft cloth.
24. Jewelry – to clean, soak jewelry in rubbing alcohol for a few minutes, remove and polish with a soft, clean cloth.
25. Fruit Flies – to kill, spray the flies with a fine mist of rubbing alcohol.
26. Dust Mites/Bed Bugs – to kill, spray a light mist of rubbing alcohol on bed, allow to dry and vacuum.
27. Air Freshener – to make your own, mix 1 cup rubbing alcohol with 10-15 drops of essential oil.
28. Sticky Residue – to remove, soak the area for a few minutes in rubbing alcohol before wiping it away.
29. Ice Pack – to make your own, pour 1 part rubbing alcohol with 3 parts water in a freezer bag and freeze.
30. Nail Polish – to remove, try using a little rubbing alcohol when you're in a pinch.
31. Candles – to clean, use a damp rag to wipe away dust and grime.
32. Dry Erase Board – to clean, wipe with a rag that has been dampened with rubbing alcohol.
33. Shoes – to stretch, apply a thin coat of rubbing alcohol to the interior and exterior of the shoes, then place on your feet or a shoe stretcher.
34. Hands – to remove odors, rinse hands with rubbing alcohol.
35. Shoes – to remove odors, spray shoes with rubbing alcohol and place in a sunny spot to dry.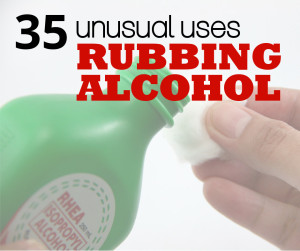 Not all of the items on this list are from WWII. As my family and I were coming up with the list we added our uses so that they can be passed down to our children. As times change, wonderful products like this can be adapted for modern uses.

Rubbing Alcohol image adapted from Wikihow.com image per a Google Labeled for Reuse Search.
** If, by some small miracle, you worked at Amway in Ada, MI and were the person my mother loaned the notebook to, please contact me. The notebook is a small (approx 6×9), black, 3-ring binder, and contains hand drawn patterns (teddy bear), recipes, tips and tricks. It would mean so much to my family to have it back.