This post may include affiliate links. Read our disclosure policy for more information.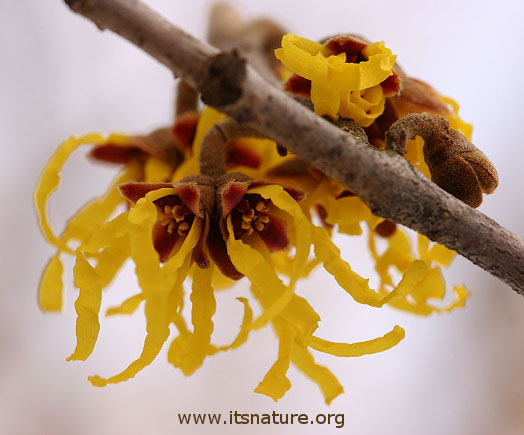 Last week when my family and I were coming up with the various tips that my grandma used for Vick's VapoRub, one of my Aunt's had mentioned Witch Hazel. I had never heard of it before but it sure sparked a lot of memories for my family. After a little research on my part, I discovered that Witch Hazel (funny name) is a flowering plant that grows in North America. It's also referred to as Winterbloom. In early America, the twigs of the Witch Hazel were used as divining rods to locate water, which influenced the "Witch" part of its name. The plants extract was used by American Indians for medicinal purposes and that same extract is used today in many healthcare products.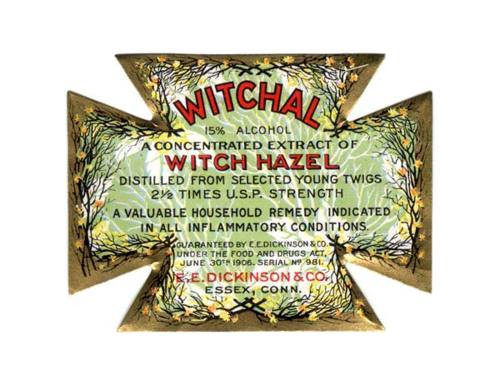 10 Surprising Witch Hazel Uses
1. Swollen Eyes – dab a little Witch Hazel on cotton balls and  place them on your closed eyes for 10 minutes.
2. Itching – to reduce itching from poison ivy, chicken pox insect bites, psoriasis, eczema and even an itchy scalp. Apply witch hazel to the areas.
3. Swelling – to reduce, apply witch hazel topically to the area.
4. Burns – to soothe, gently dab on burns to help reduce pain and prevent peeling (ex. sun burn, cooking burns).
5. Diaper Rash – use a cotton ball to dab on their bottoms to relieve pain and heal the rash.
6. Hemorrhoid Treatment – dab on external hemorrhoids to tighten the skin and reduce itching.
7. Bruises – apply to bruises a few times a day to speed up healing time.
8. Acne and Blemishes – gently dab on problem area to reduce inflammation. Can be used daily to control breakouts.
9. Cuts – to clean, dab on small cuts to reduce the risk of infection and speed up the healing.
10. Varicose Veins – to tighten the veins and reduce pain and selling wrap legs in clothes soaked in Witch Hazel.
We're not exactly sure where a lot of grandma's tips came from, but with this one we're pretty sure that they came from my great grandma. My mom remembers my great grandma always having Witch Hazel in the medicine cabinet.
My favorite on this list has to be the one for the swollen eyes. Not because I have swollen eyes but because of a story my mom told me about it. When she was little and would cry and get upset her grandmother would send her to the bathroom to wash her face and brush her hair. When my mother would return her grandmother would have her lay down and would place Witch Hazel cotton balls on her eyes. The reason this means so much to me is because this is something that my mother did for us as kids, minus the Witch Hazel cotton balls. It's nice to know that the small things that sometimes go unnoticed are part of your families legacy.
How do you use Witch Hazel?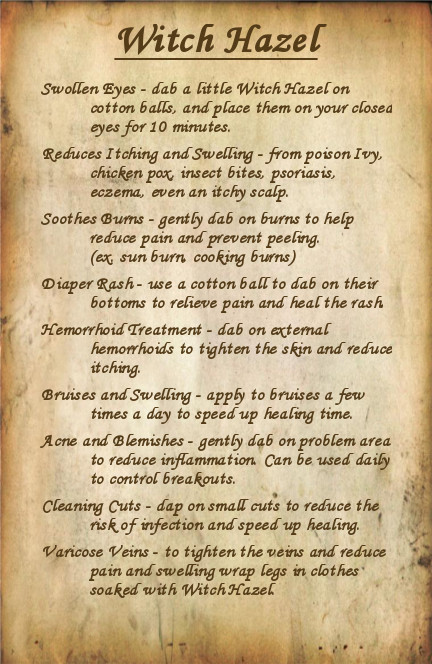 Witch Hazels can be found at most drugstores near the rubbing alcohol and hydrogen peroxide.

Witch Hazel (1) image adapted from itsnature.org and Witch Hazel (2) image adapted from etsy-odpeacock under Google Labeled for Reuse Search.
** If, by some small miracle, you worked at Amway in Ada, MI and were the person my mother loaned the notebook to, please contact me. The notebook is a small (approx 6×9), black, 3-ring binder, and contains hand drawn patterns (teddy bear), recipes, tips and tricks. It would mean so much to my family to have it back.