This post may include affiliate links. Read our disclosure policy for more information.
A S'mores Tower is a delicious way to add a summer theme to your coffee bar. Using colorful vintage dishes adds a touch of nostalgia to it as well.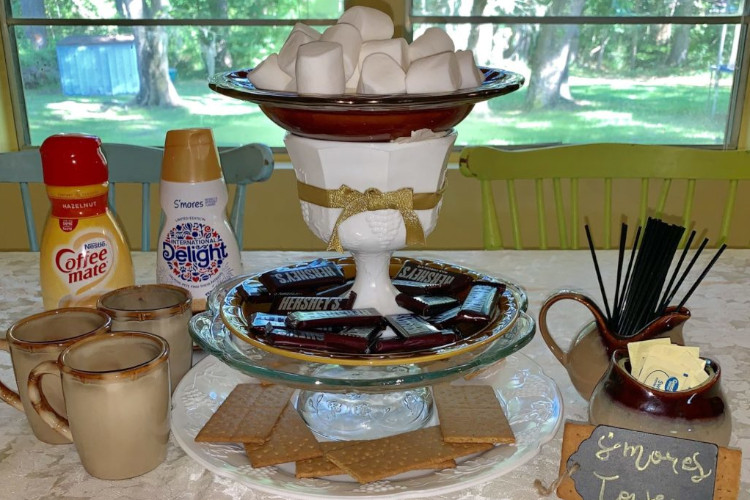 I've been inspired by s'mores bars, stations, corners, trays, wedding favors, lollipops, and cupcakes, all summer long. For my own s'mores project, I chose to emulate a DIY S'Mores Party/Dessert Table Decor from The Creative Studio.
I began by stacking some s'mores-colored plates, a compote, a cake stand, and a bowl. The brown bowl on top is a bronze Ambiance Versailles bowl. It reminds me of the Brown Dip pattern from McCoy that I adore. It represents chocolate in this vignette. I loaded it with marshmallows for color contrast. It sets on top of a white Indiana/Colony Glass Harvest Compote. I put some masking tape in between the dishes to prevent slipping-which could result in breakage.
On the second "shelf," I stacked a Homer Laughlin Coventry plate on top of a Savannah cake plate. The golden brown color of the Homer Laughlin dinner plate is similar to the color of graham crackers. I loaded this level with small Hershey's chocolate bars.
The bottom tray is an Indiana/Colony Glass Harvest chop plate. I collect this pattern, and Hobnail milk glass as well. I don't have that many pieces, because I prefer to find them "in the wild," rather than ordering them online. It's more fun to happen upon a coveted piece in a thrift store or garage sale. The milk glass is the marshmallow color in my arrangement. The honey-brown graham crackers look pretty on the white milk glass plate.
I used my Sango Nova Brown cream pitcher and open sugar bowl to hold my coffee stirrers and sugar. I also have the lidded butter dish and shakers in this pattern. It's hard for me to resist anything that looks like the Brown Dip pattern, as I mentioned earlier. I wanted to have coffee with the s'mores, and the Sango set had perfect coordinating colors. I made a sign with a chalk board ornament and some yellow chalk. Signs make everything better, in my opinion. They help convey ideas.
The coffee cups are unmarked. They look well-made, like they were kiln-fired by a potter. I was never able to identify them, but I still love them. Of course I had to include some S'Mores International Delight creamer! I set some Hazelnut Coffee Mate creamer out as well.
I placed everything on top of a gorgeous vanilla-colored tablecloth. I enjoy creating hot chocolate bars, dessert bars, and etc. for the people that live in my little cottage. I will probably leave this one out for a few weeks, and replenish it with different flavors. I would like to use Reeses Peanut Butter Cups and chocolate graham crackers once the Hershey bars and regular graham crackers are eaten.
I hope you enjoyed my Build Your Own S'Mores Tower post!
Passionate about all things domestic, as a Christian wife and homeschooling mother of 5 children, I am especially interested in encouraging stay-at-home moms, one-income families, and cottage dwellers of all kinds. I love DIY projects, sewing, decorating, cooking, and collecting and selling vintage dishes. Read More…
If you enjoyed this post, subscribe to Love My Little Cottage and receive every post by email.

Blessings

, Kristie
Recent Posts from Love My Little Cottage
---

Disclosure: Some of the links in this post are affiliate links. If you click on the link and purchase the item, I will receive a commission. I only recommend products or services that I personally believe will add value to my readers. All opinions stated are strictly my own. Read our full disclosure policy for more information.
Categories
BCraftsBSpaceBDIYBSpaceBSnacksBSpaceBEntertainingB