This post may include affiliate links. Read our disclosure policy for more information.
One of the best feelings in the world is Love. Having your loved ones with you in the journey called life is something which can't be described in words. The excitement, the feeling that we endure when we see our better half in front of us simply stops time.
Now, Valentine's day is near, and you must be confused with what to gift your special one which brings in a beautiful smile on his/her face. Now, we all know the common notion of celebrating valentine's day with red roses and chocolate, but hasn't it become to common?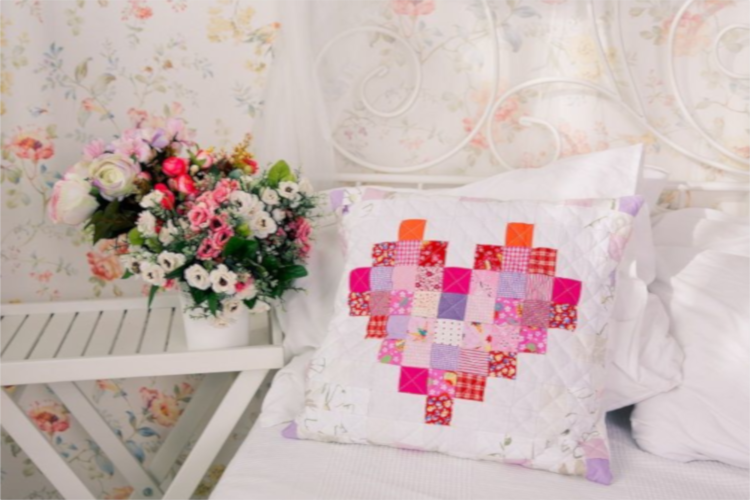 Every year the same old question pops up in our mind that what to actually gift of loved ones. Now, there are a lot of handmade gift options out there which can bring in sense of doing something special for your loved ones and making your special someone more special, as they will see the efforts you put in to make those gifts. So, this year skip flowers and chocolate and make something handmade such as quilt accessories using patchwork fabrics for your loved ones. Here, are some of the quilted gift idea that you can use and make your valentine's day more special.
Quilted Bookmarks:
Now, we all know valentine's day is celebrated to make your loved ones feel more special either they can be your life partner or your friends but gifting them something quilted using patchwork fabric and making something unique thereby can bring in the smile on their face. Now, quilted bookmarks are the best gift one can make and give to their loved ones. You simply have to make a bookmark using patchwork fabric and your unique gift is ready. You can gift quilted bookmarks to your friends and family who loves reading. Play with your imagination and make the bookmark using different colors of fabrics and scraps.
Eyeglass Cover:
Now, for those who wear specs and their loved ones also wears them, making a quilted eyeglass cover using patchwork quilt fabrics is the best gift personalised gift one can give on Valentine's day. Whether you make an eyeglass cover for sunglasses or reading glasses, those cover will simply look best and your loved one will always remember you whenever he/she is using their glasses. You can simply add something unique such as a heart or something your partner loves and stitch it together.
Laptop Case:
We all are driven by technology nowadays and there is no one who doesn't use a laptop to either work or as a student as a source of project tool and entertainment. They carry the same while commuting to the office or going to school or college. So, the best gift quilted gift one can give their loved ones on Valentine's Day is laptop case specially quilted by you using different patchwork quilt fabric. Using your favorite prints or the fabric scraps for the front case, create something special so that your loved one feels like you are the best thing happen to him/her as you know them very well and can go an extra mile to make that beautiful cover.
Quilted Wallets:
This may sound like a surprise to you, but you can actually make them using patchwork quilt fabric itself. You just have to frame the perfect design for the wallet the pattern you want to make and then work on it. Make all the slots for driver's license, credit cards, cash and business card available in it. Your partner will just love it when you will gift them this quilted wallets.
There is no other feeling better than seeing your loved ones smile when you gift them something. So, use this unique quilting gift ideas and make yours and your loved one's valentine's day more special.
Author Bio: Alyssa Moylan is an ordinary woman from Australia, a writer by day and a reader by night. She loves to write about easy ideas for DIY gifts, handcrafts, quilting fabric and patchwork patterns. Follow her on Twitter to stay updated.
Disclosure: Some of the links in this post are affiliate links. If you click on the link and purchase the item, I will receive a commission. I only recommend products or services that I personally believe will add value to my readers. All opinions stated are strictly my own. Read our full disclosure policy for more information.