This post may include affiliate links. Read our disclosure policy for more information.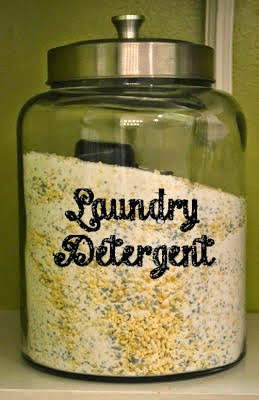 I have 3 very active boys and a husband who is in the construction field so you know what that means – a whole lot of dirty, stinky clothes. I have always been very picky about my detergent, cost didn't matter as long as it cleaned well, didn't fade the colors, and it had to smell really good (that was my payoff for doing this daunting task). My detergent of choice was Tide Mountain Spring, so when our income was drastically reduced I could no longer justify paying $17.97 (Walmart price) for laundry detergent. Add in the fabric softener and we were paying over $150 a year and that's not including the stain removers, bleach, water or electric. Ridiculous!!!
With this big change in our income, I had to find ways to cut costs without sacrificing our needs. When I began looking at our spending habits I knew that one of the places that I needed to start was is in the laundry room. I'm a researcher by nature so I began looking for ways to cut our laundry costs. I found several homemade laundry detergent recipes, I was a bit apprehensive but when I saw the price difference I thought I would give it a try. I took several of the recipes that I found, tested and tweaked them and came up with what in my opinion out cleans the brand that I used for years.
Powdered Laundry Detergent Recipe
1 borax (4lb 12oz)
1 Arm & Hammer super washing soda (3lb 7oz)
1 Arm & Hammer baking soda (4lb)
1 OxyClean (3lb)
5 Fels Naptha (5.5oz bars)
1 Purex complete crystals laundry enhancer (55oz)
Grate the Fels Naptha soap.
Layer the all of the ingredients in a large bucket or container and mix.
Store in an air-tight container
Helpful Tips:
If you're using a hand grater, use the fine side.
To mix, we use a 5-gallon bucket with the lid securely attached and let the kids roll it around for awhile.
Use more of the Purex Complete Crystals for a stronger scent or none if you don't like scented detergent.
DON'T use more than 2 tablespoons per load. This detergent doesn't contain any fillers like the name brands.
This is a suds free detergent so it is safe to use in High Efficiency (HE) washers.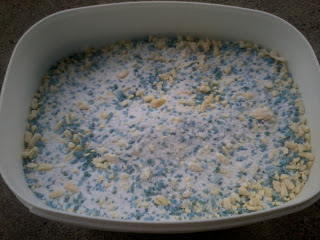 To Use:

You will only need to use about 1-2 Tablespoons per load depending on the size of your load. I know that sounds crazy, but this is pure detergent it has no fillers like the name brands do. At first, you will have that urge to add more, but don't, 1-2 Tablespoons is all you need – Trust Me! Also, this is a suds free laundry detergent so DON"T add more hoping for suds to form, because it won't happen. Because this detergent doesn't sud up it's perfect for High Efficiency (HE) Washers too.
Now let's discuss the savings. This recipe makes approximately 325 loads, more if you are only doing small loads and using 1 Tablespoon instead of 2. The cost break down is only $0.09 per load, where with the Tide we were paying $0.29 per load. That is a savings of $0.20 per load or to look at another way $2.00 per week, $8.00 per month or $104.00 per year. So if the quality of this doesn't motivate you I'm sure the savings will.
Here's how it works:
A&H Washing Soda – detergent booster, freshening agent, stain fighter and is 100% natural.
A&H Baking Soda – stain fighter, deodorizer, makes whites whiter, brights brighter, odor free, fabric softener and is 100% pure.
Borax – detergent booster, odor controller, stain fighter and is 100% natural
Oxyclean – stain fighter.
Fels Naptha – stain remover, pre-treater.
Purex Complere Crystals – freshens clothes, makes them smell so darn good and is 87% natural.
Give it a try and then come back and tell us what you think.