This post may include affiliate links. Read our disclosure policy for more information.
One of my favorite homemade cleaners is for an all-purpose cleaner. I have been using this cleaner for years but recently it has really been put to the test. We bought a new home (new to us), that had been vacant for over a year and wasn't cleaned when the previous owners moved out. So you can imagine how much cleaning there was to do. I pulled out my tried and true all-purpose cleaner and got to work, scrubbing cabinets, floors, toilets, sinks, walls, you get the picture, everything from the ceilings to the floors. My all-purpose cleaner continued to impress me with how versatile it really was.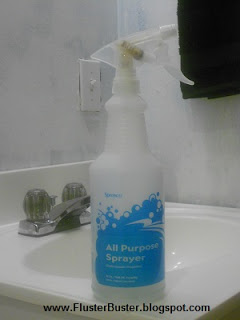 Homemade All-Purpose Cleaner
Instructions
Mix all ingredients together in a 32 ounce spray bottle. Shake to mix.
This post may contain affiliate links – any opinions stated are strictly my own! See our disclosure for more information.
I'm always looking for new homemade products and the other day I found a similar recipe to mine at Nature's Nurture. The only difference is that she added 5 drops of Lavender Essential Oil 5 drops of Orange Essential Oil and 3 drops Peppermint Essential Oil which she says helps to hide the vinegar smell. I haven't tried adding the oils to the cleaner yet so I can't say that it makes a difference, but the vinegar smell doesn't last long anyways. I plan on trying it the next time I make a batch of the cleaner.
Fluster Buster Tools
Do you have any favorite cleaning recipes?