This post may include affiliate links. Read our disclosure policy for more information.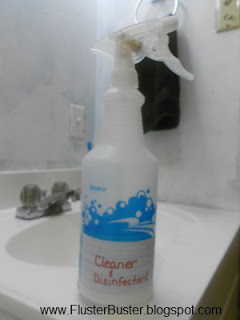 Disinfecting is an important part of cleaning any kitchen or bathroom, this is where most germs love to live. So to keep germs, bacteria and mildew at a minimum, you need to regularly disinfect these rooms.
There are a lot of natural products that you can use to make homemade cleaners, but when it comes to disinfecting bleach is by far the winner. People may suggest using vinegar or even lemon juice to disinfect with and while they do work on killing germs and bacteria they are a lot less effective then bleach. So I personally choose to use good old fashioned bleach as a disinfectant. If I am going to take the time to disinfect, then I want it to be done right.
Homemade Kitchen & Bathroom Cleaner/Disinfectant Recipe
Instructions
Dissolve laundry detergent in warm water. Add bleach and pour into a 32 ounce spray bottle.
Notes
** CAUTION - if using a brand name laundry detergent be sure that it does not contain ammonia.

To Disinfect: Spray surface and leave on for 5-10 minutes. Rinse.
This post may contain affiliate links – any opinions stated are strictly my own! See our disclosure for more information. 
I suggest using the homemade laundry detergent. Substituting with another kind of commercial detergent or dish soap could be harmful, due to the fact that many of these products contain ammonia – and we all learned in science class that bleach and ammonia are toxic, if mixed.
Make a new batch every week because it can loose it's disinfecting power. If you are using it everyday, then you'll need a new batch anyway. The most effective way to disinfect is to spray the surface and let it do it's work for about 5-10 minutes before rinsing. Do this everyday and your home will be clean and healthy.
Fluster Buster Tools
Do you have any favorite cleaning recipes?