This post may include affiliate links. Read our disclosure policy for more information.
Valentine Twig Picture Frame – This is an easy and fun picture frame diy project. I'm sure we all have had one of our picture frames break accidentally ( or even deliberately 😉 )
Hello friends,
I'm Naush from Doodle Buddies, and I'm delighted to share this post with you.
With 9 cats and 3 boys in the house, we've had our fair share of accidents. The cats were great – its the boys who were frequently jumping, tripping or stumbling on things, (a little exaggeration here) while I collected the remnants from the trail left behind.
Old, beat up photo frames have been some of my favorite 'patients'. I feel a real sense of pride after I give a makeover to any "ready to be chugged" item in my house.
For this project, I am using some twigs from my backyard and a picture frame which did not have a back-board and lacked a glass front as well – perfect for this project.
Materials Needed
frame

glue gun

spray paint

twigs

Washi tape

foam heart embellishments (flowers, leaves, stars or any other embellishments can be used.)

cardboard (stripes of cardboard adhered for support in the back)

a couple of brads
Instructions
I spray painted this frame to a matte dark steel color. I gave it two coats. Remember to give at least half an hour, between coats – for best results.
Spray painting should be carried out only outdoors and preferably while wearing a mask.
Simultaneously I spray painted the twigs in silver color.
Wait till the twigs have completely dried.
I used Rustoleum brand for the frame and Krylon brushed metallic in satin finish for the twigs.
Position the dried twigs at the back of the frame. Once you are satisfied with the positioning, use the glue gun to adhere the top and bottom of the twig to the back of the frame.
I've placed a double corrugated strip on the four corners so that when the frame leans on the wall, it should not damage the twigs.
And now for the 'real' fun part. I've hot glued foam and fabric, bright heart shapes randomly on the twigs. I've also made two flags out of Washi tape and stuck them at the bottom half of the frame.
And Voila !!
I love the pops of color (reds and pinks) on the matte grey frame. This frame is ideal as a handmade gift or perfect to adorn the Valentines day mantle. It could also make an excellent craft to try out with the youngsters.
I hope you liked this frame and might consider attempting something similar.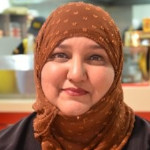 Naush is an eco-friendly visual artist and upcycle crafter known for the use of unconventional materials in her artwork, including the use of wire, wood, cardboard, cement, fabric, plastic and paper. In 2008 she created Doodle Buddies as a way to document the things that she designed and felt passionately about.
Disclosure: Some of the links in this post are affiliate links. If you click on the link and purchase the item, I will receive a commission. I only recommend products or services that I personally believe will add value to my readers. All opinions stated are strictly my own. Read our full disclosure policy for more information.