This post may include affiliate links. Read our disclosure policy for more information.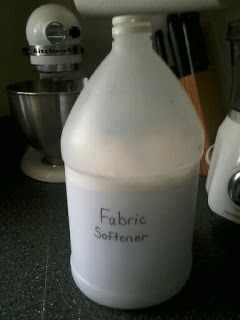 Last week I shared with you how to make Laundry Detergent So I thought it only it made sense to share my homemade fabric softener and dryer sheets. You can use any kind of hair conditioner, but I choose to use the Suave Lavender/Lilac Conditioner because I can add lavender oil to intensify the scent. I'm kind'a OCD when it comes to the smell of my laundry.
Liquid Fabric Softener

Liquid Fabric Softener
Ingredients
2 cups hair conditioner
3 cups white vinegar
6 cups water
Instructions
Mix water and vinegar in a large sauce pan, heat over low
medium heat.
Remove the lid from the conditioner and heat in the
microwave for 1 ½ - 2 minutes. This thins out the
conditioner and keeps it from clumping.
Slowly mix the conditioner into the water/vinegar
mixture and turn off heat.
Although the homemade liquid fabric softener works well, I d0n't find it budget friendly. The recipe only makes 88oz and if you are using ½ cup per load that works out to a whopping 
$0.13 per load
. In addition to it not being budget friendly the water tends to dilute the smell and remember, I'm OCD about smell. Since I am always looking for a good deal I came up with a more economical way to use the home made fabric softener.
I can't tell you how many loads you will get by using it this way, but I can tell you it works out to be less than $0.01 per load & works great, now that's what I call budget friendly.
Dryer Sheets

Dryer Sheets
Ingredients
Homemade fabric softener
1 sponge
Tupperware Pick-a-deli container
Instructions
Fill the Tupperware container with fabric softener. Insert 1 sponge, cut in half.
To use: ring out sponge and place in dryer.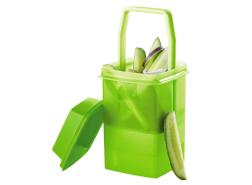 I like to use the Tupperware Pick-A-Deli Container for storing my fabric softener because it cuts down on the mess. The Pick-A-Deli container has a strainer which is perfect for holding the sponges that I use as dryer sheets. When you are ready for a dryer sheet just lift up the strainer, pull out a sponge and gently ring out extra liquid. Throw the sponge in the dryer just like you would a dryer sheet. When the load is dry just return the sponge to the Pick-A-Deli container for future use.
What homemade cleaners do you use?
This post may contain affiliate links – any opinions stated are strictly my own! See our disclosure for more information.