This post may include affiliate links. Read our disclosure policy for more information.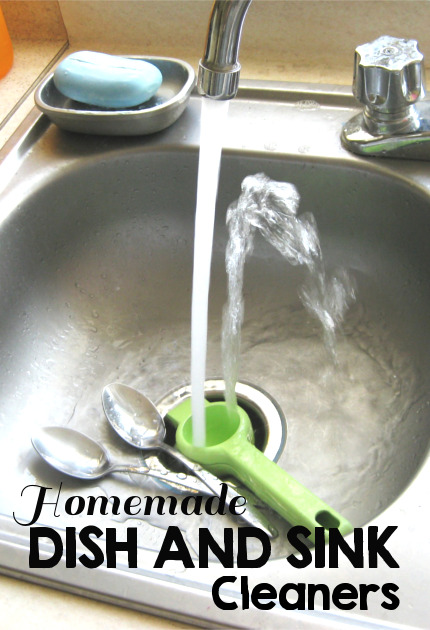 How much do you spend a year on commercial cleaners? 100's of dollars?
Did you know there's a way, other than giving up cleaning, to cut your cleaning supply costs? How about making them yourself!
What's been keeping you from making them? There are recipes all over the web! Are you afraid it's to difficult, or that they aren't as effective? Surprisingly, a lot of the commercial cleaning supplies that you buy contain things that you probably already have on hand. The only difference is that their's costs more and it comes in pretty packaging.
To help you get started I've gathered up some of my favorite dish and sink cleaners. Each one gets the job done and are very easy to make.
Homemade Dish and Sink Cleaner Recipes
1. Copycat Finish Dishwasher Tablets by Fluster Buster
2. Garbage Disposal Sharpening and Deodorizing by Fluster Buster
3. How to Make Your Own Dish Soap by Fluster Buster
4. Cleaning Grease by The Creek Line House
5. All Natural Homemade Dishwasher Detergent (without Borax) by Thank Your Body
6. Homemade Liquid Dishwasher Detergent by Six Dollar Family
7. Homemade Liquid Dish Soap by The Homesteading Hippy
8. Homemade Garbage Disposal Refreshers by Made From Pinterest
9. Homemade Lemon Lavender Dishwasher Tablets by A Cultivated Nest
10. Garbage Disposal Fresheners by Midwestern Moms
11. Homemade Comet Natural Cleaning Recipe by At Home With My Honey
12. Homemade Dishwasher Detergent (Liquid) by Mann's Mooring
13. Homemade Soft Scrub by My Frugal Adventures
14. Keep Your Garbage Disposal Running Fresh and Clean Naturally by One Good Thing
15. Homemade Dishwasher Detergent by Six Figures Under
16. Banish Odors with DIY Coffee Ground Garbage Disposal Deodorizers by Hello Glow
17. Natural Dishwasher Rinse Aid by Whole New Mom
18. Homemade Grapefruit & Basil Dish Soap by Happy Money Saver
19. Rosemary Sink Cleaner by Frugally Blonde
20. DIY Pot and Pan Cleaner by Popsugar
What are you going to try first?

Disclosure: Some of the links in this post are affiliate links. If you click on the link and purchase the item, I will receive a commission. I only recommend products or services that I personally believe will add value to my readers. All opinions stated are strictly my own. Read our full disclosure policy for more information.