This post may include affiliate links. Read our disclosure policy for more information.
I hope that you are following along with our series Home Clean Home, if not please go and check it out. The series isn't so much about cleaning your home as it is about how we tackle cleaning. Throughout the months to come I will be sharing with you tips and tricks to make it a little easier so that you have more time for the things that you love.
This week on Home Clean Home we are working on doing some detailed cleaning in our bathrooms and laundry room. Check out the Bathroom(s)/Laundry Room Detailed Cleaning list. Since we are in the bathroom this week I thought that I would share with you a little tip to help keep your drains free from scum, grease, oils and hair that tend to clog your drain as they build up. Taking some small preventive measures now can save you a lot of money later.

As you can see from the picture above, the drain has some build up. We bought our house a couple of months ago and I haven't cleaned them since we moved in. One of the licenses that my husband has is in plumbing and this is one of the tricks that he shares with his clients.
Pour into the drain
1/2 cup Baking Soda
1/2 cup White Vinegar
– The mixture will foam up
– Let the mixture stand for a few minutes
– Pour boiling water down the drain to flush away the scum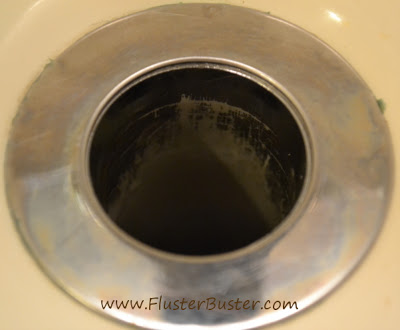 I like to do this every couple of months or when I see that the water is beginning to drain slowly. This is so much better for your pipes then products like Drain-O, which can eat away at your pipes.
Happy Bathroom Cleaning!