This post may include affiliate links. Read our disclosure policy for more information.
"In every job that must be done,
there is an element of fun.
You find the fun
and SNAP, the jobs a game."
~ Mary Poppins
Getting the kids to do their chores is the best part of being a mom! It's the only time of day when the little angels don't argue, fuss, roll their eyes or make grunting noises. Okay, so I'm day dreaming!
I use to dread chore time!!!! It was like pulling teeth to get them to do the simplest of tasks. You'd think, by the way they reacted that I was asking them to build the Great Wall of China. Screaming, crying, arguing, debating, challenging, compromising, you name it and they'd try it. I can't tell you how many times that I wanted to just do it myself and avoid all the drama. There had to be a better way!
I had a list of age appropriate chores, I didn't expect a lot and I was giving them an allowance, what more could I do. Then, one day, while watching Mary Poppins the answer came to me in a song. The first line of "A Spoonful of Sugar" gave me the ingredient that I was missing, MAKE IT FUN!
We now have all kinds of fun and kooky ways to do our chores. We dance, we play basketball, we hop like bunnies, we act like superheros, we do just about anything to make the job fun. Our chore list is now fun too, we made it into a game, chore bingo.  
Chores Bingo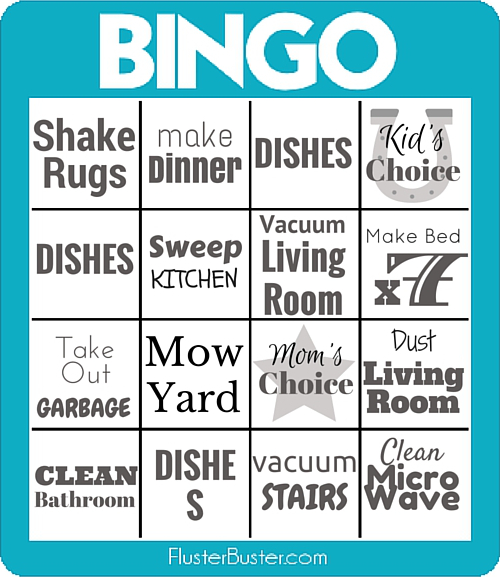 The object of chore bingo is to daub as many of the squares as you can. Each square has a monetary value and the more squares that you daub the more money you can make. There's also a bonus when the whole card is daubed. 
How to Play
Print out blank bingo cards using our Free Bingo printable. **Tip: Use card stock, it's less of a mess, and the ink doesn't seep through.
In each of the squares write down a chore that needs to be done. I have a list of age appropriate chores that I use to help me. **Tip: Reserve 2 squares. One square is for mom's choice, this will avoid arguments. There's always something unexpected that comes up and if it's not on the chore card it's a fight to get it done. The second square is for kid's choice, it's important to set some guidelines for this, they'll try to get away with as little as possible.
Decided how much you will pay for each daubed square. **Tip: As the kids get older the chores get harder so they will earn more. We have a scale that we use, based on age to determine their raises. Believe me when they hit that next tier they won't let you forget about their raise.
Decide if you want to give them a bonus for daubing the whole card. **Tip: giving them a bonus gives them more of an incentive to daub the whole card. I like to round up to the next whole number. For instance, if I pay them $2 per square they would normally earn $32 for a filled card, but we round it up to $40. 
Adding fun to chore time has made a huge difference. There's less drama, things are getting done and I'm not having to micromanage them. My new fluster-free philosophy, "if they do it, great, if they don't, oh well". It really sucks for them when they want something but can't afford it. 
How do you add fun to chore time?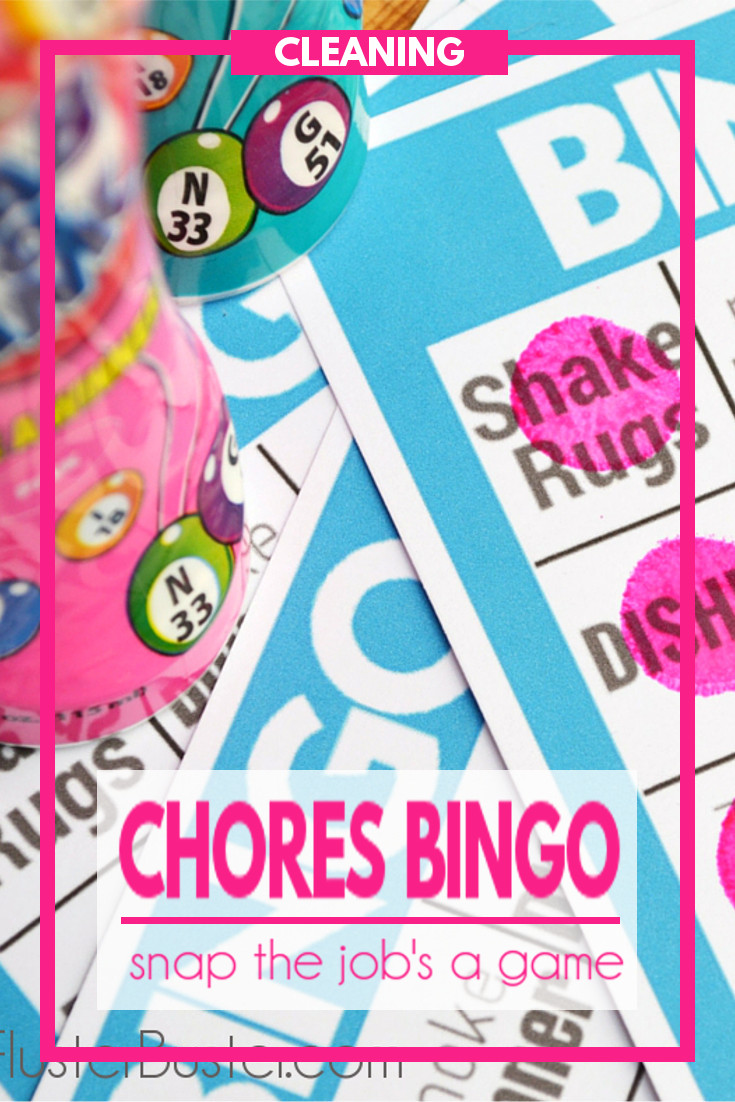 Disclosure: Some of the links in this post are affiliate links. If you click on the link and purchase the item, I will receive a commission. I only recommend products or services that I personally believe will add value to my readers. All opinions stated are strictly my own. Read our full disclosure policy for more information.