This post may include affiliate links. Read our disclosure policy for more information.
Distilled white vinegar is a natural way to disinfect and clean your home. It's amazing all of the things that it can clean, especially in the bathroom. Just one, inexpensive bottle of vinegar can replace several of the cleaners that are taking up valuable space under your bathroom sink.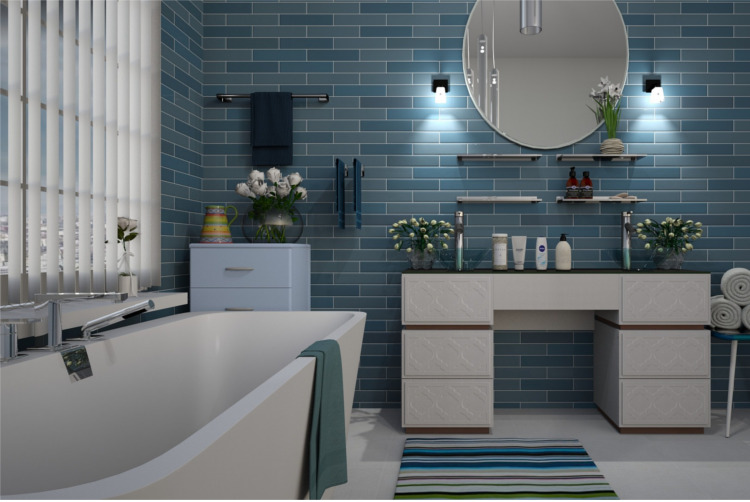 The other day some friends and I were talking about how much cheaper things were when we were kids. How we could go to the store with five bucks and come home with everything on moms list, along with several pieces of candy that we got with the change. Now days five dollars doesn't go that far, just a bottle of toilet bowl cleaner alone costs around $5.
Image if there was just one cleaner, that did the job of many, was trusted by our grandparents, and was inexpensive! Well, you don't have to imagine, there is one, vinegar. Vinegar is pretty amazing, just take a look at some of the things it can do in the bathroom.
How to Use Vinegar in the Bathroom
Sinks and Bathtubs
To clean and get a nice shine, spray the sink and tubs generously with undiluted white vinegar. Allow the vinegar to sit for 5-10 minutes, 20-30 if they are really dirty, then scrub with a soft cloth and rinse.
Shower Doors
To prevent the build of soap scum on your shower doors, wipe the doors with a sponge dipped in distilled white vinegar. Rinsing is not necessary.
Hard Water Stains
To remove hard water stains from bathtubs, pour 3-4 cups of white vinegar into a tub filled with hot water. Allow it to soak for several hours before scrubbing away the stain with a sponge or soft cloth. Rinse.
Toilets
To clean and deodorize toilets, pour 2 cups of white vinegar into the bowl and allow it to soak for several hours before cleaning it with a brush and wiping down the outside.
Tile
To clean and shine bathroom tile, mix 1/2 cup white vinegar, a 1/2 cup ammonia and a 1/4 cup borax in a gallon of warm water. Scrub the tiles with a scrub brush dipped in the mixture. Rinse.
Grout
To remove stains from grout, use a toothbrush dipped in undiluted white vinegar to scrub away the stains. If the stains persist try spraying the grout with undiluted white vinegar, allowing it to sit several minutes before scrubbing. Rinse.
Shower Head
To remove mineral deposits from shower heads, remove the shower head and place it in a bucked filled with 1/2 cup white vinegar and 4 cups boiling water. Allow it to soak for 15-20 minutes, then rinse and replace. For shower heads that can't be removed, fill a plastic baggie with vinegar and tape it over the shower head, let it sit overnight, remove baggie and wipe clean.
Shower Curtains (Plastic)
To remove mildew stains from plastic shower curtains, wash the curtain along with a couple of towels using your favorite laundry detergent. Add 1 cup white vinegar to the rinse cycle and remove the curtain before the the spin cycle and hang to dry.
Mold and Mildew
To remove and control mold and mildew, mix 3 tablespoons white vinegar with 1 teaspoon Borax and 2 cups hot water. Spray mixture on the surface, let it soak in for 10-15 minutes, scrub with a soft brush and rinse clean.
Mirrors
To get clean, streak-free mirrors, make a mixture of equal parts distilled vinegar and water. Spray the mirrors (or windows) with the mixture and wipe clean with a piece of crumbled up newspaper.
Blinds
To clean the dirt and build up that collects on blinds, partially fill a bathtub with hot water and pour in 2 cups white vinegar. Place blinds in tub and let soak for 15-30 minutes. Remove, wipe with a clean cloth, rinse and allow to dry completely before hanging them back up.

Unclog Drains
To unclog a drain, pour a 1/2 cup salt down the drain followed by 2 cups of boiling vinegar. Run the cold water for a few minutes to move the salt and vinegar through the drain. Repeat as needed

Chrome
To clean chrome fixtures, spray with distilled white vinegar and wipe with a soft cloth.

No-Wax Floors
To clean no-wax floors, dip a mop into a solution made of 1/2 cup distilled vinegar and a 1/2 gallon of warm water. Replace water when it becomes dirty. Rinsing is not necessary.



Disclosure: Some of the links in this post are affiliate links. If you click on the link and purchase the item, I will receive a commission. I only recommend products or services that I personally believe will add value to my readers. All opinions stated are strictly my own. Read our full disclosure policy for more information.
There's not a better natural cleaner than vinegar. It is one of the most versatile cleaner