This post may include affiliate links. Read our disclosure policy for more information.
Keeping your home looking nice can seem like yet another hassle to add to your to-do list. Things constantly break, get lost, or simply stop working, and your wallet seems to get thinner and thinner in the process. So, what to do about the costly cycle of home ownership?
For one, it's often better to maintain an array of items around the home than simply taking the often costlier route of replacing them. With a little knowledge and some consideration, you can save yourself a lot of headaches, time wasting, and energy.
Here are three things around the house you are better off maintaining than throwing out and replacing.
1. Your Outdoor Grill
Did you know that about 80% of U.S. households own a grill?
Depending on how much you use it, a grill can seem like it's falling apart in no time if it isn't kept up after every use. But, instead of taking the easy route and buying that new grill you keep seeing for sale everywhere, you're definitely better off maintaining the one you have, employing minor fixes if needed, and giving it a massive cleaning if it's been allowed to sit unkempt for too long.
This way you save the money that would go into investing in a new grill and spend less on a couple of maintenance products instead. In addition to this, you will end up looking up uses and recipes for it, leading to some fun experiments.
2. Maintain Your Wooden Furniture

Wooden furniture is always a beautiful and timeless addition to any home looking to create a comfortable and durable living space.
Instead of being discarded due to scratches, wearing, or tearing, wooden furniture can be refurbished into a completely new creation. With a bit of imagination, some tools you can most likely find around the house, and some initiative, you can turn your wooden stools, chairs, or old dressers into beautifully revived pieces that accentuate the color scheme of your home.
This way, you avoid having to hunt around for new furniture to replace it, save a significant amount of money on houseware that tends to be costly, and brighten up your home all at the same time.
3. DIY Fun With Mattresses
Mattresses can be fickle and difficult to get right. Just ask Goldilocks. For such a sizable investment, you want to make sure you will get a restful night's sleep and durability. Considering that, ideally, you are in it for the long haul with your mattress, you should surely learn some upkeep tricks.
You definitely need to look into cleaning products and the process of cleaning a mattress. This will depend on the kind and severity of the stain you are dealing with.
Another, more fun option, is to get creative and get upholstering. You can easily breathe new life into your bedroom and have yourself a fun little project. It can be a seasonal thing – everytime you paint the walls, re-upholster the mattress.
If, however, the mattress or another piece of furniture is beyond repair, don't just throw it out! Someone might still be able to use it. Get familiar with the different options for mattress disposal – you could be helping people or making a bit of money while clearing out.
Conclusion
Keeping your home looking nice and functioning while on a budget can be attainable if you think twice before deciding to simply replace a seemingly old and useless item. Maintaining items can be lucrative when thinking long term and can allow you to allocate funds to other more important and more costly needs for the upkeep of your home.
To keep a more beautiful home, it's arguably more important to look at the longevity of each item instead of its replaceability.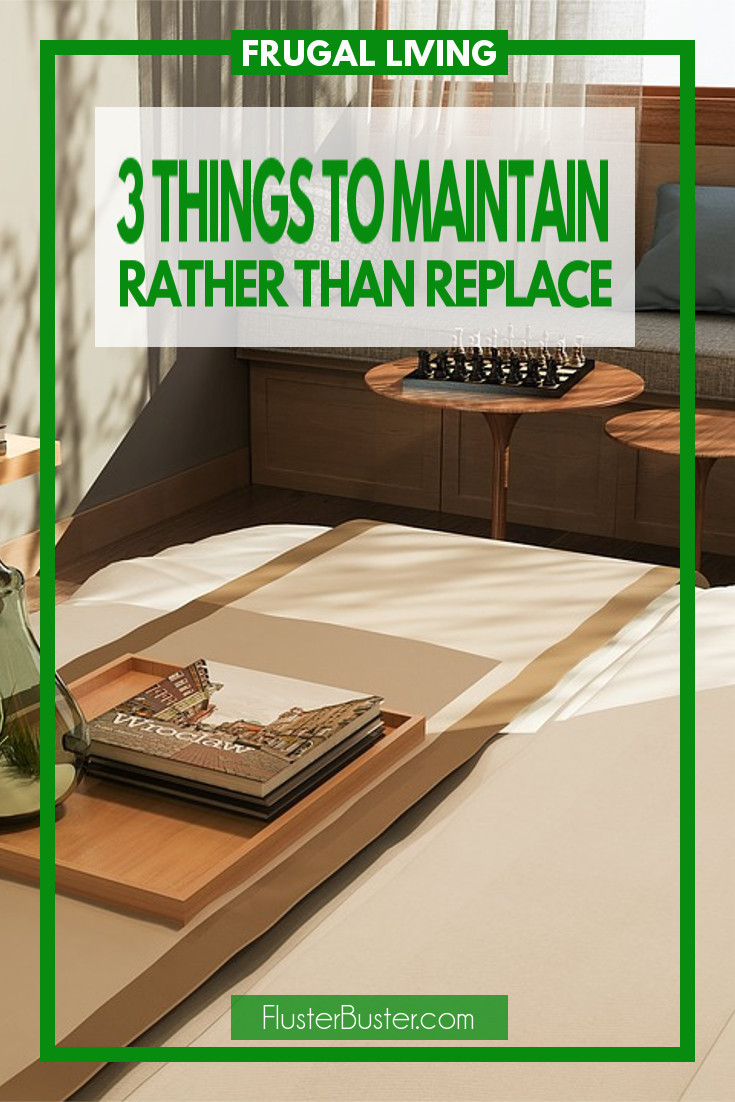 Bio:
Lauren Webber is a former HR worker who now runs http://daintymom.com. She enjoys learning about new things and hopes to gain at least one new experience every day.