This post may include affiliate links. Read our disclosure policy for more information.
Teriyaki Chicken Bowls – a tangy, sweet and sour chicken served over a bed of rice along with a variety of steamed, oriental style vegetables. This quick and simple recipe is not only delicious but can be on your table in less than 20 minutes. 
When I'm doing my weekly meal planning I always include a couple of recipes that don't require a lot of time in the kitchen. If I'm having one of those days that I don't fell like cooking or I don't have a lot of time to spend cooking it's nice to have some options other than take-out.
Over the years I have built up quite a collection of quick and simple recipes, that's what you do when you have 3 active boys. Truth told, what I'm calling recipes are more like already prepared ingredients being heated up and paired with other already prepared ingredients to create a delicious and quick meal.
I'm always looking for new, simple recipes (more like ideas) that can be served quickly and that the family will like. These Teriyaki Chicken Bowls are one of my favorites, especially when we have leftover chicken, I can have this on the table in less than 10 minutes. 
Teriyaki Chicken Bowls
Chicken – I've used both fresh and leftover chicken for this recipe. When I'm using leftover chicken I can get dinner on the table in less than 10 minutes. With the fresh chicken it takes a little longer, but dinner can still be on the table in record time.
Oriental Vegetables – I use the steam in bag frozen vegetables, it's nice not to have to dirty another pan.
Rice – I use minute rice for this recipe, because the main goal of this recipe is to get dinner on the table as quickly as possible. 
Teriyaki Chicken Bowl
Author:
Robin | Fluster Buster
Ingredients
2 boneless chicken breasts, cubed
2 tablespoons vegetable oil
1 (12 ounce) bag Oriental vegetables, frozen
2 cup instant rice
1 cup teriyaki glaze
Instructions
In a skillet, cook chicken, in oil, over medium heat until no longer pink.
While the chicken is cooking prepare rice and vegetables according to package directions.
When the chicken is done, stir in the teriyaki sauce and heat for 1-2 minutes.
Notes
Build-a-bowl: 1 cup of rice topped with chicken and vegetables
Check for coupons before heading to the store.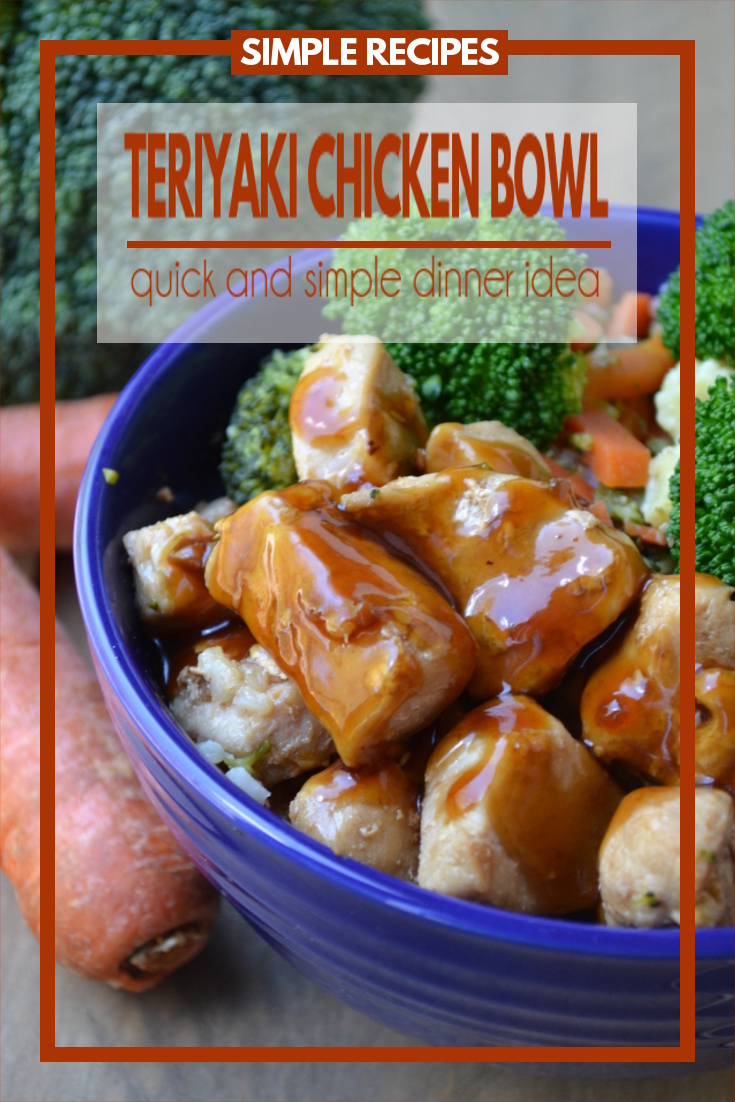 Disclosure: Some of the links in this post are affiliate links. If you click on the link and purchase the item, I will receive a commission. I only recommend products or services that I personally believe will add value to my readers. All opinions stated are strictly my own. Read our full disclosure policy for more information.