This post may include affiliate links. Read our disclosure policy for more information.
Salmon Patties served with asparagus and rice. This cheap and easy meal is a perfect weeknight meal. It can be prepared in less than 30 minutes and the total cost for a family of 4 is just $5.42. #salmon #cheapmeals #easyrecipe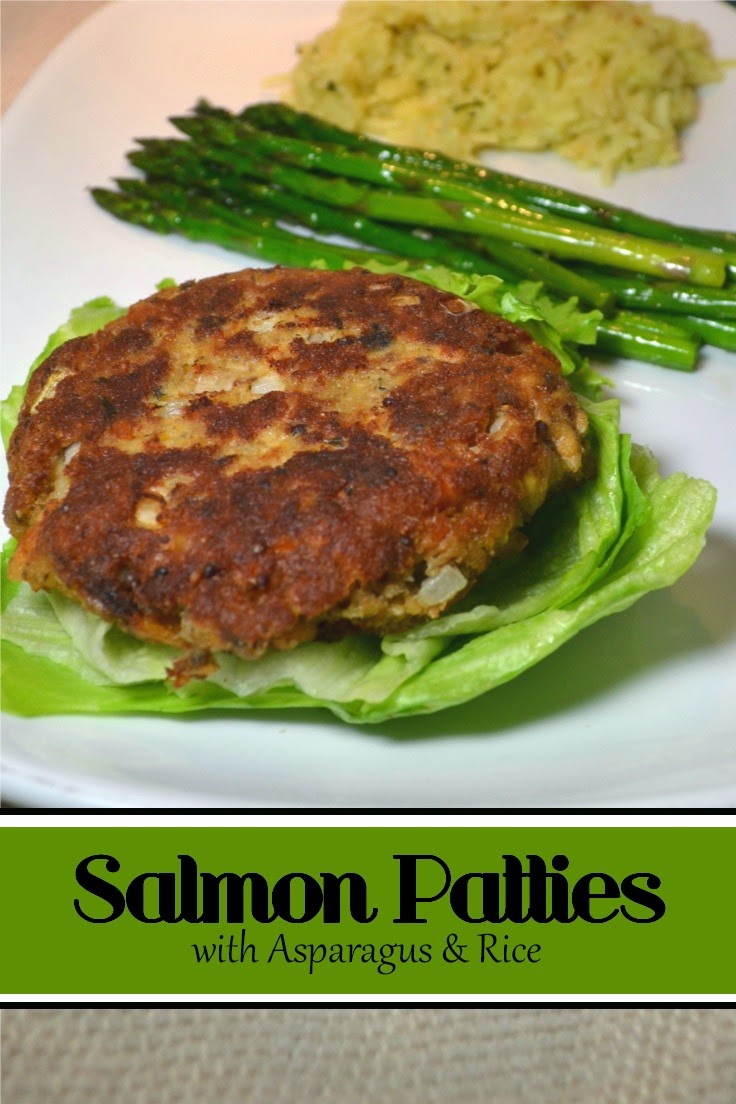 I stole this Feed 4 for 5 meal from my mom, the only difference is that my mom always served it with a box of mac n' cheese and green beans. When we were growing up there were times when money was really tight, but my mom always had a way of making an inexpensive meal feel like we weren't scrimping.
I think it was those rough times that lead to me being frugal even when I didn't have to.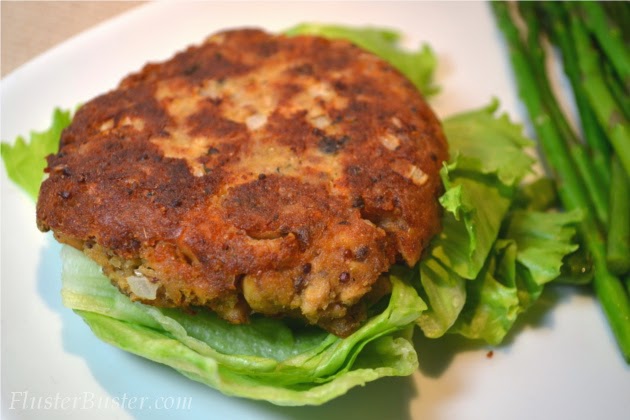 To this day salmon patties are one of my favorite meals, not just because they taste so good but they bring back a lot of good memories. Does that make this a comfort food?
Salmon Patties
Author:
Robin | Fluster Buster
Ingredients
1 (14.75 ounce) canned salmon (drained)
1 egg
1 tablespoon spicy brown mustard
½ onion, chopped
½ cup bread crumbs
2 tablespoons vegetable oil
Instructions
In a mixing bowl, combine salmon, egg, mustard, onion and bread crumbs. For into 4 equal size patties.
Heat oil in a skillet over medium heat, cook patties for 3-4 minutes per side or until browned
Serve rice and asparagus:
Ingredients
1 cup white rice
2 chicken bouillon cubes
2 tablespoons parsley, chopped
1 pound asparagus spears, cleaned and trimmed
2 tablespoons olive oil
Instructions
1 – Cook rice according to package directions, except add the bouillon
cubes to the water when boiling. When it's done stir in the parsley and let
it sit for 5 minutes before serving.
2 – While the rice is cooking, place the asparagus in a single layer
on a baking sheet. Drizzle with 1 tablespoon olive oil and season with salt
and pepper. Bake in a preheated 400° oven until tender, about
15-20 minutes.
How to get these prices:
Rice – (32 ounces for $1.69) purchased from Save A Lot. *To Save Time: Cook a whole bag of rice and freeze it in 2 cup portions. When freezeing, to keep the granules separated, lay the rice out flat on a baking sheet and flash freeze. Once the granules are frozen, divide and store in freezer bags. **One cup of dry rice make about 3 cups of cooked rice.
Chicken Bouillon – (25 cubes for $1.99) purchased from Save A Lot.
Parsley – (Free) grown in my herb garden.
Asparagus – (1 pound for $1.99) purchased on sale from Kroger.
Olive Oil – (12 ounces for $2.39) purchased from Save A Lot.
Salmon – (14.75 ounces for $2.49) purchased from Save A Lot.
Egg – (30 count for $2.59) purchased from Save A Lot.
Spicy Brown Mustard – (12 ounces for $1.00) purchased from DollarTree.
Onion – (3 pounds for $0.79) purchased on sale from Aldi's.
Bread Crumbs – (free) instead of throwing out the heals of breadm I store them in a Zip-loc bags that I keep in my freezer. Whenever I need bread crumbs or I need to make garlic toast I just pull out what I need.
Savings Tip:
Using items from your stockpile is one of the most important ways to serving inexpensive meals. Keeping a
price book
is the key to building up your stockpile. Your price book helps you recognize a good deal and when you find a good deal that's when you stock up. This helps keep your meal costs in the future low.
Example:
Made using current
prices:

24
oz. spaghetti sauce ($2.89)
1 lb
ground beef ($3.19)
16
oz spaghetti noodles ($1.29)
8
oz. salad bag ($1.99)
½ cup
salad dressing ($0.62)
8
slice garlic Toast ($2.29)

Cost: $12.27

Made from stockpile:

2 ½ cup
marinara sauce ($0.79)
1
lb. ground beef ($1.88)
16
oz. spaghetti noodles ($0.50)
½ head
lettuce ($0.50)
½ cup
salad dressing ($0.25)
8
slices of garlic toast ($0.76)

Cost: $4.68
Savings: $7.59
What cheap and easy meals do you feed your family?