This post may include affiliate links. Read our disclosure policy for more information.
40 Things You Can Do To Drastically Lower Your Grocery Bill – Learn how to walk out of the grocery store paying less per bag that you ever have. These 40 money saving tips are guaranteed to lower your grocery bill drastically.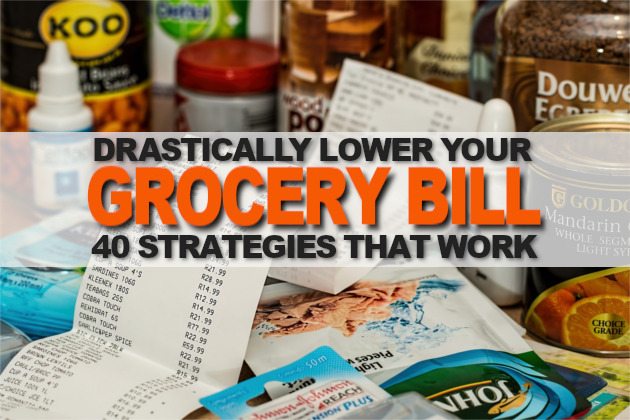 HOW TO LOWER YOUR GROCERY BILL
Budget – This is the first step towards lowering your grocery bill. My grocery budget is set at $125.00 per week, this covers three meals a day for five people plus toiletries. The simplest way to figure out what kind of a budget will work for your family is to add up last months grocery receipts and reduce that amount by 20%. If this new amount easily works for you try reducing it further, if it doesn't, slightly increase it until you've found a comfortable amount. Keep in mind when creating a budget that the key to being successful is to stick to it.
Meal Planning – Creating a weekly meal plan saves time and money, improves nutrition, makes cooking more manageable and gives you more control over what you put on the table. Some people make meal planning really difficult but it's actually a pretty simple task. 
Store Ads – Before you plan out your menu, check the store ads to see what's on sale. A great way to lower your grocery bill is by building your menu around what's on sale. Keep your eye open for "Buy One, Get One" or "Buy Five, Get $5 Off" sales, these types of sales are great for your budget.
Price Book – A grocery price book is a tool that budget savvy people use to track the prices of items that they use on a regular basis. By tracking the prices they can determine what the lowest price for that item is and then stock up on it. For example, pork tenderloin regularly sells for around $4/pound, however when I look at my price book I know that it goes on sale every 90 days or so for around $1.79/pound. 
Stock Up – When you find items at their lowest price point, as determined by your price book, stock up. When stocking up keep in mind that items generally go on sale every three months, so you don't need to buy more than you'll use in three months. 
Shop from Your Pantry – When planning your menu, create meals from items that you already have on hand, this can be leftovers or items already in your pantry. If you've been taking advantage of stock up prices you should have plenty to choose from.
Throwing away leftovers is like
throwing away money
Meatless Monday – When you're planning your menu try making one night a meatless night. Meat is a big part of your shopping budget and if you buy less meat it makes sense that your grocery bill will be less. There are a lot of delicious meals that don't use meat, do a little googling and I'm sure you'll find a few that you're family will like. Who knows you might like meatless meals so much that you'll be eating them two nights a week.
Quick Meals – I love to cook, but some nights I need a break. Instead of overpaying on dining out or on take out, try adding a couple of quick meals to your menu, ones that require little or no effort.
Shopping List – Creating a list of everything that you need and being disciplined enough to buy only what's on the list will lower your grocery bill considerably. When you don't have a list it's very easy to buy things that you don't really need. To save yourself some time, try organizing your list by the store layout. If you're not sure about how it's laid out ask someone at the courtesy desk for a map, many stores provide them.
A shopping list can reduce what you
spend by 25 percent
Coupons – You don't have to be an extreme couponer to lower your grocery bill. There are sites like Hip2Save or The Krazy Coupon Lady, that make couponing super easy. They show you were to find the best deals, what inserts to find coupons in, where to go for printable coupons and how to load coupons to your loyalty cards. So make sure that you check online before heading out.
Loyalty Cards – Many stores offer discounts and rewards to their loyal customers. If your store offers a loyalty program be sure to sign up, it will definitely save you a lot of money. Some stores, like Koger, send exclusive coupons to their loyal customers or offer discounts at the gas pump.
Stacking Discounts – As you become more familiar with couponing, you'll learn strategies for maximizing your savings. One of these strategies is matching an item that is on sale with a store coupon and a manufacturers coupon. As an example, let's say that Kroger has Cheerios on sale this week for $1.99, you have a store coupon for $0.50/1 and a manufacturer's coupon for $0.75/1, you use both these coupons and you end up paying only $0.74, that is an incredible savings.
Eat – You've probably heard it before, but it's worth repeating, Never Go Shopping Hungry. When you're hungry everything starts looking good and you end up purchasing things on impulse. Impulse buys can really destroy your budget.
Unit Prices – Don't be fooled, just because one price is lower than another doesn't mean that it's the best value. When comparing prices you should be looking at the unit price, it's a more accurate comparison. For example, two jars of peanut butter appear to be the same size, one costs $2.49 and the other costs $2.59. At first glance the jar for $2.49 appears to be the better deal, but if you were comparing unit prices you would find the the jar for $2.59 is the better deal. Manufacturers like to visually fool consumers that is why the unit price is so important. Next time you're at the store take a look at the bottoms of a few jars of peanut butter, ones that appear to be the same size. You'll notice some of the jars are concaved making them appear to contain the same amount as the other jars. Tricky huh?
The healthiest food options are found by shopping the perimeter of the store
Avoid Distractions – Stores are pretty infamous for putting distractions in our path, like the check out lanes or the end caps, all in hopes that we'll be impulsive. Surprisingly, they're not the only ones distracting us, we're doing the same thing to ourselves. Bringing the kids, talking on the phone, not giving ourselves enough time, these are all things that can cause us to be impulsive and blow our budget.
Stores – Being loyal to one store could be costing you a lot of money. I have three stores that I shop at on a regular basis. Each one offers something different. Aldi's has some great products at great prices, and their produce is amazing. Save-Lot has a lot of low cost products and they offer a 5 for $20 meat deal. And Kroger, they carry a lot of items that I can't get at the other two stores, plus they have some really good sales. Shop stores that help you achieve your goal of lowering your grocery bill.
Small Stores – You'll want to keep your eye out for sales at your local neighborhood stores. You'd be surprised at some of the great deals that you can snag from these small stores.
Drugstores often have great deals on
canned and boxed foods
Farmers Markets – You can find some really good deals on fresh produce. These farmers markets don't have the overhead that retail stores do so they are able to offer produce at deep discounts.
Shop Amazon – I generally don't shop Amazon for food, but sometimes when they have a huge price drop paired with a coupon it's to good to pass up. Check out some of their current grocery deals.
Shop Once – This may sound like simple common sense, but get all of your shopping done in one trip. Running back and forth to the store throughout the week wreaks havoc on your grocery budget, as well as wasting your time and gas. 
Bulk – There are only a couple of food items that I will actually buy in bulk. The first is beef, I buy a side of beef every year, I love how it tastes and you can't beat the price. I save hundreds of dollars by purchasing beef this way. The other thing that I will buy in bulk is vegetables. When the prices are at the lowest for the season, I'll buy several pounds and freeze them so that we can enjoy them throughout the year.
Produce – You'll get the best deals on produce when it's in season. If you enjoy asparagus in November then buy it in bulk in April when it's cheapest, freeze it and you'll be able to enjoy it at a fraction of the cost all year long.
If a recipe calls for an item that is out
of season, get it from the freezer section
Frozen Food – March is frozen food month which means you'll find some really amazing sales on frozen food, plus some great coupons.  Be sure to take advantage of this huge sales event, it can really make your budget go far for the year. If you're in need of a freezer check out these helpful tips for purchasing the right one.
Garden – A garden will provide you with some of the best tasting produce and it won't cost you much. If you've never had a garden before, start small, try planting the 3 Sisters or some of your favorites vegetables in pots. 
Organic – Some organic produce is worth the extra cost but do you know which ones aren't?  Eating Well has a list of produce that you don't need to buy organic.
New Products – Manufacturers like to introduce new products with special promotions to get you to try it. These promotions, in the form of sales and coupons, can offer you some really big discounts and the best part is, you get to try something new.
Clearance – Don't mistake these items as expired, if you do you'll be missing out of some really good deals. Stores often mark down meat, produce, dairy, and other perishable items right before they are ready to expire. If you have a freezer or plan on using it right away you could be saving yourself a lot of money.
Target places food items on clearance
every Wednesday
Water – Sodas and juices can get pretty expensive and they're not all that good for you. Instead of wasting your money, start drinking more water, your body will thank you for it.
Brands – Avoid being brand loyal, this is a trap that many people fall into and it ends up costing them. Did you know that a lot of the store brand items that you see are made by some of the more popular brands? They're just packaged differently. Compare ingredients, you'll see, the only difference is in the price.
BYOB – Bring your own bags. Many environmentally conscience stores offer their customers a discount for each bag that they use. This is a wonderful way for you to save a little money while helping to save the environment. 
Receipt – Always check your receipt for errors, it's surprising how often you'll find them. Stores are constantly changing their prices to accommodate sales and sometimes these changes can be overlooked. These errors can be to your benefit, many times stores will offer a reward, in the form of discounts and freebies, if you bring them to their attention.
Meal Prepping – Do your own prep work! Avoid buying onions that are already sliced or cauliflower that has already been riced, all you're doing is spending extra for something that you can easily do yourself. 
Bulk Cooking – Next time you fire up the oven for dinner, double the recipe, so that you can freeze the extra for another meal. Cooking in bulk is a great way to save yourself sometime in the kitchen and it's nice to have options on nights that you don't feel like cooking.
Scratch Cooking – Cooking from scratch can cut your grocery budget by quite a bit. For example, think about it, a 16-ounce can of pinto beans costs around $1.50 and a 32-ounce bag of dried pinto beans costs around $2.00. That 32-ounce bag when cooked makes 96-ounces of beans making it a much better deal. With all of the modern conveniences at our disposal, like an Instant Pot (affiliate link), cooking from scratch is easier than it's ever been.
Food cooked from scratch
tastes better and is more satisfying
Snacks – I don't buy snack foods, they cost a lot and they're full of all kinds of stuff that you can't pronounce. That doesn't mean that we don't eat snacks, we do, we just eat things that we make at home. One of the things that the kids really love to snack on is warm cookies.  Once a month we'll make up a huge batch of cookie dough, roll it into balls, and freeze. When the kids want a snack they pop some of the dough into the oven and they've got cookies. 
Substitute Ingredients – If a recipe you're wanting to try calls for a really expensive ingredient and you don't want to jeopardize your budget, try looking online for substitutions. You'll be surprised at how many options you have.
Stretch Meat – Here's a trick for cutting costs on ground beef. Buy really cheap ground beef (73/27), cook, drain and then rinse with warm water to remove any fat. Then add a filler, it's a delicious way to turn 1- pound of ground beef into 1 1/2-pounds. Another trick for stretching your meat budget is to serve more casseroles instead of whole pieces of meat.
Portion Sizes – Know how much a portion of chicken or beef weighs. Then when you're creating your menu stick to portion sizes. You'll be surprised at how much you save when you're not over eating.
40% of food produced in the United States gets thrown away
Leftovers  – Stop wasting food! Eat those leftovers, use up ingredients before they go bad, don' t put to much on your plate. All of these thing are costing you money and once you learn how to get a handle on it, you'll be surprised at what it does for your grocery budget.
Returns – If you buy something and it's not good or it's out of date, it's okay to return it. I'm really surprised at just how many people don't return groceries. As long as you have the receipt and can prove what the problem is, you'll get your money back.
RELATED PRODUCTS
(may include affiliate links)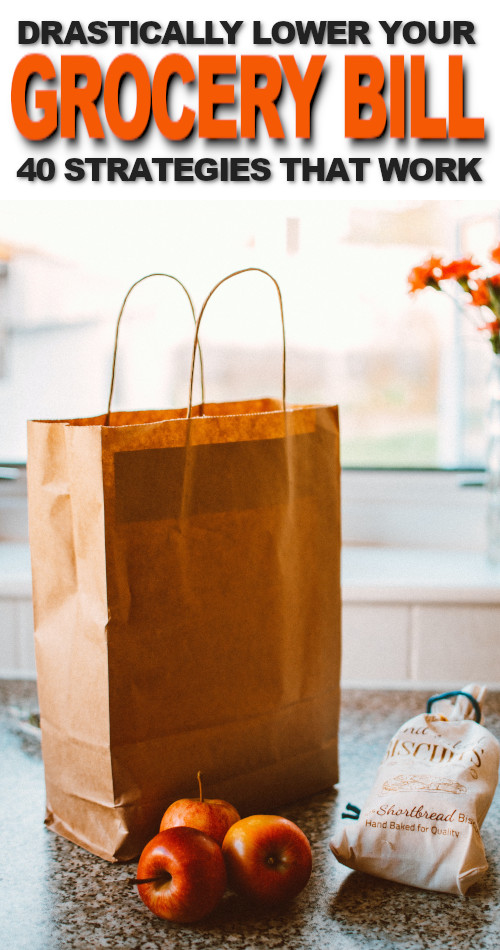 Disclosure: Some of the links in this post are affiliate links. If you click on the link and purchase the item, I will receive a commission. I only recommend products or services that I personally believe will add value to my readers. All opinions stated are strictly my own. Read our full disclosure policy for more information.