This post may include affiliate links. Read our disclosure policy for more information.
A delicious coffee infused chocolate cupcake topped with a rich espresso buttercream frosting. These flavorful little treats will have your taste buds singing.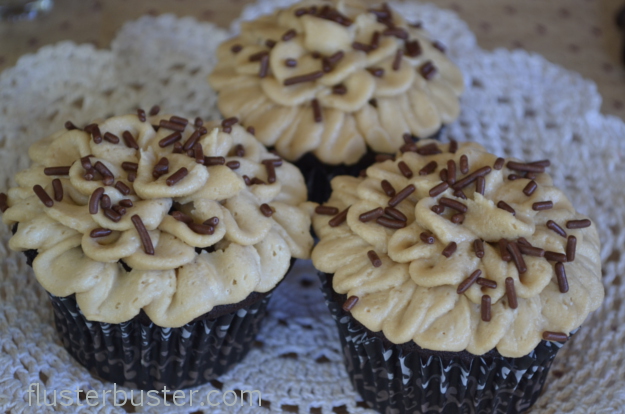 Where's my coffee? Oh yea – I used it in my cupcakes! I really need my daily caffeine fix, so I guess I'll be having Chocolate Espresso Cupcakes instead, poor me, NOT! It's my breakfast and coffee all rolled into one, it doesn't get much better than this.
Last week we had so much rain that the kids were stuck inside, so we decided that it would be a great time to do some baking. The kids wanted to make cupcakes, from a box, so I decided that I would give them a food challenge, hopefully to add a little pizzazz to the mix.
Simple Chocolate Espresso Cupcakes
The kids chose wanted to make chocolate cupcakes, so I challenged them to go through the cupboards and find something that goes well with chocolate. They came up with a lot of really good ideas, mixing chocolate chips in the batter, filling them with pie filling, topping them with fresh fruit but the best one they came up with was using some instant espresso coffee. Apparently my children have developed very sophisticated palettes because these were AMAZING!!!!

Chocolate Espresso Cupcakes
Author:
Robin | Fluster Buster
Ingredients
Cupcakes
1 box chocolate cake mix
1 tablespoon instant espresso coffee
Frosting
½ cup shortening (ex. Crisco)
½ cup butter, softened
1 teaspoon vanilla
2 tablespoons milk
1 tablespoon instant espresso coffee
4 cups confectioners sugar
Instructions
Cupcakes
Prepare cake mix as directed. Stir in espresso powder and bake according to the package directions.
Cool completely on a wire rack before frosting.
Frosting
On medium-high speed, beat together the shortening and butter until fluffy.
In a small bowl, mix together the vanilla, milk and espresso powder, stirring until the powder is completely dissolved.
On medium speed, slowly add the vanilla mixture to the butter mixture. When combined, gradually add the sugar, continue mixing until light and fluffy.
Check for coupons before heading to the store.



Disclosure: Some of the links in this post are affiliate links. If you click on the link and purchase the item, I will receive a commission. I only recommend products or services that I personally believe will add value to my readers. All opinions stated are strictly my own. Read our full disclosure policy for more information.