This post may include affiliate links. Read our disclosure policy for more information.
It's true, you can make a complete Roast Beef Dinner for a family of 4 for only $4.61. I know this may shock some of you but it can be done. If you follow my cheap and easy recipe along with some of my tips and tricks you'll be able to feed your family of 4 this same budget friendly meal and no one will ever know that it was less than $5.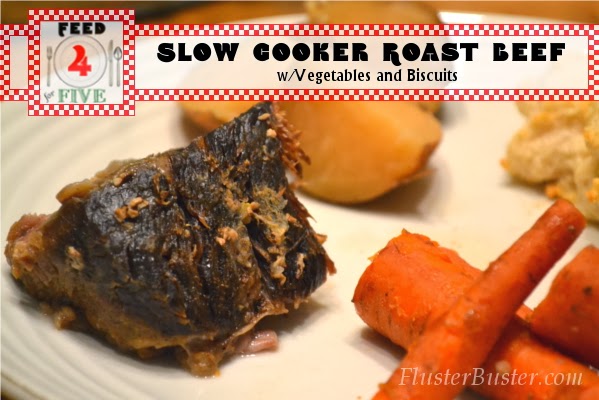 What meal is more comforting than roast beef, potatoes and carrots? This is a meal that my mother served every Sunday when we were growing up. It makes me feel warm and fuzzy when I think back to coming home from church and sitting down as a family and enjoying a meal together. I've made this a tradition for my family as well, maybe not every Sunday, but a couple of times a month. Hopefully when my kids are grown, they'll look back at Sunday dinner with the same warm and fuzzy feelings.
Now I know you are probably still shocked at the price of this meal, thinking that there is absolutely no way that it only costs $4.61, so let me explain how I did it. First of all, you need to look at portion sizes. Many of us consume way more than what the USDA suggests. Did you know that they suggest that a portion size for beef is only 3 ounces? Crazy, huh? For this meal I've double the suggested serving size to 6 ounces per person, it not only looks more substantial on the plate but it's a lot more satisfying to our bellies.
The second thing that you need to look at is the price. Meat prices will vary from week to week and it's a good idea to track the prices to pin point the lowest price. When the meat goes on sale at the lowest price point, stock up, you'll end up saving a ton of money. Another way to save money on meat is to shop in the morning. The butcher usually goes through the meat cases and marks down meat that is getting close to the sell by date. You can find some really great deals this way. Finally, if your budget can take it, buy a side of beef and have it butchered. We do this every year and the savings are tremendous, I end up paying only $2.44 per pound.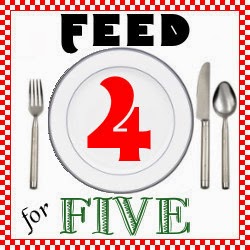 Roast Beef Dinner (Slow
Cooker)
Ingredients
            1 1/2 pound
beef
roast ($3.66)
            2 cups water (free)
            4 carrots, quartered ($0.24)
            1 medium yellow
onion
, quartered ($0.08)
Instructions
Season the roast with salt and pepper and place
in a slow cooker.
Arrange vegetables around the roast and add
water.
Cover and cook on low for 8 hours.
About 15-20 minutes before serving dinner, whip
up some BakeQuick biscuits.
Remove the roast and serve half of it with the vegetables
and biscuits.
*You can cook a bigger roast and freeze the other half for a future
meal.
Category: Main Dish, Beef                                                                                          Serves: 4

Cost = $4.61
Cost Breakdown
Roast – ($2.44 per pound) purchased a side of beef and had it butchered. 6 ounces per person.
Potatoes – (10 pounds for $1.99) purchased from a discount grocery store. 1 pound of potatoes yields about 3 medium sized potatoes.
Carrots – (1 pound for $0.50) purchased from a discount grocery store, on sale. 1 pound of carrots yields about 6-8 medium sized carrots.
Onions – (3 pounds for $0.99) purchase from a discount grocery store. 1 pound of onions yields about 3-4 medium onions.
BakeQuick Biscuits – made from Homemade BakeQuick Mix.
Savings Tip
Don't throw out the broth. Once the broth from the roast is cooled, strain it and pour it into Ziploc baggies. Saving the broth and freezing it will save you a couple of dollars per meal.
Do you have a favorite cheap and easy recipe that will Feed 4 for 5? Submit it and maybe we'll feature it on one of our future posts.
Bon Appetit on the Cheap!