This post may include affiliate links. Read our disclosure policy for more information.
Do you want to learn how to make mouthwatering baked BBQ ribs? Then read this post.
Who doesn't love baked barbecue ribs? I don't know anyone who would say no to a platter of mouth watering, fall-off-the-bone baked BBQ ribs. It's one of those dishes that we usually have during special occasions.
There's no denying that baked BBQ ribs are delicious. I don't think anyone would dispute that. But not many of us realize that this dish is also quite nutritious as well.
Health benefits of pork ribs
Pork, after all, is an excellent source of protein. A typical single serving of cooked pork ribs has about 25 grams of protein. That's nearly half of the recommended daily allowance of protein for an adult man.
What makes pork a better source of protein than other plant-based sources is that pork protein is complete. This means that pork protein has all the amino acids that our body requires to synthesize protein compounds.
Pork ribs also contain vitamins D and E. It is particularly rich in the B-vitamins like B6, B12, thiamin, niacin, and riboflavin. In fact, a 3-ounce serving of pork ribs already has 54 percent of the recommended daily allowance of thiamine which supports energy production and good function of the cardiovascular system. These vitamins are also known to support the metabolism of protein, fat, and carbohydrates.
Sure, pork ribs are high in fat. But it doesn't hurt to have baked BBQ ribs as an occasional treat, right?
Things to remember in preparing and cooking baked BBQ ribs
Most people I know would go to a restaurant to have their fix of BBQ ribs. I often tell them that making baked BBQ ribs is relatively simple.
In fact, here are some tips that you should know if you are interested in making your own BBQ ribs at home.
Buy the right kind of meat. You just don't go to the market and pick out the first pork ribs that you can see. You should look for ribs with a lot of meat in it. Avoid a rack of ribs with lots of fat. I usually don't buy ribs in a box because it is hard to determine the quality of the ribs.

Ask the butcher to get rid of the silver skin. Also called the membrane, this skin can leave a bad, leathery taste on the ribs. It can also keep the seasonings from getting into the skin.

Oil the grill. You should apply vegetable oil to the grill to prevent the ribs from sticking to it. You can use a brush for it. I also recommend that you keep the heat to low before putting the ribs on.

Watch the ribs carefully. You will have to pay close attention to the meat when cooking it on a grill. I suggest that you keep a water spray with you, so you can spray a hot spot at the first sign of the meat catching fire.

Use tongs in flipping the ribs. I see some people using a fork to flip the ribs. It's wrong because the fork can let some of the flavors of the ribs escape. You should instead use tongs when turning the ribs.
Baked BBQ Ribs Recipe
Now that you have an idea of the important things to look out for when cooking BBQ ribs, let's learn how to make baked BBQ ribs.
This recipe should take you around an hour and 30 minutes to complete. It can serve up to 4 people.
Baked BBQ Ribs
Mouth watering, fall-off-the-bone baked BBQ ribs.
Ingredients
6 pounds St. Louis style ribs
2 tablespoons vegetable oil
1 tablespoon hickory liquid smoke
2 tablespoons apple cider vinegar
1 tablespoon kosher salt
2 tablespoons ground black pepper
1 teaspoon dry mustard
2 tablespoons smoked paprika
2 tablespoons onion powder
2 tablespoons garlic powder
¼ cup brown sugar
2 teaspoons parsley flakes
1 teaspoon red pepper flakes
Instructions
Preheat the oven to 375 degrees Fahrenheit.
Drizzle oil to the front and back of the ribs.
Sprinkle on all the seasonings.
Drizzle the vinegar and liquid smoke.
Cover the ribs with aluminum foil and bake for 1 hour and 20 minutes.
Brush on your favorite BBQ sauce then turn the oven on broil.
Broil the ribs until you notice that the sauce has become sticky.
Remove the ribs from the oven and let it sit for 5 to 10 minutes before serving.
Conclusion
Baked BBQ ribs are definitely easier to cook than what it appears. In fact, some people say that buying the right ribs is actually harder.
But I guess you'll have an easier time buying pork ribs after reading this article. I encourage you to share this article with your friends so they too would know how to make their own baked BBQ ribs.
Products Featured in this Recipe:
(may include affiliate links)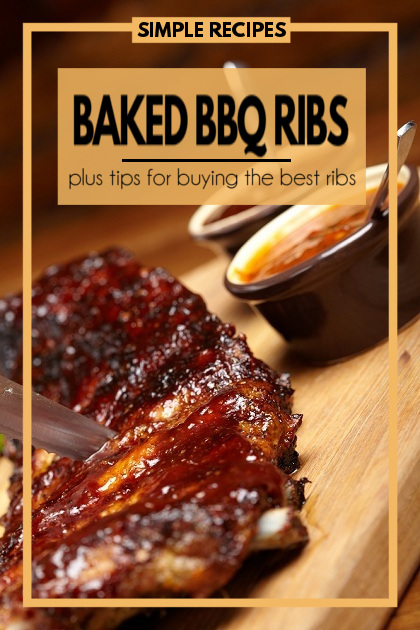 ​