This post may include affiliate links. Read our disclosure policy for more information.
5 Simple Tricks to Save Money – No matter how much money we make, there are always those times when we wish that we had just a little bit extra in our pockets for some of the things that we would really like to do.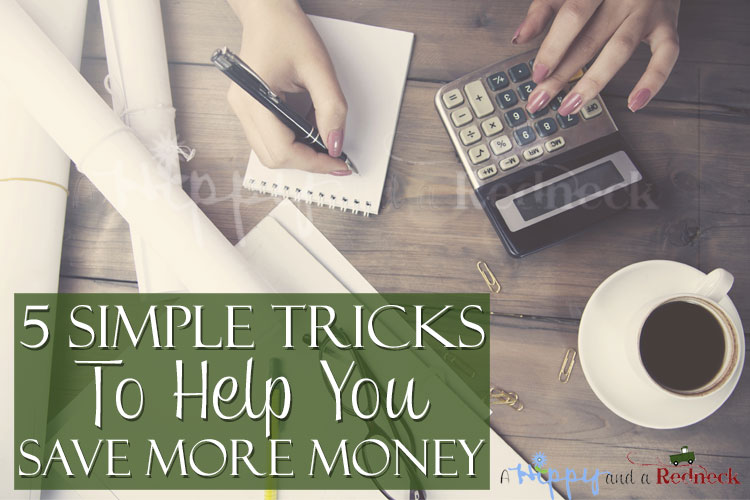 I know there are times when I really wish that I did not have to replace the windows in my house but could just blow that money on a trip to somewhere warm. Keep reading to learn my five simple tricks to help you save more money… no matter how much you make.
While I love my Redneck, he is definitely not a "Saver". When he wants something, he goes out and gets it. He does so without any concern on what else that money could be spent on, or needed for, in the future. I wish that we had just a little more of a nest egg set aside so that we I could feel more secure. The goal is to figure out how to get him on board with living on just one income, even though we are a two-income household. I have mentioned this before, but I know how much he likes the idea just by his ability to avoid the topic. Invariably, I bring it up and he steers the conversation away from it. He thinks I don't notice. I do. I just choose not to argue.
So until I get that conversation fully confronted, I use the following strategies in order to save as much as I can for our household. I hope that you find some new ways to get yourself started on finding a way to fund whatever your heart desires.
1. Shop for Groceries More Strategically
Without fail, if I don't make a plan and a list, and then REMEMBER to take the list with me and not leave it hanging on the refrigerator, I shop poorly. Not only do I forget things and then have to waste more time and money in making a second trip, but I buy things that we did not need.
If you haven't already, start learning to meal plan. Then make a list of what you need for the week. A trick I love to use is to make sure to see what meat is on sale that week and plan the bulk of my meals around that (say, pork). Plan for a day to use leftovers, as they are or you can factor in leftover pork chops to be recycled into a wonderful homemade pork fried rice.
Learn more about how I grocery shop by reading about the 7 things I do before heading to the grocery store (A Hippy and a Redneck).
2. Vow to Never Pay Full Price
Even with groceries, paying full price is just not really an option.  I'm far too frugal to just willy-nilly buy things.  I'm also not one to wait until I absolutely can't go without something to buy it.  The trick is to make sure you are looking at all those sales flyers that you get either in your newspaper or mailbox every week.  Make a note of what it is that you need or want, and make sure that you look every week until you find it on sale.
Another handy trick is to write down the retail price at the time you add it to your "Want" list.  This way you can make sure that you are getting a real bargain with the sale, not just a slick marketing ploy to make you believe it's marked down.*
3. Reap What You Sow
Sounds like an old country saying, doesn't it?  Well, it is actually.
Essentially, what the original saying means is that whatever you give, good or bad, you will get back.
What does this have to do with saving money?
When you run out to buy a new kitchen sink, (it came up cause we just purchased and installed a new one) don't just buy something that is cheap enough to fit into your price range.  You have to consider how much you like it, how durable it is, how long it will last under normal wear and tear in your household, and a variety of other things personal to your situation.  If you just want something cheap, that's what you get.  Something cheap that is not going to stand the test of time. Essentially, you are wasting your money.  You gave yourself a crappy product for the sake of a cheap price.
Know what you want and what you are willing to spend on it.  I'm not saying don't compromise.  But know what factors are negotiable and which are not before purchasing.
4. Return Things
I am horrible about this.  Especially the things that I am given as gifts.  For some reason using the gift receipt with the item to return it in lieu of an item that I would use or wear seems taboo to me.
I am slowly working on being better at this.  My vow is to make sure that when my birthday rolls around, I will return or exchange the things that I don't absolutely love.
But what about the things that you buy, and then get home and realize that it isn't going to work as well as you envisioned in the store.  Linens, curtains, towels, pillows; these are the biggest problem items for me.  I love the color in the store.  I think that it will go wonderfully with the living room couch (or whatever I'm working on at the time).  Then I get it home and realize that the lighting in the room changes the shade completely and it just doesn't go like I thought it would.
Return it!
The hardest part is going to be stopping yourself from justifying the return to the store employee.  They really don't care or need to know.  Just don't let it sit collecting dust.  You wouldn't leave a pile of money around and not be able to use it.  Don't do it with things that you will never use either.
5. Don't Be Afraid to Speak Up
This one is a personal story I just have to share with you all.
Last year, my dad's dryer died.  I tried everything to fix it, but it was over 20 years old and the part that I needed (heating element) was obsolete.  Try as I might, I could not find one in working order anywhere.  So we packed up and went over to a big-box home improvement store to get him a new one.  One of the major perks was the free delivery and free haul away.  His basement steps are a nightmare.
Trust me, I used to live in the basement!
We picked it out, purchased and scheduled delivery of the dryer.  The day that it was to be delivered, I made sure to be at his home in order to help with any extra things that may be required.  They drove in, unloaded it, and I immediately noticed a large dent on the right side of the cab.  If I wanted a dented dryer, I would have purchased a scratch and dent from work.  I asked the delivery driver what could be done about the damage.  He offered to reschedule delivery with a new, undamaged dryer or that he could take refund $150 of the purchase if we just took the dented one.  I inspected the dent to make sure that it was not rubbing against any of the mechanical parts and then took the $150.
Just by noticing and asking what could be done, I saved Dad $150 on his dryer.  Speak up when something isn't to your liking.  Whether in a restaurant, with a delivery, or even with a simple online order.  Make sure that if you are not satisfied you let the seller know what is wrong and then negotiate how to fix the situation.  Not only are you helping yourself, but in the long run, you are helping them to run a better business.  Customer satisfaction is very important to their business.
Have your own ways to save?  Let me know your favorite money-saving story in the comments below!


Disclosure: Some of the links in this post are affiliate links. If you click on the link and purchase the item, I will receive a commission. I only recommend products or services that I personally believe will add value to my readers. All opinions stated are strictly my own. Read our full disclosure policy for more information.