This post may include affiliate links. Read our disclosure policy for more information.
Can you believe we're on Day 18 of the Home Organization Challenge? By now you should be seeing some big changes to your home and finding more time for the things you love. Even though I've been doing the Home Organization challenge for over 3 years, I've been following the 2014 Challenge right along with you and I'm seeing some nice changes around my home. I love pushing the reset button and the beginning of the year, it gives me a fresh outlook on things that I may have overlooked.

Continue perfecting these Challenges: (don't forget to celebrate)
Day 18 – Anti-Dawdle Day
Everything that I put on my daily To-Do list are there because they need to get done, but some days it's near impossible to get through the whole list. When that happens I usually tack the day's Not-Done's onto the next day's To-Do's. If I'm having a really unproductive week, my To-Do list can get pretty long by the end of the week. So…. in order to keep the list from growing any more I set aside one day a week to work on my ever growing To-Do list. I call this day my Anti-Dawdle day. The days challenge is dedicated to all of those things that were important enough to make it to my To-Do list but never got done.
Some weeks, I'm on top of my To-Do list and I'm able to get everything done. When that happens I use my Anti-Dawdle day to work on my projects list, do you see a pattern yet? I like lists! I use lists because there is no way that I could store everything that I need to do or want to do in my little head.
There's also a second challenge to the Anti-Dawdle Day and that is to have a Date Night. Date Night is so important for a happy relationship and if you don't schedule it odds are that it won't happen. My husband and I actually take a little time every week to plan our weekly Date Night, by planning it together we both become vested in it and it makes it harder to get out of the commitment.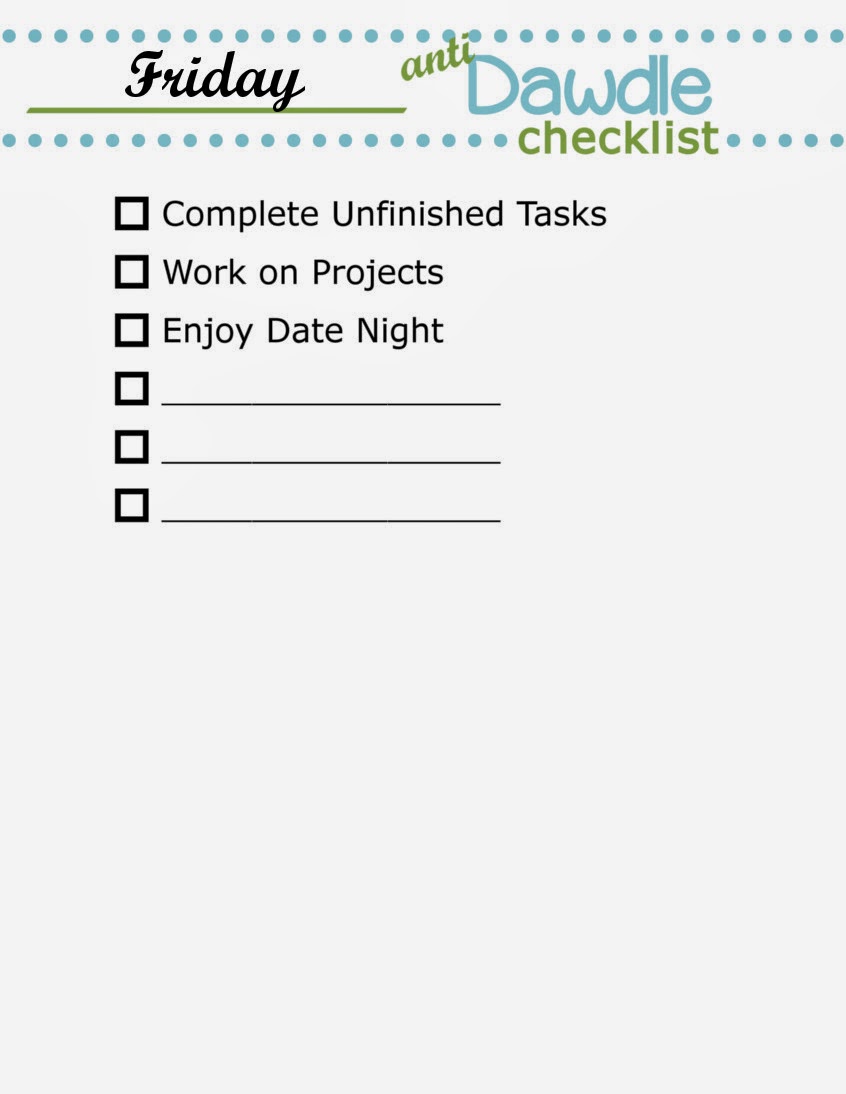 After you print the Anti-Dawdle Day and you've added your activities, file it under the weekly tab in your Reminder Binder. I like to place the printable in a sheet protector so that I can use a dry erase marker to mark off the activities as they've been completed. At the end of the week you'll decide which day of the week will be best for performing the activities.